NEW YORK — First off, the University of South Carolina's head basketball coach is not "Frank" Martin.
His real name is Francisco Jose Martin. And his journey in taking the Gamecocks to the first Final Four in program history is a story of perseverance and toughness that is emblematic of the defensive intensity that his team has utilized to become the most surprising story of the 2017 NCAA Tournament.
In a life defined by unexpected twists and turns, he has taken a non-traditional program in the Southeastern Conference, which has long been defined by its football program, and turned it into a budding basketball powerhouse.
Martin grew up in Miami, Florida, the first American-born member in a family of Cuban exiles.
As a kid in 1970's Miami, football and baseball reigned supreme in his world. His initial plans, like most children of Latin-American immigrants, was to become a star on the diamond. The local outdoor fields were jammed with fans rooting on pee wee football and baseball programs, while most basketball courts were empty.
But something in Martin's life vision changed once he got to high school, where he came under the tutelage of the legendary Miami-area prep coach, Marcos "Shakey" Rodriguez; he fell in love with basketball.
But Martin came very close to being someone you might have never heard of due to an incident while he was in college. While completing studies towards his bachelor's degree at Florida International University, the burly, no-nonsense man, who is now recognized as one of the best college basketball coaches in the country, was working as a part-time bouncer at local nightclubs to make ends meet.
One night in 1992, after breaking up a fight and tossing some hoodlums out of a club, they came back blasting. The loud bursts of gunfire that erupted were meant for him. Fortunately, the bullets missed their intended target.
Seven years prior to the shooting incident, at the age of 19, Martin began his coaching career, leading up the junior varsity squad at Miami Senior High School. Reflecting on walking away unharmed after being shot at, he decided to quit freelancing in the dangerous nightclub business and devote all of his energies to coaching basketball.
After graduating from FIU in 1993, he was named the head coach at North Miami High School. Two years later, he returned to Miami Senior to run the varsity program, where he would coach three consecutive state championship teams from 1996 to 1998 that featured outstanding players like Udonis Haslem and Steve Blake, who would both go on to long NBA careers.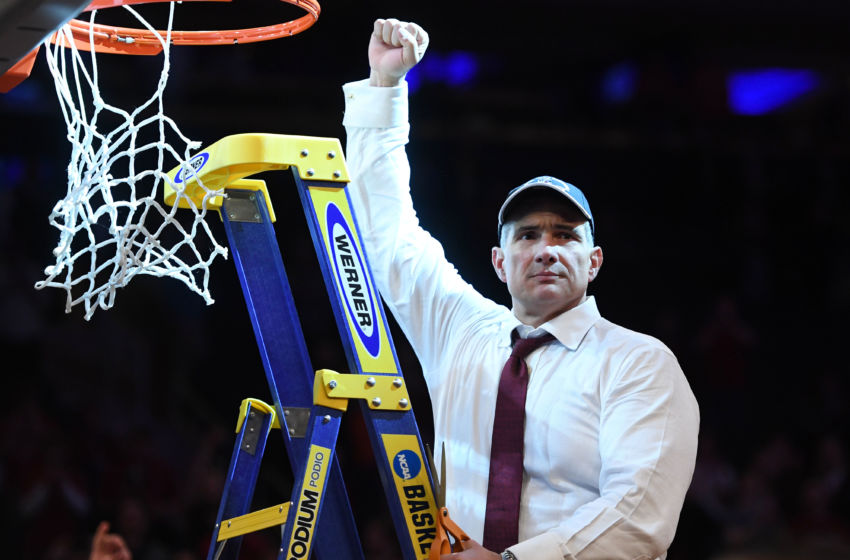 Widely becoming recognized as an exceptional coach, tactician and motivator, his years in the prep ranks were not without controversy. He was fired at Miami Senior, and two of those state titles were vacated, after it was discovered that some of his players did not live within the specified district. Martin was never implicated, though, and by 2000, he was hired as an assistant coach at Northeastern University in Boston.
But the road there was not an easy one as well. Despite having relationships with dozens of college coaches who came to recruit his players in Miami, when he reached out to them looking for a chance to join a college staff, only one man reached out to him initially.
I wrote 120, 130 letters to coaches across the country," Martin recently said on Mike and Mike. "Coaches Id met through the years in recruiting and coaches I didnt know. One person wrote me a handwritten note back. I got a bunch of generic 'Thanks for the interest, I have no openings on staff right now.' One person wrote me a handwritten note back. That was Coach K. I will never forget that."
It was during those 15 years coaching prep basketball where Martin says he learned his greatest lessons in sideline leadership. He might look like a madman at times on the sidelines, but one thing he never does is berate his players.
"…when kids play as hard as they play for me, I cant go in the locker room and beat them up," he said in the Mike and Mike interview. "Theyre laying it on the line for me. Ive got to help them. Its not about throwing chairs. I learned this when I was a young junior varsity basketball coach."
I walked into a high school locker room, I was so mad at the team for the way we played in the first half, I didnt know anything about coaching back then," he continued. "I was 21 years old. I said, you know what, Im going to motivate them by showing them toughness. I turned around and punched the blackboard. Didnt realize there was a concrete wall right behind the blackboard. I broke my hand. I learned at an early stage that that doesnt help anybody.
But nowadays, he's found the right way to instill toughness into his teams. In their 88-81 win in second round of this year's NCAA Tournament, South Carolina beat Duke, coached by the man who once was the only one to respond to him when he was in the prep ranks looking for a college opportunity.
It was accomplished not simply by the wondrous talents of P.J. Dozier, Sindarius Thornwell and a very underrated offense, but mainly due to a suffocating defensive effort that Martin's team's have been known for ever since he became the head coach at Kansas State in 2007.
After the Duke game, which pushed the Gamecocks into the Sweet Sixteen for the first time ever, Coach K told Martin that he was building something special at South Carolina.
"For him to compliment our team, the way he did with me in private and the way he did publicly was as big of a compliment as Ive ever been paid," Martin said.
On Friday night here at Madison Square Garden, South Carolina utterly destroyed Baylor in their East regional semifinal matchup, 70-50. In the press section, while a group of inebriated Gamecock fans behind us acted like some of those morons that Martin would once toss out of clubs, a group of us writers simply marveled at USC's defensive aptitude, execution and dominance.
They slowed the Bears explosive, top-20 offense to crawl, as Baylor struggled through a 33 percent effective shooting rate, their worst performance of the year. Those of us who understand and appreciate defensive excellence were treated to an awe-inspiring show.
This is not a one-dimensional team, folks. Their offense is capable of playing with anyone. But their suffocating defense is what makes them special.
After Sunday's 77-70 win over Florida in the Elite Eight, South Carolina is now heading to the Final Four in Phoenix, where they will face the No. 1 seed in the west, Gonzaga. The Zags are a feel good story in their own right, but many people expected them to be here. South Carolina? Not so much.
Thornwell, the East Region's Most Valuable Player, was again exceptional against Florida in the East Regional Final, scoring 26 points and snagging seven rebounds, while the slept-on, smooth combo-guard P.J Dozier added 17 points of his own. But it was the Gamecocks' swarming zone defense that elevated the program to heights it has never climbed before.
This was a day that Martin has long dreamed about. Through his fifteen years coaching high school, his assistant coaching stops at Northeastern, Cincinnati and Kansas State – whom he later took to the Elite Eight as Wildcats head coach in 2010 – to now at South Carolina, Martin has always been a man on a mission.
And it's about time that his example reaches its way to the search committee's and athletic directors in the major college ranks. It's an utter shame, that with all of the talent flowing into the game from South America, the Dominican Republic, Puerto Rico and other Latin hotbeds, that Frank Martin is the only Latino coach among the 351 who stalk Division I sidelines.
For the next week, Frank Martin will be the best story at the Final Four. Let's hope that people are actually paying attention to what he's accomplished and the trail he is blazing.
North Carolina is the Blue Blood, Gonzaga's never been there and Oregon hasn't been to college basketball's final weekend since 1939.
There are many storylines of folks who've arrived at this great Final Four stage from off the beaten path, but none of them are more compelling than that of the man building something special at South Carolina, Francisco Jose Martin.
For more March Madness coverage from The Shadow League, check out:
UCLA Lost But LaVar And Lonzo Ball Won