So this is how its going to be for the Dallas Cowboys and talented, but increasingly troublesome running back Ezekiel Elliott? One mini-scandal after another, fringe gangster activity, toeing the line between sexual assault and having a good old time, claims of domestic violence levied by a girlfriend, frequenting marijuana dispensaries, missing OTAs because of a car accident…need I go on?
Hes one more slip up away from facing some serious repercussions for his choices.
Elliott escaped what could have been another career-dousing waterfall when police and the NFL decided against pursuing any punishment after a video of Freaky Zekey tugging a ladys top off and exposing her breasts on at a Dallas rooftop bar went viral back in March. She was a white woman at that. AND it was a St. Patrick's Day Parade. The imagery just makes a brother cringe.
Ezekiel Elliott pulled a woman's shirt down — exposing her bare breast — during a St. Patrick's Day party in Dallas … but a rep for Zeke says it was all in good fun. SUBSCRIBE — http://po.st/TMZSportsSubscribe About TMZ Sports: Some of the best stories in sports have been off the field and we're reporting on athletes from NFL, NBA, UFC, WWE, MLB and more!
The boy hasnt learned how to keep his nose clean. And Im starting to believe that he is every bit as much immature, dumb and self-centered as he is special on the gridiron. Thats a deadly combination that has killed and inhibited the careers of many a super talent.
Simply put, he has no discipline. Elliotts latest PR fiasco, which could be elevated to criminal charges being filed, involves the Dallas Cowboys star allegedly punching 30-year-old Nkemakola Ibeneme in the nose. Officers were dispatched to a disturbance call at 9:40 p.m. Sunday in the 2500 block of Cedar Springs Road.
Apparently Elliott was defending a woman's honor. Ghetto chivalry at its best.
According to TMZ, which produced a video of the victim writhing in pain, The person who shot the video tells us the man was involved in a verbal altercation with a woman who was in Ezekiel's party … when Ezekiel got involved. The witness says she saw Ezekiel punch the man — corroborating the story the victim's friend told police.
However, cops at the scene could not confirm Zeke was the attacker and he has not been arrested or charged with a crime. An ambulance arrived to the scene, and you can see the man being treated by paramedics outside the bar. He was transported to a nearby hospital.
Elliott's people will only say the RB was not arrested and no complaint has been filed against him. We spoke with the NFL — and we're told the league is now looking into the matter.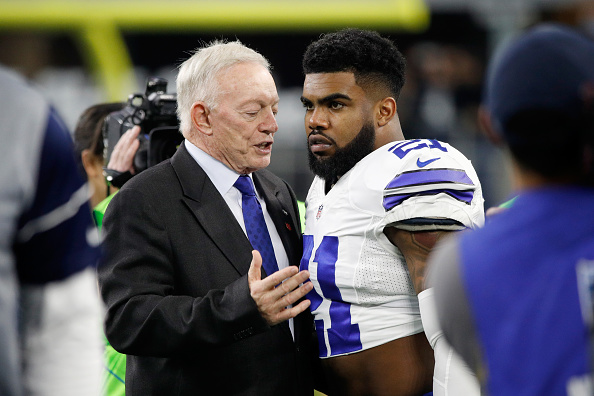 There are of course conflicting reports.
According to www.star-telegram.com "Twitter user Tom Riddle wrote Sunday night, 'I saw @EzekielElliott lay out a [——] out at Clutch.'
Another patron, who asked that his name not be used, said it sure looked like Elliott.
On the flip side, Michael Huffman, a bouncer from Wichita Falls who was in Dallas on Sunday night, shared on Facebook that Ibeneme, a deejay who goes by the name DJ dTrain, was the instigator and that Elliott didnt do anything, telling the Star-Telegram that It didnt go down like that, said Huffman, who said he had a good view because he was close to Elliott hoping to get a selfie. Everybody is saying that, but he didnt throw the punch …
Zeke was just standing there arms folded, chilling feeling the crowd. Then I seen DJ getting loud toward the vicinity of Zeke and then I see an overhand right come over the back of Zeke shoulder that landed square in DTrains face and he went to sleep. He didnt even see it. Then the crowd circled and dispersed. Im surprised a whole video hasnt been released yet.
It really doesn't matter if he threw the punch or not. The level of stupidity involved cancels everything else out. He may not get charged with the actual assault, but he is now officially on the NFL's big body radar screen and a suspension might be the best thing for him. I hate to get down on a brother with so much potential for greatness on the field and a growing ability to use his celebrity and power to make positive changes off the field for the underprivileged kids in the Dallas community.
However, the erratic, Tupac-like behavior he is exhibiting may have worked back in the 90s when Michael Irvin and them cats were skiing slopes and snatching rings, but in this social media age where you are Americas sweetheart in todays Instagram post and public enemy No. 1 in tomorrows Tweet, Elliott is setting himself up for a harsh reminder that he is a Black man in America and his rope is shorter. The amount of frat-house, locker room shenanigans that America will accept from him has an expiration date. Lets hope he figures out how to fully ripen his career before the bs rots his star-studded course.