Born Leon Preston Robinson IV has been a professional actor since 1982, when he made his debut in a film called "Sole Survivor."
But most of us raised when MTV was still about music videos remember his appearance as St. Martin in Madonna's then controversial music video "Like a Prayer."
From "Women of Brewster Place", to "The Temptations" and, my personal favorite, "Above the Rim", Leon puts his stamp on everything he touches. On Sunday, he was honored with the Trailblazer Award in Acting at the Ocktober Film Festival at Symphony Space on New York's Upper West Side.
After a speech by the show's host Melody Fox extolling the virtues of an understated giant in black cinema, Leon took the stage to give thanks, praise, and hope to the assembled filmmakers, film lovers and would-be producers in attendance."I would like to thank all of the filmmakers out there who have a film in this festival, and of course the winners," said Leon. "I know how hard it is to make a movie, a short, a music video. It takes a lot of hard work, it takes a lot of people. Sometimes it takes a little money, some times it takes a lot of money."
"But, I really appreciate filmmaking as a whole. People always say to me 'Why do I act" and I say to them 'I don't really consider myself an actor so much as I consider myself a storyteller."
Leon on the driving force behind his finicky but rewarding approach toward accepting roles:
"An attorney told me a long time ago when I started my career; 'Many actors will walk across these screens, but very few will be remembered. Be in memorable storylines.' And that is the most important think to me. I try to be in movies that hopefully people will remember far beyond the time that I did it. Far beyond my time even as an actor. "
(Above the Rim)
Leon on remaining humble:
"(The Five Heartbeats) has been honored at the Toronto Film Festival, Tom Joyner Cruise, and all around the country for the 25th anniversary. In 2011, a website did a poll of the 25 best African American films of the past 25 years. To my surprise, "The Five Heartbeats" was chosen as number one."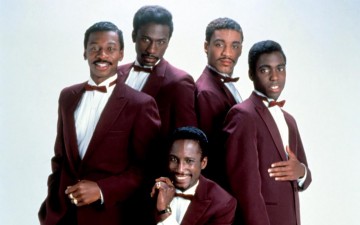 (The Five Heartbeats)
"So what really humbles me the most was that out of the 25 films, I had starred in five of them. It quickly reminded me of when that attorney told me what he told me. Try to do memorable work. Try to do work that's going to last far beyond your time. So, I hope I'm on my way. I appreciate the support, I appreciate this award, and I'm glad I could be here."
Leon is still striving for quality and consistency even at this advanced stage in a career most would salivate over. In closing, Leon offered those filmmakers still fuming over a career that hasn't gotten off to the start they may have hoped for a bit of hope.
"I have a production company here in New York called 817 Films. We're always looking for people who have great ideas who need a little help getting their films made. So, feel free to look me up. If we can be of help then that would be great."
Currently Leon is more involved as an executive producer than as an actor and recently accompanied the cast of his new project Housana (2016) down the red carpet at Urbanworld Film Festival as well. We'll definitely be keeping an eye out for that one, as well as any other works from one of the most talented yet critically overlooked leading men in Hollywood.