If I asked you to guess which freshman scored an NCAA Tournament, newjack record of 39 points last night in the NCAA South Regional Final, most people would automatically tab Lonzo Ball as that guy.
After all, his dad did say UCLA was a lock to win the NCAA Tourney and mass media has decided that anything that comes out of LaVar Ball's mouth is worth reporting on like its expert analysis of some sort.
Stephen A. Smith warned Ball during their Hollywood-heated ESPN conversation that Lonzo better deliver. Unfortunately, neither Lonzo nor UCLA was able to advance past the Sweet 16 thanks to a historic performance by Kentucky freshman guard De'Aaron Fox.
He was the clear-cut best player on the floor on Saturday night, hitting big shot after big shot, driving with precision in an 86-75 win over highly-hyped UCLA. Fox showed way more energy and pickup than the guy on the opposing team who is supposed to better than Steph Curry. Fox was the cat who looked the part of a sure fire lottery pick.
This was the fourth time these powerhouses have met in the past three seasons, and UCLA upset then-No. 1 Kentucky in Rupp Arena with a 97-92 win on Dec. 3. Fox had a shaky game, taking 20 shots to get 20 points.
On Friday at FedExForum — on a night when everybody waited to see what Lonzo would do — Fox dropped the first eight points for Kentucky and continued to put the beats on Ball, who finished with a weak 10 points on 4 of 10 shooting. Ball handed out eight assists but also had four turnovers.
The UCLA loss puts an end to the one-and-done career of Lonzo Ball. Now he can turn his attention to the NBA Draft and the abundance of wealth and opportunity that lies ahead.
This wasnt the ending that LaVar Ball wanted, but Lonzo didn't seem to be that upset to tell you the truth and he longs for the day that he can use his skills with a group of players that are on his level.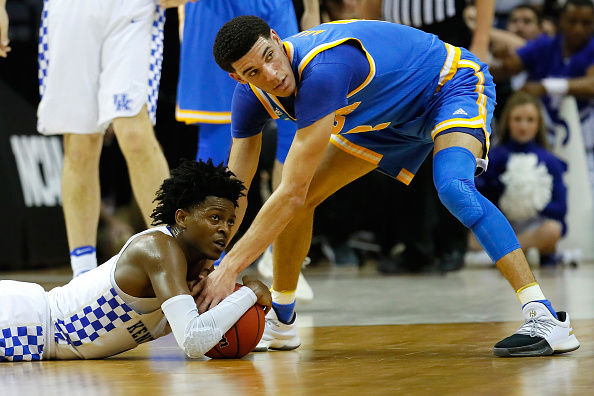 Its clear that ball distribution will be his cup of tea in the NBA, but his team needed more scoring from a guy whose Pops says is better than Steph Curry to advance to the Elite Eight.
With the younger brothers at Chino Hills getting knocked out of the State championship, and Lonzos premature exit in the NCAA, it has been a tough week for the Ball brothers who will watch Kentucky move on to face North Carolina, who defeated Butler 92-80, in a classic elite Eight matchup of traditional college basketball powerhouses and iconic programs.