The reaction to Colin Kaepernicks latest stance shows how people want to put activists in a box.
When they dont do the things we dont want them to do, we find creative ways to distance ourselves from why we supported them in the first place. Also, the people who hated him for making them reconsider their stance on Black lives outside of Fantasy Football, thought Kaepernicks stance was an elaborate hoax.
Sounds like those folks fell for the swindle.
The free agent quarterback told ESPN that he plans to stand for the National Anthem next season. Kaepernick also stated that he doesnt want his protest to distract from the work he has done along with the support he has received from other professional athletes.
Some of his detractors say that Kaepernick has either punked out or wanted to draw attention to himself and his lackluster NFL career.
Through it all, Kaepernick wants to play football. And just because he said he will stand for the National Anthem ahead of free agency doesnt mean hes broke or homeless. Maybe he made a pragmatic decision regarding his ability to earn.
Activism often starts with some form of civil disobedience, and transitions into community involvement and/or political action. The Twitter tough guys, many of which are sportswriters who shape the narratives the fans abide by, have said things such as:
What has Kaepernick done in the Black community?
When will Black people care about Black Lives?
And the dumbest one of them all:
Stick to Sports.
He may have thought of what Malik Yusef, a Chicago spoken word artist, and his take regarding the downside of activism on one of Commons albums when he said, Now I see how my daddy felt the dark day he discovered that black power didn't keep the lights on.
Many believe that Kaepernick isnt the activist people thought he was because hes a free agent looking for his next team. When someone brings that up, it is an attempt to delegitimize the work he has done thus far. He made White America, and those influenced by it, uncomfortable. And when people feel uncomfortable, they find ways to discredit those whove upset the status quo.
Like the rest of us, activists, along with pro athletes whove stepped out on a polarizing stance, have bills to pay and people to care of. All football players are one play away from taking a hit that can change the trajectory of their careers and their families (See former Chicago Bears wide receiver Johnny Knox for further clarification).
The amount of deaths of retired football players due to concussions and other head-related injuries, along with the average NFL career being three years, backs up why Kaepernick may have changed his approach.
Despite the hate and the scrutiny, Kaepernick made people react. He got them to pay attention whether they liked it or not.
The same folks who got up into their feelings when they found out that Black athletes feel some type of way about America, were the same folks who refused to mention ZERO news articles in their social media timelines regarding the time and money hes spent speaking people across the country.
In one instance, he used the 49ers bye week to hold a Know Your Rights workshop for Oakland teens.
Here in Chicago when the 49ers came to town to play the Bears last season, Kaepernick wore a Fred Hampton t-shirt to the postgame presser. Hampton, 21, who was a prominent member of the Chicago chapter of the Black Panther Party, was killed while he was sleeping by Chicago Police officers during a raid in 1969.
At the time, law enforcement officials described the circumstances leading to Hamptons murder as a shootout.
One of my former Tribune Company colleagues tweeted this after the game, Say what you want about Colin Kaepernick, but he has me researching Fred Hampton. It's a part of Chicago history I don't know much about.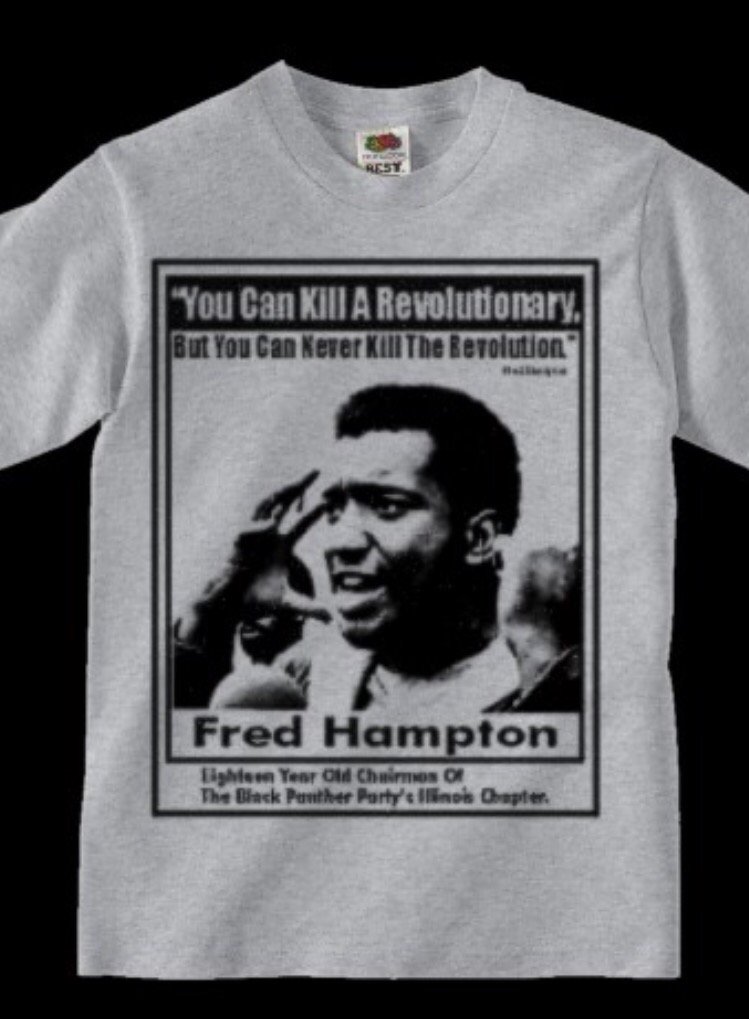 The best part of the reaction to the free agent quarterbacks stance is that a lot of people, including politicians, members of sports talk radio, police officers, military members, along with sportswriters across the country, have shown their asses. It also shows white supremacys influence on American history. After all, the oppressor often writes the history books.
Thanks to Kaepernick, we have solid confirmation on the things we already knew. People have a hard time understanding the plight of Black people in America.
Kaepernick called an audible at the line and America was afraid to adjust.