If Cleanthony Early spent as much time focused on his game as he does hitting up strip clubs by himself, then maybe he would be seeing some light on a rebuilding Knicks team with great opportunities for players to seize the moment and establish a solid NBA future. Hes averaging less than a point per game and from the latest reports, his common sense averages are even lower.
Early became the latest high-profile victim of a low class crime when was robbed and shot Wednesday morning in Queens, police said. Early was shot once in the left leg and was taken to Elmhurst Hospital Center in stable condition, authorities said.
NYPD said it appeared Early had just left a gentleman's club around 4:30 a.m. when three vehicles surrounded the Uber taxi he was in and a group of people — at least one of whom was armed — ordered him to get out of the vehicle.
They relieved Early of his gold chains and then proceeded to fill him with some lead. No suspects have been arrested in the incident.
A statement from the Knicks said the team is aware "of what occurred with Cleanthony Early this morning and are relieved that he is not in a life-threatening situation."
Early's mishap and obvious error in judgement comes 10 days after Knicks forward Derrick Williams got ganked for over $750,000 worth of jewels by some harlots he took back to his Tribeca home from a Meatpacking District club earlier in the evening.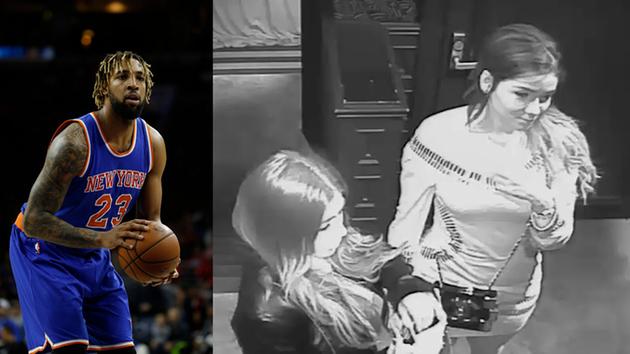 The Knicks may gotten rid of night creeper J.R. Smith and improved the product on the court, but the undisciplined lifestyle they are living hasnt changed much. This just isnt a good pattern for a team trying to work its way out of the doldrums and towards respectability.
What are these guys doing? What are they thinking? Why are they moving for dolo with such risky behavior? And then, look at how these situations are working out for them. They have all the money you could imagine and…no friends? Melo says the Knicks are a family. I still see a bunch of individual parts moving to their own beat.
Early has the bread to keep that party inside his own home or rented facility, invite his boys through and get at it. Trust me, I respect the hustle. It's all how you go about it. Maybe Early, a Bronx native, spent too much time in Wichita and Williams' street radar dropped during his stints in Minnesota and Sacramento (or maybe he never had one).
But seriously, are these cats that naive or trusting of the changing exterior of certain areas of NYC that they think you can just move with money in the wee hours of the night and avoid the only people that are out at that time — the vultures?
Some vultures are dudes who hop out of whips, rob your shines and blast you with no remorse. They sit in the cut at places like strip clubs that they know are frequented by millionaire ballers looking for ratched entertainment. Sometimes they work in conjunction with the owners and strippers.
Some of them also wear skirts and stiletto heels and have bodies that can make an atheist start praying to God. But their insides are rotted with bad intentions, schemes and a skill perfected over time to rock the mind of any man to sleep.
A players personal business is their own. However, when the sloppiness of their actions become public and their performance on the court could use some honing and improvement — but instead they are making headlines because of stupid decisions in life — then they can be called to the carpet.
The entire New York Knicks organization has to be questioned. Phil Jackson needs to get this ship in order and Derek Fisher needs to get some control over his boys and the NYC nightlife. Cats that arent from the city can easily get caught up in the Big Apple. Its a different beast.
If I had $10,000 for every brother that ended up maimed, injured or dead after a night at the strip club, Id be a millionaire. If I had the same for every pro athlete or entertainer that negatively affected their lives in some way during or after a fiasco in a strip club, then I could probably buy my own private island.
NFL baller Adam "PacMan" Jones was notorious and legendary for his strip club antics which eventually led to a Las Vegas strip club employee being shot and paralyzed in 2007. Jones' career surely suffered because of it. The endless tales of lust, money, conflict, confrontation and the alcohol and drug fueled atmosphere that are the bloodlines of strip clubs always lead down the road to catastrophe. Ask Sean Bell, who was murdered by cops in a sea of bullets after attending a strip club as part of his bachelor party activities. He was to be married the next day.
When it comes to issues of sex, women and the ability to carelessly flaunt money, entertainers and pro athletes have immersed themselves in this lifestyle. It is promoted in songs, television and the conscience of every young, urban male. Its not a world of erotica exclusive to African-American males, but the tragic end results of frequenting such establishments seem to go awry for young, black athletes at a larger rate.
Ratchedness has become the new cool. What was once seen as taboo is now the everyday and when you immerse yourself in an underworld that is no less damaging, dangerous and alluring than its ever been and try to commercialize it into your upscale, million-dollar lifestyle it opens you up to dangers and pitfalls that you wouldnt otherwise encounter on a wild, club or lounge night out with the boys or a quiet dinner with a woman you really dig.
In any event, you dont hear about the Spurs players getting into episodes with set-up hoes and strip club fiascos. Most perennially winning franchises have players who are committed to the team and becoming the best they can be no matter the role. Most people will say, nothing wrong with going to the strip club. No doubt, as long as you know what all that entails and are willing to deal with the consequences.