Can a brother get a break? According to the Los Angeles Lakers, the answer is a resounding no. Two-year Lakers head coach Byron Scott was fired on Monday after finishing with a record of 17-65. Scotts combined record through all of his head coaching jobs is 454-647 with a .412-win percentage, which ranks dead last in the history of the National Basketball Association among coaches with at least 1000 games on the bench.
On the surface thats just stank-nasty, dumpster-worthy, etc. However, Byron Scott keeps getting jobs for a reason; hes good when given something to work with.
I logged on to basketball-reference.com on a hunch to see if any of the coaches with a comparable number of games played and win percentages had ever taken a team to back-to-back NBA Finals.
Former Atlanta Hawks head coach Kevin Loughery has a similar overall record to Scott with 474 wins to 662 losses and a win percentage of .417. Though Loughery did coach the New York Nets to two ABA titles in 74 and 76 thanks in large part to Julius Dr. J Erving, he never even made it to a conference final as a NBA head coach. Additionally, Scotts playoff win percentage of .574 blows Lougherys paltry .222 off the face of the earth.
(Photo Credit: CBS Sports)
Back in 2001 and 2002 he guided the then New Jersey Nets to back-to-back NBA Finals appearances. Flip the script to a year later and we see him in New Orleans taking over for a Hornets squad that was very young, guiding them to two playoff appearances out of five complete seasons with PG Chris Paul running the show with C Tyson Chandler and PF David West doing most of the dirty work.
After losing that job, he would move on to become coach of the Cleveland Cavaliers in the season that saw PG Kyrie Irving become Rookie of the Year in 2011.
With each of the aforementioned situations, Scott was asked to build a proverbial Noahs Arc out of Styrofoam. Miracles were expected in New Jersey after those two Eastern Conference trophies. He was fired in New Jersey after starting off with a 22-20 record in 2004.
His only season with a poor record in the Garden State was his first. In New Orleans, he was sent packing after starting off 3-6. The Cavaliers fired him after three seasons of not making the playoffs, and now hes once shown the door after two playoff-less seasons in LaLa Land.
On the surface a 454-647 record looks like ineptitude, but each situation has its own extenuating circumstances that need to be looked at.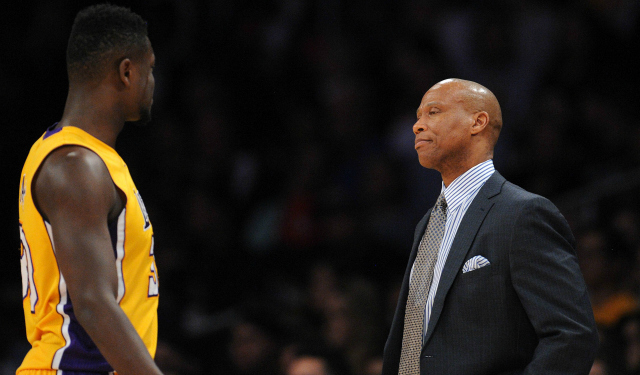 (Photo Credit: LA Times)
First off, the New Jersey Nets head coaching job was considered one of the worst jobs in the NBA prior to Scotts arrival. Yes, he had the luxury of coaching future Hall of Fame point guard Jason Kidd. But lets face it, there was very little else in the cupboard other than Kenyon Martin and Richard Jefferson.
Additionally, his tenure in New Orleans was haunted by its own set of bad situations, highlighted by two seasons in which the Hornets had to play the overwhelming majority of their games on the road due to the chaos wrought on southern Louisiana in the aftermath of the Hurricane Katrina. All those losses in Cleveland were as much a result of personnel as they were of bad coaching.
(Photo Credit: LA Times)
This season was tabbed as Kobe Bryants swan song almost from the very beginning and very early on it appeared that winning and at least contending for a playoff spot was out the window. Last season was marred by injury as well, not only to Bryant but to lottery pick Julius Randle.
So, what exactly is considered a fair shake these days? Other than New Jersey, there have been worst case scenarios manifesting in each of Scotts coaching situations.
Additionally, it has been said that he has very little patience for young players. But that is subject to interpretation. In the past, he has been noticeably stern with Kyrie Irving and Chris Paul, as well as with rookie PG DAngelo Russell and young PF Julius Randle.
Since when does asking a professional making millions of dollars to grow up and do his job better considered being too harsh?
While his record is what it is, I doubt Dr. James Naismith himself could have done any better under similar circumstances.