The Washington Nationals' pursuit of Andrew McCutchen is starting to make more fiscal sense to me with the recent reports that the Nats are contemplating parting with franchise player Bryce Harper in 2018 if the sides dont reach a common ground on a contract extension.
Harper, who entered MLB as the most hyped 19-year-old since Ken Griffey Jr., fulfilled his potential in 2015 when he won the NL MVP and slugged 42 dingers and hit .330. The only thing stopping Harper from joining Cooperstown one day is what hampered him from playing more than 150 games for the fourth time in five seasons — nagging injuries.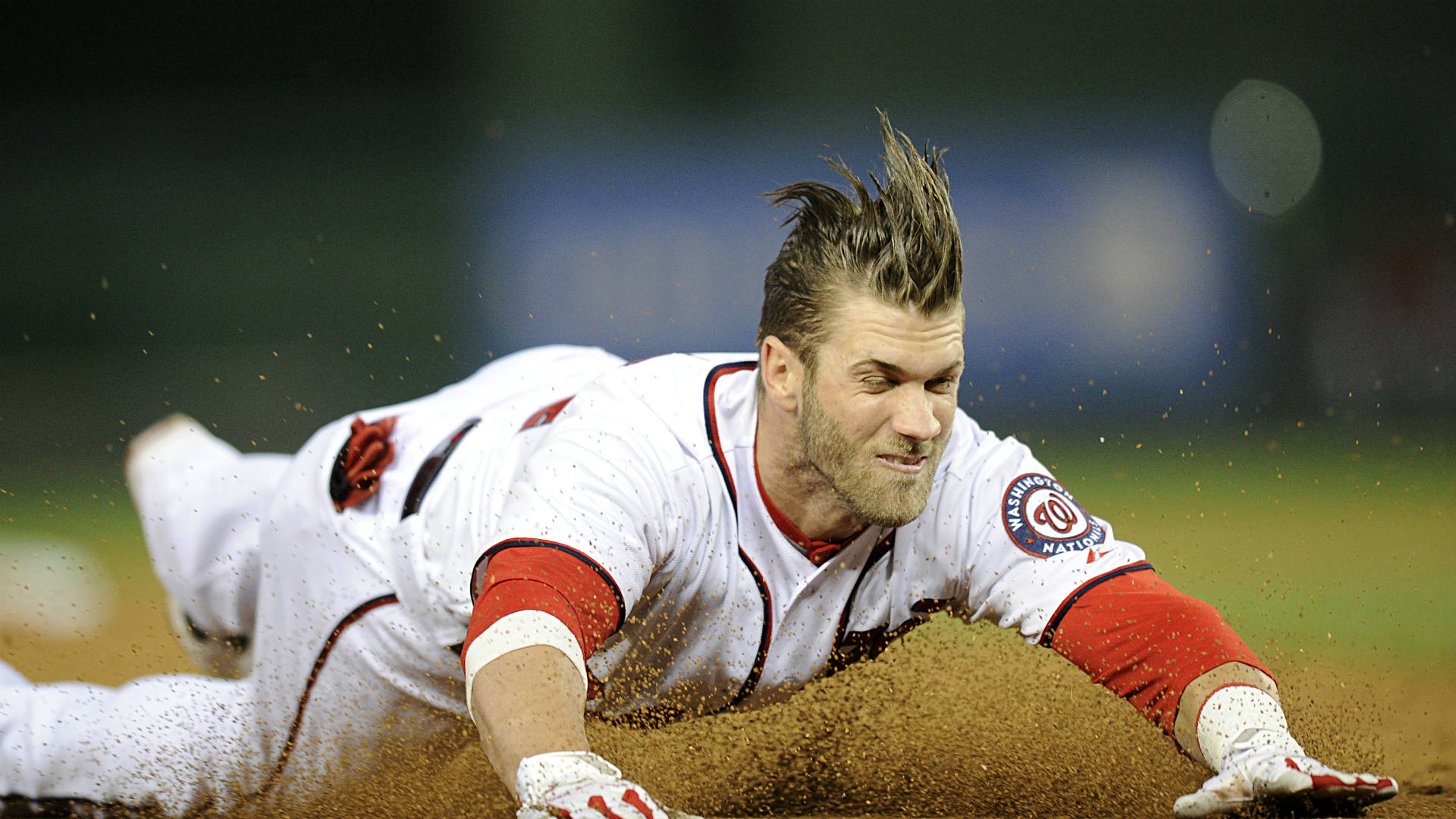 (Photo Credit: Getty Images)
Toss in a few concussions for his fearless play in the field and on the basepaths and believe it or not, all of these things have factored into whether or not its even conceivable or beneficial for the Nats to gather up that much scratch for one player.
With all of the pomp and circumstance that surrounds Harpers every move and the way he is one of the major marketing faces of MLBs younger generation fans, the Nationals know his goal at age 23 is to eventually become the first $400 million man in MLB history.
It has almost been his birthright since he barn-stormed MLB as its LeBron James. Harper was tabbed a cant miss prodigy with an unparalleled array of skills. The guy who would lead baseball into the future.
(Photo Credit: jerseychaser.com)
While jersey native Mike Trout has beaten Harper to the accolades awarded a future immortal, Harper's been more marketable and had the more popular selling jersey in 2015. However, Trout moved ahead of Harper this season in jersey sales and NL MVP Kris Bryants auspicious arrival has catapulted him to the top of that Best Player list and also stole some of Harper's prodigy shine in the process.
When allowing a franchise talent to sign elsewhere for strictly business reasons, the potential collateral damage must also be assessed. The fact that Harper has not achieved at the same consistent level as other anointed superstars in his age class helps the Nats justify his eventual departure to fans. That's really splitting hairs though. Harper won the NL Rookie of the Year Award in 2012 and he's been solid to sensational for most of his young carer.
With shrewd GM Mike Rizzo always trying to stay ahead of the financial curve, the Nationals are making preparations to part with their royal superstar, who is already reportedly requesting a contract in the range of 10 years and over $400 million, a "high-ranking" Washington executive told USA Today.
The Nationals have done well developing young talent, preserving it and being able to package those players in deals or lead them to prosperity as homegrown MLB products. Its unlikely that Washington will dig that deep in the coffers to pay even the most electrifying of players. If they do, it's going to be spent on pitching like Max Scherzer's 7-year, $210 million deal.
What Harper wants is double that. The Nats aren't down with the program, even if that guy makes their franchise special just because they own his rights.
From USA Today:
The Nationals, who had begun preliminary negotiations this year to retain Harper beyond 2018, believe the chasm in their talks now have become too great to overcome. While no specific dollar amount has been broached by high-powered agent Scott Boras, the executive says Harper is seeking a deal more than 10 years in length, believing it would exceed $400 million.
Its still early, of course. Anything can happen over the next two seasons. Yet, unless either side dramatically changes their stance in negotiations, you might as prepare Harper's next uniform now.
Hell be a New York Yankee, and the Nats can thank him for the memories.
Currently, Miami Marlins outfielder Giancarlo Stanton owns the largest contract in baseball. The Marlins singed Stanton to a 13-year, $325 million extension in 2014. His two seasons following that financial come up have been up-and-down at best. He only played in 193 games combined in the 2015 and 2016 season and drove in just 36 more RBI than he did in 2014 (105).
Its always a risk when you have to pay that young, big-bopper in your lineup to keep him from going to more high-profile squads with deeper bankroll.
The Marlins weighed all of the pros and cons; from performance to marketing to fan ethnicity and geographic location and decided to put it all on the 6-foot-6, 245-pound Irish and African-American bomber from Sherman Oaks, California.
(Photo Credit: Getty Images)
Since the deal heard around baseball, Miami hasn't done any better. In 2016, the Marlins finished with less than 80 wins as they have every season since 2010. In addition, Stantons hefty contract leaves them cash-strapped to acquire any other superstar free agents. They are hoping to fill in the blanks over time with developing farm studs.
Harpers stats really plummeted last season and he hit just 24 homers with 86 RBI and batted .243, which is 36 points lower than his career average. Sure hell bounce back. The kids just 24 and has already been an All-Star in four of his five seasons. That kind of down season, however, just doesnt give him the leverage he needs right now to pull off a record-smashing deal.
If Harper stays healthy and focused, then you will see those numbers rocket, especially if McCutchen is inserted into that lineup. However, a great season by Harper only benefits Washington temporarily. If he returns to crush city form, then he will almost definitely go to the highest bidder when free agency pops.
If Rizzo gets that McCutchen deal done, that almost seals the fact that Washington will be going for the gusto in these next two seasons, which will be Harpers farewell tour to Nats fans and his entrance into somebodys major market heaven.