To many, Michael Jordan is the greatest basketball player of all time. As a global figure, he was placed in a pantheon of individuals who transcended their respective athletic pursuits and there were many from similar backgrounds with which his off-the-court pursuits would inevitably be measured.
Jim Brown, Bill Russell, Kareem Abdul-Jabbar and the incomparable Muhammad Ali each spoke up for social justice in America for Black people and the disenfranchised. Each was on the frontlines of the racial dialectic almost from the moment they ascended to the pinnacle of their respective sports careers.
(Photo Credit: USA Today)
Muhammad Ali sacrificed millions of dollars, a heavyweight title and three prime years of his boxing career. Many lament why such a great basketball mind as Kareem Abdul-Jabbar has never had substantive position in the National Basketball Association.
Scouting jobs? Special assistant? Those are insults to one who has accomplished so much between the lines. Could it be that his outspokenness on issues of race and society scared some away? Kareem himself once said he felt his being introverted and perceived as standoffish, as well as his refusal to speak with the press, worked against him. I believe he was being polite toward the league he still loves.
Looking back at how former Chicago Bulls guard Craig Hodges was ostracized after presenting President George H.W. Bush with a letter of black grievances back during a White House visit following a Bulls championship in 1992, it wouldn't surprise me at all if that were true of Jabbar as well.
(Photo Credit: USA Today)
On Monday, following the tumultuous weeks that witnessed the deaths of Alton Sterling and Philando Castile at the hands of law enforcement, and the retaliatory deaths of eight police officers in Dallas and Baton Rouge, Michael Jordan released a statement in which he reveals his thoughts on recent events.
Here is an excerpt his statement:
I was raised by parents who taught me to love and respect people regardless of their race or background, so I am saddened and frustrated by the divisive rhetoric and racial tensions that seem to be getting worse as of late. I know this country is better than that, and I can no longer stay silent. We need to find solutions that ensure people of color receive fair and equal treatment AND that police officers who put their lives on the line every day to protect us all are respected and supported."
It marked the first time in his 32 years at the pinnacle of American sports and business that Michael Jeffrey Jordan had spoken out on any issue of social importance, let alone one with a racial dynamic. Additionally, over the span of his entire career Jordan has been called out repeatedly for not doing so.
As was to be expected, there were a deluge of editorials and commentary pieces from across the media spectrum admonishing him for not saying anything sooner. In his statement, MJ said he would donate $1 million to the NAACP Legal Defense Fund and another $1 million to the International Association of Chiefs of Polices Institute for Community-Police Relations.
His timing was dissed, his contribution was dissed, and who he decided to contribute were dissed.
In my opinion, each of these admonishments simply are not fair.
Much of the fire aimed at Mike has something to do with him being a rich and privileged one-percenter.
What? You want him to give all his money to Black Lives Matter and march against the system? Be bloodied? Join the Nation of Islam? Would his visible suffering and sacrifice curb this irrational disdain?
To be certain, there have been many other individuals who one may consider to be an athlete and an activist, both black and white, that came before the emergence of MJ, that have fallen through the cracks of history. Mike's former head coach at the University of North Carolina, the late, great Dean Smith, was a champion of racial equality during a time when white supporters of black equality faced lynching.
Basketball creator Dr. James Naismith's willingness to personally mentor and teach the game of basketball to future Hall of Fame coach John B. McLendon was a radical idea. Each endeavor meant to further racial equality and enlightenment was exponential.
Dean Smith's father Alfred coached the first integrated high school basketball team in the state of Kansas, and coach McLendon would kick in the door for great number of black collegiate and NBA coaches.
The game of life is chess, not checkers. Not every piece moves in the same manner or serves the same purpose. All "pieces" won't and can't make the same moves.
The term "Black Power" is often chanted at protests and rallies.
So, what moves has Michael Jordan made? In a capitalist society where money is valued more than almost anything else, Black Power doesn't get much blacker than MJ.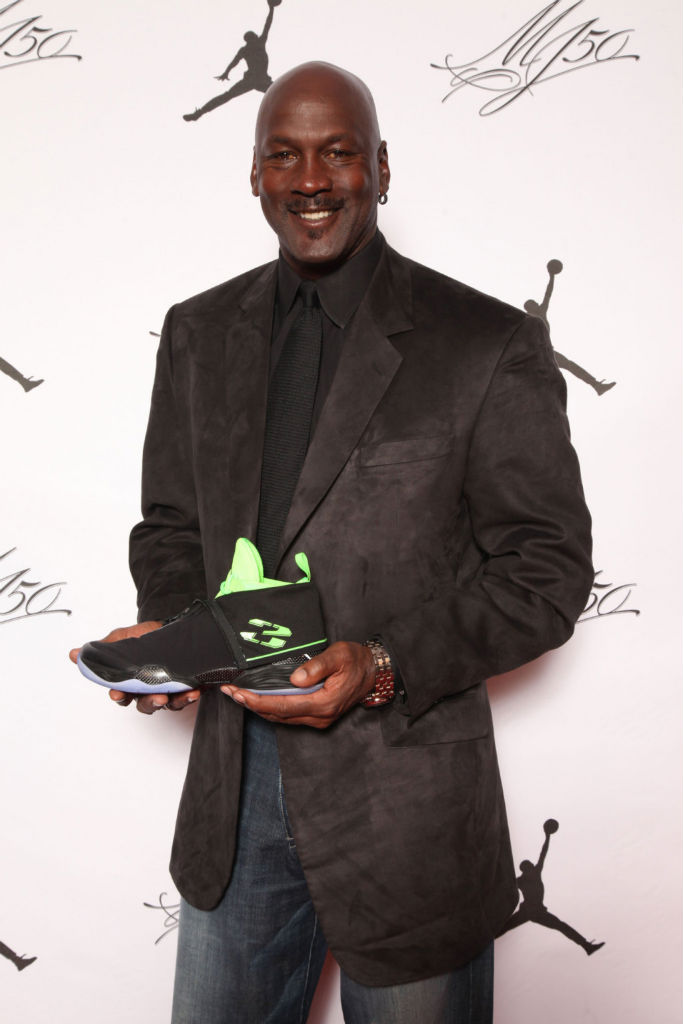 (Photo Credit: solecollector.com)
According to a 2014 column at ESPN.com written by Scoop Jackson, there were six Black CEOs and Presidents in the National Basketball Association in 2012-13. Three of them were with the Charlotte Hornets. Also gleaned from the piece was the fact that Michael Jordan has made sure to promote capable black talent within the Jordan Brand, including employing numerous Black presidents.
Need I mention the multitude of young Black women and men that he employs via the Jordan Brand and the Charlotte Hornets, and the millions he gives to young black millionaires he creates every year?
Again, chess not checkers.
Additionally, to date he has donated tens of millions of dollars to a multitude of causes. Tens of millions! But, since we're doing the black thing today, I'll only list those that directly affected black folks and historically disenfranchised individuals.
*The James R. Jordan Foundation
*Opportunity Village
*James R. Jordan Boys & Girls Club and Family Life Center
*Habitat for Humanity
*Boys & Girls Club of Slidell, LA
*Hurriance Katrina Relief Efforts
And that's just what has been publicized.
Would it have been nice if Mike were like Ali? I would have LOVED for that to have happened. However, if Mike spoke out like Ali, then Mike wouldn't be Mike. And you can bet your off-brand track shoes he wouldn't have anywhere near the economic power to do what he does and continues to do today.
Money is power!
(Photo Credit: USA Today)
In an article written last year by Kareem Abdul-Jabbar in Time magazine, the NBA's all-time leading scorer said that Jordan decided to choose "commerce over conscience." I would counter the venerable Mr. Abdul-Jabbar by reminding him how the paradigm of institutional racism that permeates all facets of American society, economic racism, is one of the most egregious of them all.
Mike has been applying his resources in ways he believes are most beneficial to push the economic meter in the right direction. And we all need him to keep doing just that to combat the hydra that is American racism.
We need protests, we need sit-ins, we need those willing to lobby politicians on our behalf, we need officers that live in the communities, we need sympathetic Americans from all other demographics to speak to their constituencies on our behalf. We need other activist-minded athletes.
And we need Michael Jordan to continue operating on behalf of qualified Black individuals in the corporate world, donating to charitable causes and being a business role model.
The solutions require a multifaceted approach. Michael Jordan has been doing his part in a manner that he understands for years. Aside from social media memes and snarky commentary, what exactly have you been doing to solve the problem of institutional racism?