The NBA frowns on the thespian act of flopping, but Manu Ginobili and the San Antonio Spurs have perfected the art of playing possum.
The Spurs stumbled into the postseason hooked up to life support as a precaution after their listless conclusion to the regular season. The Spurs went 3-7 over the final three weeks of the regular season with Ginobili rehabbing a torn hamstring, lost the No.1 overall seed in the West and entered the postseason with lowered expectations. Fortunately, the dysfunctional Lakers rolled in as their first round matchup with an amputated lineup. Game 1 of their second round series against the Golden State Warriors was emblematic of their resiliency. That was the night Ginobili drained the game-winning trey after missing his previous seven shots.
Ginobili staggered through the first two games of the Memphis Grizzlies series like Bruce Wayne with a cane, but Saturday night marked the valiant return of BatManu.
Tony Parker will always play like an MVP-caliber point guard and Tim Duncan has a 16-year track record of virtuous playoff performances, but Ginobili is the model of consistent inconsistency. After a four game absence, Ginobili suited up as the third member of San Antonio's vaunted Big 3.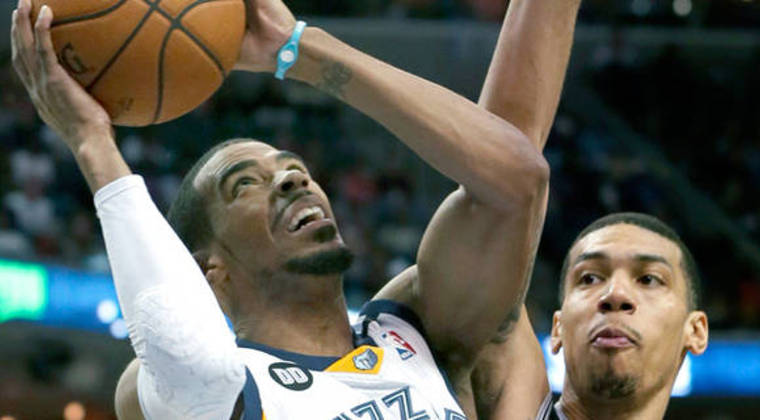 O.G. Class Is Still In Session
The veteran Spurs are schooling a Memphis squad that seemed ready to move to the head of the Western Conference class.
Ginobili was the only question mark on San Antonio after scoring 15 combined points in Games 1 and 2. In Game 3, he delivered a resounding answer to those who had any lingering concerns with 19 points at auspicious times.
In the first half, it was the Spurs bench captained by Ginobili that keyed their rally back from a 26-9 hole.
"We're going to need him to play well if we're going to continue this run." Duncan told ESPN's Doris Burke as he left the court, highlighting Ginobili's significance to their championship aspirations.
In the final 90 seconds of regulation, Ginobili turned it up a notch and prevented the Grizzlies from making it a series. A 2-1 series lead heading into Game 4 would have conjured up comparisons to last season's collapse after they took a 2-0 series lead over the Grizzlies.
With 1:20 remaining Duncan whipped a pass to Ginobili who cut towards the basket like a blur to give San Antonio a one-point lead. After Gasol put Memphis back up by one, Ginobili drew another foul on a backdoor cut and converted two free throws 30 seconds later.
This was a redemptive performance that traces its roots back two years, when the eighth-seeded Grizzlies began their ascent with a six-game first round upset of San Antonio. Ginobili's no longer the spry guard who could light up the net for 20 points a game on a regular basis. He's aged faster than Duncan. The bald spot's circumference has expanded, he's not quite as quick and the knees are a little creakier.
However, the Spurs look livelier this time around. They understand the perception of them as a group of grandfatherly Uncle Drew-types.
"We've been old probably for eight years now but we still got the moves." Ginobili gloated in his postgame press conference.
Christian Bale and Tony "Awards Allen can take a hike. Ginobili deserves an Academy Award nomination for his portrayal of a has-been shooting guard in a contract year playing on an empty tank. However, he'll settle for a Larry O'"Brien.