Floyd Mayweather turned up an hour and a half late to his press conference in Centennial Olympic Park, leaving fans to bake in the midday Atlanta sun. Not that it really mattered. Once the first note of Future's "U.O.E.N.O" started blaring from the speakers as Money May walked down the constructed red carpet to begin the press conference, the fans in Atlanta went nuts – sweat, thirst and work be damned.
See, the fans in Atlanta have a special relationship with Floyd. They watched him grow up in 1996, when he dazzled the crowd with his speed. He took home the bronze medal in '96 after an extremely dubious decision cost him a shot at the gold (here are the last two rounds, where Serafim Todorov appears to get points at random). Incidentally, it also bonded him with the Atlanta crowd who can forever relate to Floyd when he rants about not getting his respect.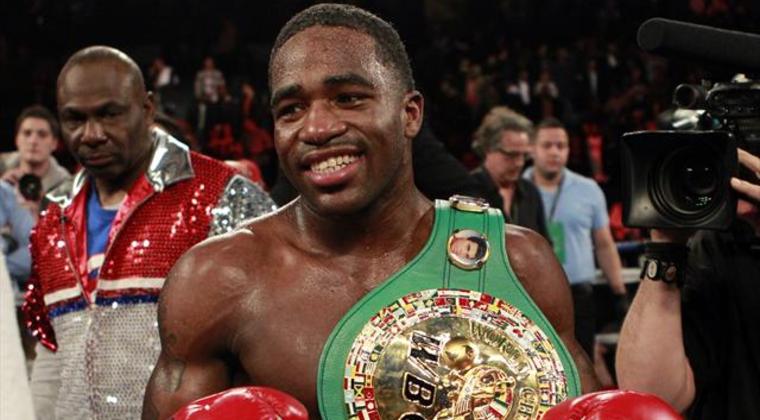 The line on Adrien Broner is that he's a Floyd Mayweather clone, or pretender, depending on the reviewer. Either way, his YouTube show "About Billions" is the most ridiculous show on the web.
It's not like Canelo didn't have his fans, though. They were out, loud and vocal. Just not nearly as defiantly vocal as Floyd's fans. Naturally, he ate it up, smiling broadly when a fan began chanting his mantra, "Hard Work!" followed quickly by a chorus of "Dedication!" that grew and grew throughout the crowd with Oscar De La Hoya on the mic.
There wasn't much De La Hoya could do, but the Golden Boy actually seemed prepared for the moment. "I can feel the passion from the boxing fans. Golden Boy Promotions is gonna come and put fights together here in Atlanta because obviously the fans deserve it. We'll speak to everyone out there and bring big time boxing with Golden Boy, with TMT, and bring you the best fights possible."
It's boxing, and fighters (and most entertainers) are usually excellent at speaking to their audience, so fans should take that with a grain of salt. The promoters shouldn't, though, because it really was obvious that Atlanta has a thirst for boxing. Evander Holyfield received multiple standing ovations, did several interviews (he politically picked "experience" but wouldn't actually name a winner) and probably wished he brought a cardboard cutout of himself to stand in on the countless pictures he took with fans.
All the love, for both fighters, is what will make Mayweather-Alvarez one of the biggest fights in the sport, though hardly the biggest fight in boxing history as the emcee of the event declared several times. They sold out the MGM Grand in less than 24 hours and De La Hoya predicted this fight would shatter the PPV record he holds for his fight against Mayweather.
One day, Atlanta fans might be rewarded with a Mayweather fight of their own, though it sadly seems unlikely given Floyd's preference for fighting in Vegas. It might have been why it immediately started raining as soon as Floyd left the stage.