Maybe all of those high-intensity, career-elevating innings that Aroldis Chapman posted in helping the Cubs win their first World Series since 1908 has come back to haunt him and the Yankees.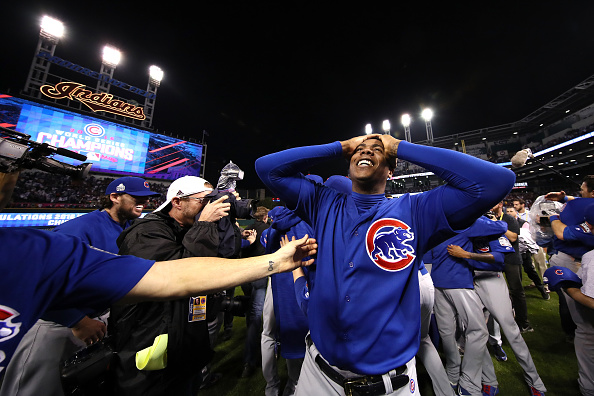 So far this season, Chapman hasnt looked like the dominant closer hes been in the past. He's flirting with a career high in ERA (3.55) and his WHIP of 1.42 is the highest in his brilliant career.
Now we know why.
The Cuban Calico will miss at least a month with left-shoulder rotator cuff inflammation that was diagnosed after an MRI exam on Saturday.
The Bronx Bombers have placed Chapman on the 10-day disabled list and he wont be throwing those 100 mph peas for at least two weeks. If everything works out, hed be out a minimum of four weeks according to Yankees sources.
Chapman, who began the 2016 season with the Yankees on suspension for violating the MLBs new domestic abuse policy, essentially ended up as a loaner with the Cubs before re-signing with the Yankees in the offseason.
With the Cubs facing World Series elimination, Chapman logged a career-high eight-out save as the Game 5 savior. They also used him for 1/3 innings in Game 6 of the World Series with the Cubs ahead 7-2. The 28-year-old flame thrower returned to the mound a night later and surrendered three runs in the eighth inning, including a game-tying two-run homer to Rajai Davis. Chapman says he was on fumes by Game 7 from being overworked.
When he signed a five-year, $86 million contract with New York, Chapman expressed his displeasure with Cubs manager Joe Maddon.
The way he used me during the playoffs, I believed there were a couple of times where maybe I shouldnt be put in the game and he put me in, Chapman said. But he is the manager and he has the strategy. My job is to be ready to be ready to pitch, whenever that is, however many innings it is, I need to be ready.
Chapman admitted on Sunday that he had been dealing with shoulder discomfort for a few weeks. With this injury occurring so early in the season, one cant help but think that Chapmans unusually high usage during the World Series just four months ago, may have contributed to his current situation.
When asked, Chapman said he can't be sure. "It's really hard to say that was the cause because not too long ago I felt great and I was pitchign really well," he said.
If last year's postseason with the Cubs did damage Chapman, then Theo Epstein is STILL sticking it to the Yankees, even as front office czar of the Cubs.