Aroldis Chapman makes closing look easy.
However, the uneasiness of October, the sudden ineptitude of Chicagos potent offense and the reality of possible elimination forced him into a Game 5 World Series situation unlike any in his illustrious, seven-year MLB career.
It forced a perfect pitcher to go beyond the immeasurable standard he has already set and show some grit, be a team player and change the course of Cubs history on his own. The World Series was the perfect strange and stressing time to be called upon to do something hes never done before.
With a 108-year World Series drought at stake and another disappointing playoff failure for Joe Maddons lovable Cubbies looming, Chapman, normally a three-out fireman, was asked to enter a must-win game in the 7th inning and record the first eight-out save of his career.
It was Chapmans Mariano Rivera moment.
(Photo Credit: usatoday.com)
The moment so many Yankees fans envisioned when Yanks talent recruiter Brian Cashman signed the hurler in the midst of a potentially life-changing domestic violence issue.
Now, Chapman is leaving his own legacy in Chicago.
Those classic 2 innings pitched forced a Game 6 tonight in Cleveland and saved Chicago fans from intolerable grief, keeping hope alive for the Windy City wanderers.
Chapmans performance was one of the most memorable moments in Cubs history. In fact, his entire playoffs has been fitting of a golden-armed king. Chapman made 3 saves in 4 save opportunities in the NLDS against the San Francisco Giants to set new Division Series records for each.
And in the NLCS eliminator, Chapman pitched two innings, and recorded the final two outs on a double play in the bottom of the ninth inning against the Los Angeles Dodgers to push the Cubs to the World Series; the franchise's first since 1945.
If the Cubs go on to win three straight and take the series, Chapman probably deserves serious consideration for series MVP.
Destiny Has No Course
Hes in a great place, but living in a parallel world. This wasnt totally the ending to the 2016 MLB season that Chapman envisioned when he was traded in December of 2015.
The games fastest and most furious closer came in a trade from the lowly Cincinnati Reds who were basically wasting his services because they didnt have a team worth spit at the time.
He was supposed to be a key piece in helping the Yankees shorten the game and return to the World Series for the first time since 2009. Chapman, who envisioned a championship close to a forgettable 2016 start, was right about his eventual destination, but he was wrong about which boys in blue he would be experiencing it with.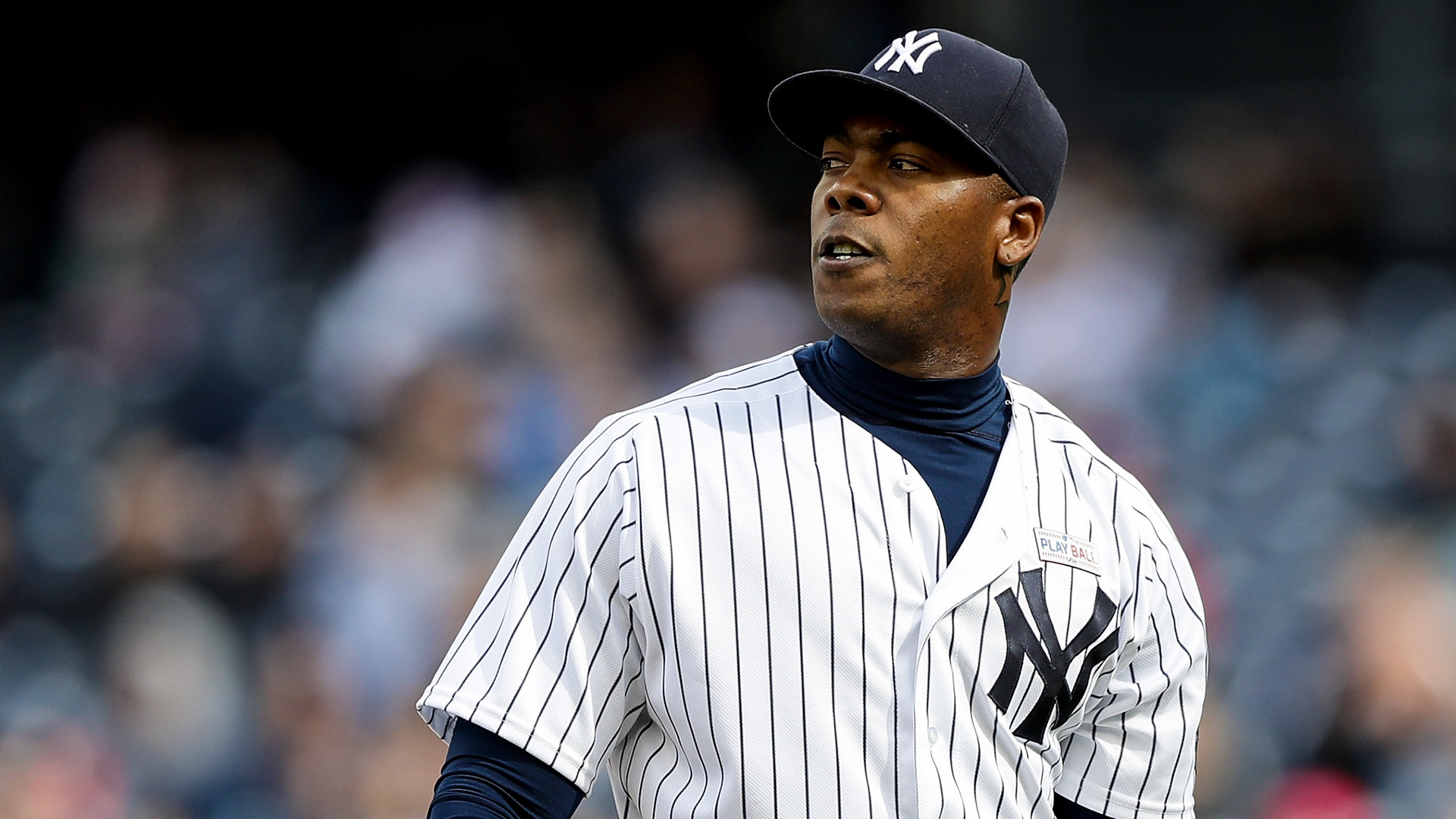 (Photo Credit: sportingnews.com)
The trade to the Yankees was a blessing, but he also was dealing with a domestic violence issue at the time that made his Yankees future somewhat uncertain.
No police charges were upheld, but MLB Commissioner Rob Manfred conducted an internal investigation and based on the facts of the case and what Chapman admitted to doing (which never involved harming his wife), baseball suspended him 30 days for violating its new-and-improved Code of Conduct policy on domestic violence.
Chapman eventually joined the Yankees and pitched well, but it quickly became obvious that even with the three-headed monster bullpen of himself, Delin Betances and Andrew Miller (who is also holding it down something serious for Cleveland), the Yankees were a few position-players short of seriously contending. He never got a chance to get comfortable and make New York City his own.
So, in a twist of fate consistent with Chapmans unpredictable season, hes traded again to the Cubs in July – again as the supposed final piece to a championship mix.
When Theo Epstein locked down the lethal lefty, the Cubs had everybody from the proud prognosticators, to the fans, to teams in their own division saying its pretty much game over for everybody else.
If the Cubs starters and solid bullpen can get the game to the ninth inning, Chapman and his 1-3 mile-per-hour blazer usually does the rest.
Surviving The Game
It sounds simple, but we know baseball doesnt always pan out as it appears on paper. Metrics and averages dont account for the predictable, unpredictabilities in the game and the idiosyncrasies and strategies that change the course of a contest with one pitch.
With the Cubs, Chapman seemed to safely land in the perfect winning position after being plagued with baggage and a flawed Yankees squad.
But like many times before in his life, the slender Cuban Calico would be tested — mind, body and soul.
Other than the way he defiles hitters and throws with an effortless, unprecedented force, nothing has been easy for Chapman. His baseball career has been dominating and challenging all at the same time.
He defected from Cuba in July of 2009 while in Rotterdam, Netherlands where the Cuban national team was participating in the World Port Tournament.
Chapman two-stepped out the front door of the team hotel, dipped into a waiting whip driven by his homie and eventually established residency in Andorra, the sixth-smallest European nation and petitioned MLB to be granted free agent status.
In 2010, Chapman agreed to a long-term contract with the Cincinnati Reds. It was a sweet six-year deal, worth $30.25 million according to MLB sources.
It still admittedly took some time for he and his large family to adjust to life in the U.S. During that transition period, his Cuban past met his Americanized future and his destiny crystallized into the combination of heights and lows often endured by unique superstars with personal obligations that extend beyond the playing field.
As he blossomed into a four-time All-Star by 2015, Chapman had a consistent gangster-groove on the hill. In 2015, Chapman recorded a stingy 1.63 ERA with 15.7 K/9, 4.5 BB/9 and a 37.1 percent ground-ball rate. He continues to push the limits of his success.
In his four previous seasons with Cincinnati, Chapman flossed a hard-body 1.90 ERA while averaging 16.1 strikeouts and 3.8 walks per nine innings to go along with an average of 36 saves per season. In July of that season, he became the fastest pitcher in MLB history to reach 500 strikeouts.
As this season approached, Chapman's future as a baseball player was slipping away a bit. Now, he kind of holds MLB history in the palm of his hands.
Thats the best place for it to be if you are a Cubs fan.