He came. He saw and conquered most of the obstacles that were thrown his way.
As a high school kid from Florida who didnt start playing organized ball until age 14 and transferred between five high schools in two different states, six different times as a result of moving in and out with his mother who had friction with the law, and then going straight to the NBA with no college experience, it's safe to say Amar'e Stoudemire done came up.
On Monday, the six-time All-Star officially announced his retirement from the NBA after 14 seasons of sensational highlights and unfortunate injuries.
Sitting at a podium in front of a NY Knicks backdrop at MSG, the ultimate bittersweet baller spoke eloquently and honestly. He did so in an atmosphere thats a far cry from the packed arenas that chanted his name after every sensational scoring play and freakish block, but revealed a calm yet passionate feeling of optimism that Amare has always exuded.
Its been a great ride. I was able to have a successful career, Amare said at the press conference. I persevered through a lot. Stayed focus. My determination was always there. I think its a good message for the youth to also just keep in mind that sometimes you face some challenges throughout your career playing this game of basketball…keep your mind focused on the game.
Though derailed by injuries and imperfect timing, Amares era with the Knicks had some magical moments. In that free agent summer of 2010, when superstars refused to sign with the Knicks and LeBron James dissed the city in favor of Miami, there was one guy who stood up for NYC basketball. Stoudemire bleeds orange and blue because thats where he became a legend, if only for a moment.
"I came to New York in 2010 to help revitalize this franchise, and we did just that," Stoudemire asserted when he first announced his retirement plans last Tuesday." Although my career has taken me to other places around the country, my heart had always remained in the Big Apple. Once a Knick, Always a Knick."
Fearless Warrior
In signing with the Knicks, Amare bravely thrust himself into the temperamentally vicious, overly ambitious, and often unappreciative NY sports culture. He embarked on a journey that had it's share of rough spots, but it was gutsy move that ultimately gained him favorable recollection in the annals of NY sports, increased his celebrity and ultimately expanded his fiscal reach.
He embraced his experience in The Big Apple. He had the spotlight for dolo for the first time. Just a few months into Stoudemires first season with the Knicks, the former Phoenix Suns star set a franchise record with nine-straight 30 point games that had Madison Square Garden rocking again and the Knicks thinking playoffs.
During the first eight games of that run, Stoudemire averaged an insane 33.9 points on .584 shooting. The Knicks had developed great chemistry, and at 16-9, they were off to their best start in years.
Stoudemire ended up having a killer season, averaging 25.3 points, 9.1 rebounds, 2 blocks and a career high 2.6 assists, while shooting a surprising 43% from three point range. He was an unstoppable force who changed the team's fortunes.
Melo Comes Home
The Knicks weren't done though. On February 22, 2011 NY gave up everything but the kitchen sink and Amar'e for Carmelo Anthony. The Knicks now had two superstars to flaunt but the addition of Melo was, in a way, the end for Amar'e. He was never the same. Melos immense presence and hometown ties took Amares shots and eventually his shine.
That 30-point barrage was Stoudemires last moment as the No. 1 man on the Knicks. He accepted the weight of the NY basketball world and did his part for as long as he was physically and psychologically able to. It just didnt last as long as Knicks Nation envisioned.
People forget, the Knicks won 54 games in 2012-13. It was the squads third-consecutive playoff appearance and its first Atlantic Division title since the 1993-1994 NBA season.
The problem was, Stoudemire missed the first 30 games of that season with a knee injury, returned briefly and missed the rest of the season, playing just four games in the playoffs. The Knicks had their best team in years and fans never got to see Melo and STAT bring the playoff ruckus at the same time.
(Photo Credit: sportsworldreport.com)
Legacy
We may never see another Amar'e Stoudemire again.
Stoudemire, 33, ends his NBA career with averages of 18.9 points and 7.8 rebounds in 846 career games over 14 seasons for Phoenix, New York, Dallas and Miami. The forward/center was named an All-Star six times and selected to two All-NBA first teams.
The man-child, standing 6-10, 240 pounds, was Rookie of the Year his first season on the pro hardwood. He immediately gained historical significance because he was one of a handful of ballers along with KG, Kobe and Moses Malone, who legitimized kids coming out of high school straight to the L — a move that was highly criticized for years by conservative Americans, most of whom were just jealous of the major paper these young African-American men were making.
Hes one of the first and last of his kind as a first-round draft pick out of high school. The failures of other high school- to-pro picks (Korleone Young, Leon Smith, Ellis Richardson) led to the new age requirements starting in 2006, where players entering the draft must be at least 19 years old and a year removed from their high school class graduation.
(Photo Credit: thoughtyoumayask.com)
When STAT was healthy and rolling in his early years with Phoenix, he was truly beasting cats like a young Moses Malone, less the afro and scruffy facial hair. He had an impeccable offensive game, a hound dog's nose around the rim, a lifers confidence and thunderous energy that he flashed immediately.
I teamed up with Penny Hardaway, Stephon Marbury and Tom Gugliotta…guys who were great mentors for me when I got to the NBA, A'mare said. From that point I learned from everything they taught me and then eventually got with Steve Nash. We took that show and changed basketball for that moment.
When Nash arrived in '04-'05, Stoudemires game blossomed to the next level. Using a John Stockton-Karl Malone lethal pick-n-roll, STAT averaged his career-high of 26.0 points per game. The Suns went 62-20 and lost to the Spurs in the Western Conference Finals.
The Suns fell in five, but their high-octane, points-posting, two-man game captivated NBA fans and catapulted Stoudemire and Nash to iconic status in the West.
Prior to the 2005-06 season, Stoudemire suffered his first major setback and underwent microfracture surgery which limited him to just three games. Over the next three years, despite failing to win a championship, Stoudemire and Nash returned Phoenix to its prior glory.
If he could have just stayed healthy…
I left (Phoenix and New York) to search for a championship, Amare said. I went to a couple of teams …Dallas and Miami to try and contend for a title. I knew my time was limited in the NBA. From that standpoint I think my career has been successful.
Future Focus
Stoudemire has no regrets and has already moved on to the next phase of his life. Hes still got a passion for basketball and at his press conference he announced that hell be executive hooping as part owner and player on Hapoel Jerusalem.
I'm sure everybody has been documenting my journey in the Holy Land over the last six or seven years…my interest in playing in Israel..that dream has come true, Stoudemire announced. Its official and I have a two-year contract and am excited for the next journey.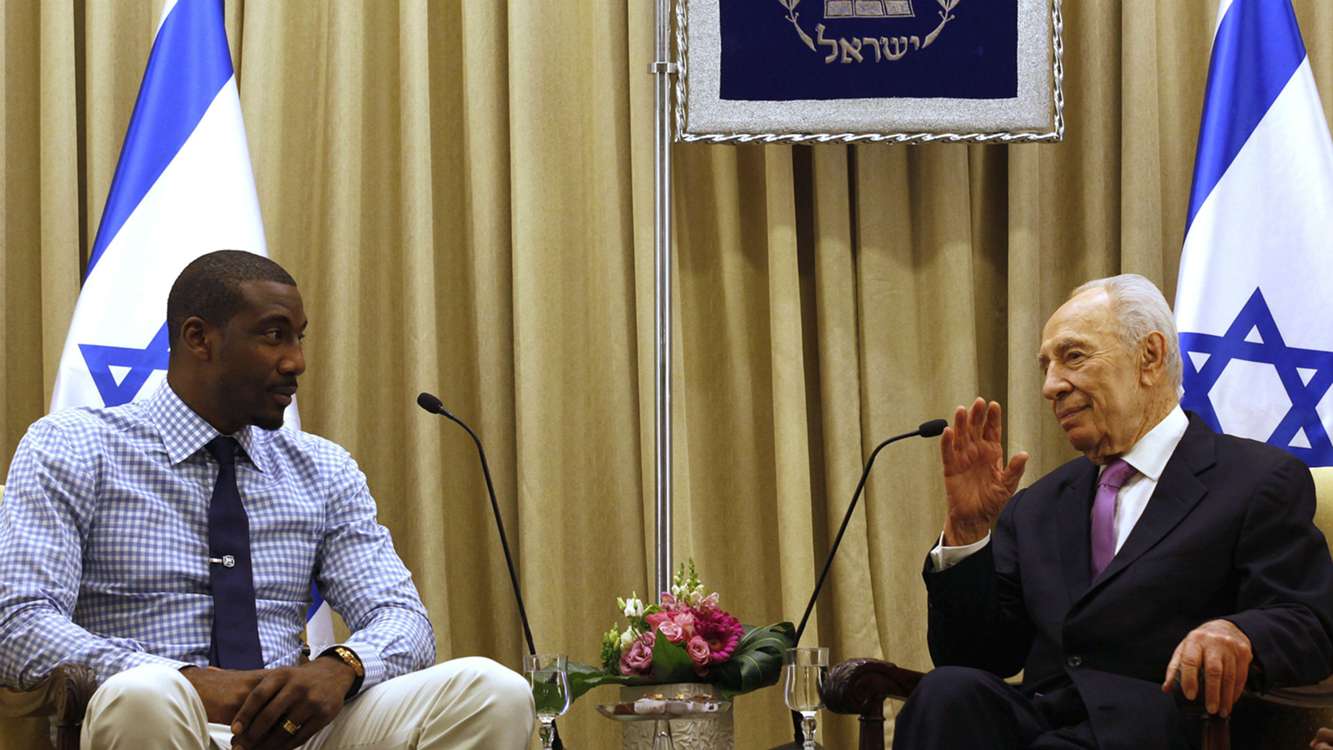 Stoudemire is one of a growing number of athletes who made his riches in pro sports, suffered injuries, didnt go bankrupt, retired early rather than too late and is now investing his time and money into building a brand, staying personally productive and evolving post-career. Another shining example of society's changing times.