The year 2007 seems like a lifetime ago for Adam 'Pacman' Jones. And it should. He was a different person then. A young, brash, talented guy with a passion for clubs, strippers and all the ghetto-fab trappings afforded a young NFL player making paper.
He lived on the edge, toeing the line in his association with various unsavory characters. He flaunted his wealth and at times brazenly paraded it in the face of the less fortunate. He became the poster child for an NFL whose predominantly African-American league was taking heat for a litany of off field issues and brushes with the law that was "giving the league a black eye." (To this day I ask myself what is worse a black eye or a bruised brain but I digress)
Eight years ago, if you took a poll of fans, players, coaches and leading media, the consensus opinion would be that Pacman Jones wouldnt last three more years in the league.
And he didn't.
But Adam Jones is still balling. In the second quarter of the Cincinnati Bengals 10-6 loss to a feisty Houston Texans squad on Monday night, Jones lunged in for a big hit on a Texans receiver and then went down. He layed on his back on the field while the team medics tended to him. He got up, walked off the field and then returned to help the Bengals D keep the game close. It was Cincys first loss in what has been a magical year so far.
For Jones, every game that he takes the field and competes is a win for the NFL baller formerly known as 'Pac Man' in his younger, wilder days. It was a name given to him by his mother as kid growing up in Georgia. When he played football, he changed directions at the drop of a dime, like the video game character.
It still holds true to this day, even though he doesnt rock with the moniker anymore. Jones was able to change his lifes direction, just as his back foot was slipping off a cliff and hes leading a more respectable, structured life and living out his final football years as an asset to his team and not a distraction.
On April 10, 2007, NFL commissioner Roger Goodell announced a one-year suspension for Jones for violation of the NFL player conduct policy. This was the first time in 44 years that a player was suspended for an offense other than substance abuse.
Jones took out a full page ad in The Tennessean, promising fans and teammates that " I will do everything in my power to regain your trust and respect."
Watching Jones fly around the field and be a leader and efficient player in the Bengals secondary — at times still flashing the speed and elite abilities that have allowed him to last 11 years in the league — makes you realize how much of a story of redemption, heart, self-evaluation and reconstruction Jones life has been.
We've literally watched Jones, now a 32-year-old man who doesnt make it rain in strip clubs or lend his whip to known drug dealers anymore, grow up in the NFL.
Weve seen a ton of cats struggle with life as a pro athlete and it eventually led to their destruction. Jones was once thought to be on a fast path to the pen or poverty. His first couple of years in the NFL were super solid on the field and rocky as hell off of it. He was living like he was balling on Sundays; 100 miles per hour , uninhibited and free from restriction.
And he loved his peoples. He didnt turn his back to the streets when he went Hollywood. If you thought Ray Rice was a hot name for a few months after his infamous elevator incident, well Pacman Jones made Commissioner Roger Goodells life hell and dominated negative NFL headlines and the police blotter from the moment the Tennessee Titans nabbed him out of West Virginia with the sixth pick of the 2005 NFL Draft.
By 2008 he was public NFL enemy No. 1. His transgressions werent your typical jock mess up. They always involved a very seedy and enticing underworld of strippers, drugs, guns and the constant hovering of the criminal element as a way of life.
He started his career by missing most of training camp, holding out in a contract dispute. Former GM Floyd Reese cited concerns over several off-the-field criminal incidents that were pending. His concerns were legit. Those early troubles were the beginning of a snowball of incidents, suspensions and highly publicized mishaps which by 2008 had exploded into a dark downward spiral for Jones who missed the entire 2007 season, part of the 2008 season and the entire 2009 season, prompting then-ESPN commentator Stephen A. Smith, in the "Parting Shots" segment of The Sports Reporters, to rip Jones for setting a bad example for youth. .
The Titans drafted Jones despite the huge, bright red flags. Jones was already on probation for a brawl he had in West Virginia. He caught another charge before playing a down as a Titan. On July 14, 2005 Jones was arrested on charges of assault and felony vandalism stemming from a nightclub altercation in Tennessee.
On September 5, 2005, Jones was a guest at the annual Nashville Sports Council Kickoff Luncheon. He had a spat with the police over an issue with his valet parking and subsequently, the State of West Virginia filed a petition alleging that Jones had not made regular and sufficient contact with his probation office or reported his July arrest in a timely fashion. The court ordered the probation extended for 90 days.
In February 06, Jones was arrested in Fayetteville, Georgia after an incident outside a home. Marijuana charges were dropped but the state pressed charges for felony and misdemeanor counts of obstruction of justice.
It just kept getting better.
A Cadillac with Jones' nickname "Pacman" stitched in the headrests was seized during an April 2006 cocaine bust. The car was not registered to Jones, but he later brazenly bought the car at a police auction.
On August 25, 2006, during training camp, Jones was arrested in Murfreesboro, Tennessee for disorderly conduct and public intoxication at a nightclub after he spat on a woman he accused of stealing his wallet. A judge blessed him with six months of probation on the conditions that he stayed out of further trouble and away from the nightclub.
On October 26, 2006, Jones was cited for misdemeanor assault for allegedly spitting in the face of a female Tennessee State University student during a private party at Club Mystic, a Nashville nightclub. He was suspended by the Titans for one game.
The straw that broke the camels back and under most circumstances would have and should have ended Jones career occurred on the morning of February 19, 2007, during the 2007 NBA All-Star Game weekend in Las Vegas.
Jones got into it with a stripper at Minxx, a local strip club. Jones and rapper Nelly and some associates, made it rain with a sea of dollar bills. Pac Man had a trash bag with $81,000 dollars in ones. It dont get no more hood fabulous than that.
When club promoter Chris Mitchell told his dancers to collect the money, according to the club's co-owner, Jones flipped because the dancers took the money without permission. Jones allegedly slammed the dancer's head on the stage, security intervened and a melee broke out between Jones fam of about 12 dudes and the club security.
After the club emptied, the owner claimed a person in Jones' entourage returned with a gun and fired into a crowd, damaging equipment and hitting three people, including the security guard involved in the earlier skirmish. The guard was shot twice, and one of the people hitformer professional wrestler Tommy Urbanskiwas paralyzed from the waist down.
To this day, Jones insists he didnt know the shooter and on March 26, 2007, the Las Vegas Metropolitan Police Department recommended to the city's district attorney that Jones be charged with one count of felony coercion, one count of felony coercion, one misdemeanor count of battery and one misdemeanor count of threat to life
Jones had to pay out $11 million to Urbanski and 1.3 million dollars to victim Aaron Cudworth who was working with Urbanski on the day of the shooting.
At that point, Tennessee was looking to unload Pac Man on any team that would have him, Reese was quoted as saying that Jones had been everything the Titans hoped for on the field, but he'd been "nothing but a disaster off the field" during his two years in Nashville.
Eventually, Jones pleaded no contest to one charge of conspiracy to commit disorderly conduct, a misdemeanor. He was given a suspended prison sentence of one year, probation, and ordered to perform 200 hours of community service.
Even after being suspended by Goodell, Jones didnt stop frequenting strip clubs, cohorting with know hustlers or getting into problems with dancers.
On June 18, 2007, Jones was again sought by police for questioning after a shooting at an Atlanta strip club allegedly involving members of his entourage.
Jones spent much of his suspension proclaiming his innocence, dabbling in some pro wrestling and…well…getting into more sh%t. The 2007 season ban cost Jones $1.2 million in salary andeven his mother Deborah Jones, at the time, said Pacman was out of control and hotheaded.
On January 15, 2008, Jones was accused of hitting a woman in an Atlanta strip club on the morning of January 3. The woman, Wanda S. Jackson, eventually withdrew the warrant.
Jones is a classic example of an athlete whose incredible talents were his gift and curse. He kept getting second chances, despite his obvious unwillingness to curb his lifestyle which was hurting his NFL career and the corporate image of the Titans, only because he had talents that couldn't be taught.
On April 23, 2008, Jones was traded to the Dallas Cowboys in exchange for a fourth-round pick in the 2008 NFL Draft. Owner Jerry Jones and the entire Cowboys Family supported the move and offered to help Jones through his turbulent times. On August 26, Jones was fully reinstated by Goodell for the 2008 NFL season, but he warned Jones that he would have a short leash.
Unfortunately, dude wasnt finished tearing it up off the field.
On October 8, Jones was involved in an altercation with his bodyguard in a Dallas hotel. ESPN reported that there were no arrests or charges filed but word did get back to the NFL and thus Jones was in violation of the leagues personal conduct policy and suspended for a minimum of four games.
On October 16, Jones took the first step towards accepting the fact that his lifestyle was leading him down the road of destruction and entered an alcohol rehab center. By the time he was ready to return his four-game suspension had become a six-game suspension.
When Jones finally returned on December 7, he suffered a neck injury that was thought to be possibly career-ending. With his typical resilience Jones returned to play in the Cowboys final regular season game in 2008.
But on January 7, 2009, the Cowboys announced they would release Jones. His sordid past had caught up to him and his NFL favor had run dry. It seemed he had mastered the art of the punt return and the art of insanity.
At this point, his reputation was mud, but he still had the skills to pay a few bills, it just wasnt going to be on Sundays in America. In August 2009, Jones agreed in principle to a one-year deal to play with the Winnipeg Blue Bombers of the Canadian Football League.
However, that fell through when Jones called the Canadian Football League, the United Football League in an internet clip.
Jones was out of the NFL for a year when he worked out for a group of NFL teams, including the Bengals in February and March of 2010. Jones still had world class speed, running a 4.42 in the 40 yard dash.
In May of that year, Jones signed a two-year deal with the Bengals. He also began turning the corner in the game of life and went through the entire off-season and the entire pre-season without an incident. He made his regular-season Bengals debut on September 12, 2010 and has slowly, but surely faced and erased the troubles of the past. It hasn't been totally smooth, but he's incrementally improved and hes shown remorse for past circumstances and now walks a pretty straight line.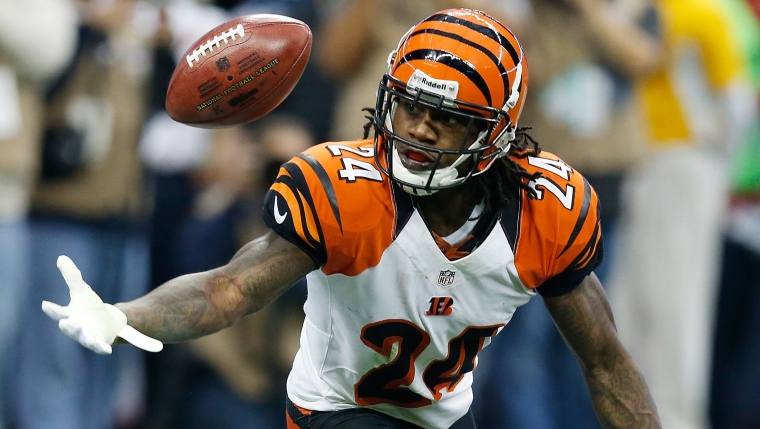 The influence of Marvin Lewis and The Bengals organization in combination with some self-awakening and maturing has allowed Jones to remain in the league as a weapon at cornerback and return man for an 8-1 squad that is looking like contenders on the rise. If the NFL didnt provide second and third and fourth (and in Pacman's case) fifth and sixth chances, then we would have never seen one of the most remarkable journeys of personal growth in NFL history — in real time. In 2013, Jones signed a three-year deal to remain with the Bengals. A few stumbling blocks/relapses weren't enough to keep Lewis and Co. from allowing him to most likely retire as a Bengal.
He doesnt party like a rap star anymore. On Saturday nights he can be found with his family just chilling. He is finally growing into the type of man that he always had the potential to be. He was selfish before to say the least. He had an insatiable and unquenchable thirst for the party life and living almost a double-life.
Now, hes a leader in the locker room and dropping jewels on younger ballers as he did in 2012 when he spoke (at his request) on the Rookie Symposium panel and credited Commissioner Goodell for having changed him as a person.
Jones accepted responsibility for his actions and it is clear that his NFL landing and eventual legacy will prove to be substantially smoother than his take off. Thats what lifes all about evolution and elevation. Jones gets a pat on the back for that.