Pete Dougherty of the Green Bay Press-Gazette wrote a column on Thursday evening for USA Todays Wisconsin Network urging the Packers to sign free agent running back Adrian Peterson as the aging star still has some gangsta gas left in the tank.
But just as quickly as he complimented Petersons longevity, he sent a dagger through the spine of every African-American that reads the Green Bay Press-Gazette. Even in 2017, we are increasingly seeing a freedom in expressing racism that hasnt existed in this country in decades.
Dougherty writes off Peterson having whipped his four-year-old with a tree branch as learned behavior. Specifically, he chalks Petersons drive to beat his son up to beatings that Petersons ancestors "likely" suffered as slaves: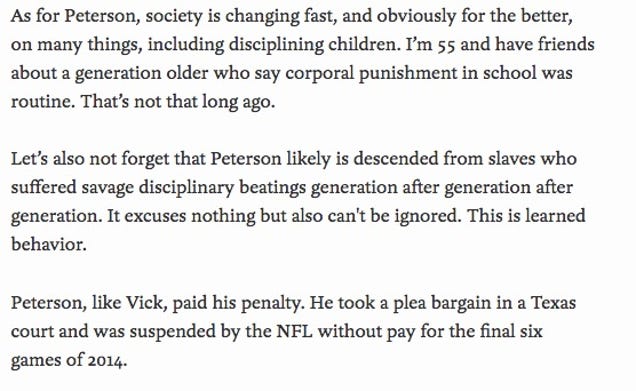 First off, I dont call for peoples jobs so I would stop short of asking for the publication to fire the columnist, but he should be reprimanded for his lack of responsibility as a journalist. Dougherty had to know that a volatile, racist, primitive statement like that would send firestorms through the industry.
Maybe that's what he wanted. Maybe hes tired of seeing all of the people of color on television and in pro sports elevating and becoming more than just slaves to the rhythm. Maybe Dougherty just wanted some notoriety for his years of reporting and finally decided to drop a bomb, play the race card and say the most inflammatory thing he could to get some damn recognition.
Whatever his angle, it was stupid to say such ignorance in a column. Any white journalist knows to stay away from slave references or comparing the anatomy of a black person to any animal. It's career suicide.
Unfortunately, these days, no joke seems to be that bad when it comes at the expense of black people and black history. But nonsense such as that can't be tolerated and at least the publication issued an apology at the top of the article which currently lives on USA Todays web site.
Note to readers: A paragraph in an earlier version of Pete Doughertys column that included a reference to Petersons punishment of his 4-year-old son being connected to Americas history of slavery was removed. It was poorly reasoned and insensitive. We apologize to all readers who were offended.
The apology is weak to be honest. Dougherty really stuck it to his employers and gives his entire staff a bad reputation. Lucky for him, in this age of 24-hour sports cycles, his racist comments will fade to black quickly and he probably wont lose an ounce of sleep over it.
We just know that the social philosophies of the Green Bay Press-Gazette leave something to be desired in terms of political correctness and respect for all races.