Willie Taggart, head coach of the University of South Florida, has reportedly been hired to become the next head coach of the Oregon Ducks. He will be replacing Mark Helfrich who was relieved of his head coaching duties after posting an abysmal 4-8 record this season.
This is a major hire for African-American coaches and comes on the heels of Texas firing Charlie Strong after just three losing seasons at the helm.
Taggart lead the USF Bulls to a 10-2 record in 2016, which was the best in school history. USF is set to play South Carolina in the Birmingham Bowl at Legion Field in Alabama on December 29th.
(Photo Credit: thecomeback.com)
Prior to being USF's head coach, Taggart was a running backs coach at Stanford under Jim Harbaugh from 2007-2009 and his innovative ground game lifted senior running back Toby Gerhart into Heisman contention. From 2010-2012, he was the head coach of Western Kentucky which included an appearance in the Little Caesars Bowl, the first bowl game in school history.
Taggart has been the coach of the Bulls for the past four seasons. His growing reputation as a genius program-builder stems from the steady improvement his teams show each season. The Bulls were 2-10 his first year, then 4-8, then 8-5 and last season they blossomed into an elite non-power conference squad.
Talk of potential candidates to replace him has already begun. Alabama offensive coordinator Lane Kiffin's name has been the most cited. He, however, has already interviewed for the head coaching position at Houston. Other candidates include Strong, Former Rutgers and Tampa Bay Bucs head coach Greg Schiano (currently defensive coordinator at Ohio State) and Florida State co-offensive coordinator Lawrence Dawsey.
Willie Taggart, 40, will inherit a football team that has no less than national title aspirations every season. Taggart turned USF into offensive stormtroopers by fusing his traditional ground and pound attack with more athletically-enhanced spread formations, a style that he intends to implement and one that already favors Oregons balanced, up-tempo spread system.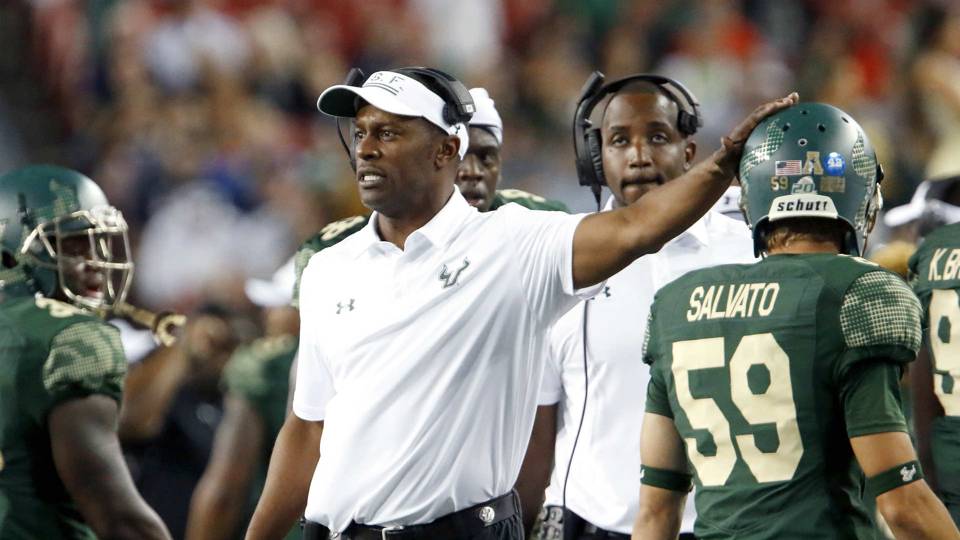 (Photo Credit: Getty Images)
At Oregon, hell have a rising star in sophomore QB Justin Herbert, who posted the Pac-12s No. 4 passer rating (148.8) after taking over the reigns on October 1 against Washington State. Hes mobile enough to be the dual-threat signal-caller that will hold great responsibility in executing Taggarts offense.
With his ascension to the Oregon gig, Taggart is arguably the No. 1 African-American coach in college football as far as program prestige is concerned and joins James Franklin (Penn State), David Shaw (Stanford) and Kevin Sumlin (Texas A&M) as the golden boys of coaching diversity in NCAA D1 FBS football.
This is a huge opportunity for him and another watershed moment for African-American coaches in the college ranks. Its up to Taggart to use his resources well and make the state of Oregon smile on Saturdays.