People are used to oversimplifying things. Its just one of those human traits you come to expect. Especially so when a once highly productive quarterback shows a regression that is so profound as to astound all who observe it. Plainly put, Colin Kaepernick cant suddenly be a bum, can he? He's either a bad player or in a bad situation, but no bum lasts as long as he did without being exposed. So what gives?
It wasnt so long ago that Kaepernick was flourishing in the limelight as an NFL quarterback who was considered the wave of the future. He truly was. It appeared that he, along with Cam Newton and Robert Griffin III, represented the future of the NFL quarterback. At the time of his ascendance I wrote a feature entitled "Colin Kaepernick, Cam Newton Are Among NFLs Weapons of Mass Production," one of the most popular articles I had written at that time.
Published on January 22, 2013, it was a slideshow that was one-part history lesson of the running QB, one-part player homage and one part forecast for the next generation of quarterbacks in the NFL. As you can tell by the title, both Kaepernick and Newton were balling and RG3 was doing his thing as well. Although he had suffered a knee injury against the Seattle Seahawks, the prognosis for a full recovery was still very good. Seattle would lose to eventual NFC Champions San Francisco 49ers thanks in large part to the play of Kaep. Heres the lead from the description of Kaep that I wrote in my story from two years ago.
His story is one for the ages, and it is still unfolding right before our eyes. Forced into the limelight by an injury to a starter, second year quarterback Colin Kaepernick has come in and is playing lights out football for a very dangerous San Francisco 49ers team.
The second year player out of the University of Nevada has shown tremendous arm strength and accuracy throwing the long ball. Of his 12 regular season passing touchdowns, six were for 20 or more yards.
"The zone option read play will never work in the NFL," they said. "It's too simple," they said. "Linebackers and defensive backs in the NFL are just too fast," they said. Well, they can say whatever they want to say but Colin Kaepernick's play throughout the regular season and the playoffs is causing folks to simply put a sock in it.
At the time those words were written I would have bet a lesser used extremity that Kaep would be thrashing opponents for years to come. In my defense, his early stats would lead anyone to believe he was going to be nice as ice in the Sahara for a long time. Tossing for 3,197 yards, 21 TDs and 8 INTs in his first full season as a starter in 2013 and 3,369 yards, 19 TDs and 10 INTs in 2014 are just a hair over being pedestrian. But the running used to kill opponents; 524 rushing yards and 4 TDs (2013), 639 yards and 1 TD (2014) during the regular season, as well as Herculean efforts during a run to the Super Bowl, had everyone in the Bay Area expecting more of the same for years to come. He was winning ESPYs, doing commercials, hanging out with celebrities.
Can it be that it was all so simple then?
He couldnt possibly have regressed so quickly, so conclusively, could he?
It would be silly of anyone to blame all the Niners woes on Colin. After all, prognosticators were predicting a really bad year for them as far back as April. David Fucilo of Niners Nation had them at 10-6, a Pollyanna-ish prediction to be certain. Estimates by Paul Gutierrez of ESPN and Doug Farrar of Sports Illustrated were more on par with what weve been seeing from the crimson and gold this season, with Gutierrez guessing theyll be 7-9 and Farrars belief that they would finish last in the division.
Couple all that gobble-dee-guck with the reality of San Franciscos current paltry record of 2-6 and we see that they are what most people thought they were, and most people thought they were going to be pretty bad months before the season even started. There are plenty of problems to account for this: a new head coach, the loss of a veteran running back, fewer weapons on the outside to throw to and an offensive line that is among the worst in the league. Also gone are the pistol formation and the zone read option that he marveled opponents with early on.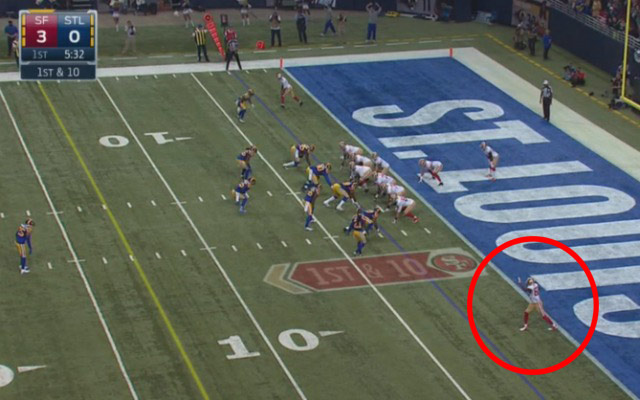 So its not ALL the quarterbacks fault. But with that being said, what the hell is going on with Kaepernick?
Hes looking worse than he ever has as a professional football player. Confused, scared or inept? We heard tons out of San Francisco during the offseason about how hard Colin had worked on becoming a better pocket passer, but thats the same type of punditry we heard from John Harbaugh in the summer of 2014. New head coach Jim Tomsula said many of the same things Harbaugh said regarding Kaep's work ethic, his potential and his ability to grasp their offense. But maybe Colin is a one trick pony.
It's not like it's a situation where his game is being "tampered" with by coaches with different philosophies that run counter to one another. His former quarterbacks coach, Geep Chryst, is now the offensive coordinator.
One cant be too certain exactly what his problem is, but there was a play during the game against the St. Louis Rams last week in which the Niners have their backs to their own goal line. It appeared as if the $110 million dollar man was so scared that he simply handed the ball off to the running back, who was promptly tackled for a safety. His failure to audible out of a run to take advantage of a clearly blown defensive coverage call belies any positiivity and thrusts us into a startling reality- a player who is guaranteed $61 million on a six-year contract is now riding the bench and might be headed out of town in the off-season.
The day after that resounding loss Adam Schefter of ESPN reported that Colin Kaepernick has been benched in favor of one-time first round pick turned bust, Blaine Gabbert. A resounding defeat for this darling of endorsement deals, would-be fashion model and admitted tattoo aficionado.
Its feels like every year a coach is saying how theyre going to open up the offense for Kaepernick, only to watch the world question their sanity as Colin bumbles, stumbles and fumbles away their NFL credibility.
Today we are at a juncture in his career that Colin had to have seen coming a mile away. At least he should have. It wasnt that long ago when he was looked at as the savior for an offense that struggled to score with first round draft pick Alex Smith at the helm. It was in a late November game against the Rams that Kaepernick would start his first game as The Man for the Niners by supplanting Smith for the starting job under center. You cant help but wonder what kind of energies converged to see him unseated as the starter by Blaine Gabbert. Scapegoating, work ethic, politics or lack of mental toughness?
No one can be sure, but Alex Smith might call it something else- karma.