The Big 5 is comprised of five Philadelphia colleges; La Salle, St. Joe's, Temple, Penn and Villanova. They began competing for the championship of the city of Philadelphia back in 1955, but the real reason was to raise funds to contribute to the upkeep of the legendary Palestra, on the campus of the University of Pennsylvania, where the games were played. Also, it was to give Philly a place to showcase its great tradition of high-quality college basketball.
Back in the day, there was no such thing as a super conference like of the Big East or ACC. Most schools were independents and remained that way up to the mid-'70s. Each Big 5 team had the flexibility and freedom to craft a schedule that allowed them to play one another twice a year. This ended in 1991 due to the respective Big 5 members being in conferences but was revived in 1999.
The rivalries that developed are the stuff of college basketball legend. Seems like everybody has a problem with St. Joe's. Their Holy War with Villanova is a continually hot rivalry, while the St. Joe's v. Temple rivalry almost got some people fired. In 2004, John Chaney sent in a player to intentionally foul John Bryant, and Bryant's arm was fractured because of that.
La Salle also considers St. Joe's to be its biggest rival. Temple has the most big five titles with 27 overall, while Villanova won most recently and is the most successful Big 5 NCAA Tournament team of all-time.
Here's our All-Time Philadelphia Big 5 Team starters:
(Photo Credit: Hoopstalgia)
Forward, Lionel "The Train" Simmons, La Salle
Simmons played four seasons at La Salle and was a four-time All Big 5 selection and Geasey Trophy-winner three times. He averaged 24.6 over three years, was a Wooden Award winner and the AP College Player of the Year as well.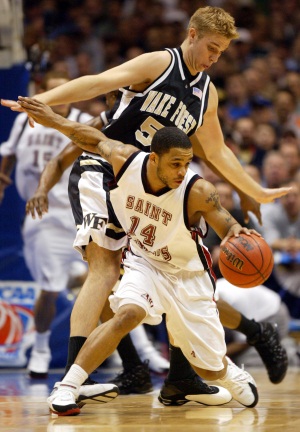 (Photo Credit: Philly.com)
Point Guard, Jameer Nelson, St. Joe's
Nelson was a John R. Wooden Award winner, Naismith Men's College Player of the Year and Associated Press Player the year as a senior. He averaged 16.8 points and 5.7 assists per game in his four year career.
(Photo Credit: Ebony)
Shooting Guard, "Shakin and Bakin'" Mark Macon, Temple
Mark Macon was part of some great Temple Owls teams in the late '80s and early '90s, playing alongside guys like Howie Evans and Ramon Rivas, that went to the NCAA Tournament in three of his four years on campus. He averaged 20.7 points, 5.6 rebounds and 2.7 assists while playing for John Chaney on Broad Street in North Philadelphia.
Shooting Guard/Small Forward Paul Arizin, Villanova
Paul Arizin was a 6-foot-4 small forward and shooting guard who played three seasons at Villanova from 1957-1960. In 1958 he scored 85 points against Naval Air Materials Center and is said have scored 100 points against a junior college as well. Arizin averaged 25.3 points per game his senior year and won National Player of the Year honors. He would go on to become NBA Rookie of the Year, win the 1956 NBA Championship with the Philadelphia Warriors, and be named to the NBA 50 Greatest Players of All-Time list. He has been inducted into the Basketball Hall of Fame.
Power Forward, Tom Gola, La Salle
Tom Gola was one of those players would wish you could have seen play when he was at La Salle University. His numbers transcend the era in which they were accumulated, averaging 20.9 points and 19 rebounds during his collegiate days. An NCAA champion and Final Four Most Outstanding Player, Gola would win the UPI Player of the Year trophy and was NIT co-MVP in 1952. He was listed as a forward but many who saw him play say his all-around game made it difficult to categorize him. He could shoot, he could pass, and rebound, and could lock up the other team's best players in the backcourt or frontcourt. Such versatility is usually resigned to latter eras, but that's just how ahead of his time Gola was. He would win the 1956 NBA championship with the Philadelphia Warriors and was the first Warriors player to record three straight triple-doubles. He coached two seasons at La Salle before venturing into politics. He is one of only five players to win NIT, NCAA and NBA championships.
Sixth Man:
Small Forward/Shooting Guard, Eddie Jones, Temple
Eddie Jones was a slippery slasher, scorer and finisher during his time at Temple, and the National Basketball Association as well. He averaged 19.2 points and 6.8 rebounds per game his senior year. Jones was Atlantic 10 Player of the Year in 1994. Selected with the 10th overall pick in the 1994 NBA draft by the Los Angeles Lakers, he was All-NBA Third Team in 2000, All-Defensive Second Team from 1998 to 2000, NBA steals leader in 2000, and of course he won the Geasey Trophy in 1994.
Bench Mob:
Shooting Guard, Kerry Kittles, Villanova
Kerry Kittles' length, athleticism, defense and shooting touch earned him second team All-American honors as a junior and first team All-American honors as a senior at Villanova. Standing 6-foot-5 and weighing 179 pounds, with an athleticism and speed that allowed him to outrun his man on the break, Kerry was aesthetically the prototype NBA shooting guard.
He averaged 18.4 points per game and 5.9 rebounds and converted 39% of his free throws. Because of his length and quickness, he averaged 2.3 steals per game as well, often pouncing in to disrupt the passing lanes. In 1995 he was named Big East Player of the Year. Drafted by the New Jersey Nets with the 8th overall pick in 1996, he was instrumental in helping the Nets reach the NBA Finals two years in a row. Kittles still holds the Villanova record for most points scored with 2,243.
Center, Ed Pinckney, Villanova
At 6'9″, 230 pounds, Pinckney was relentless in attacking the glass and would be on his third jump when opposing big men were still on their first. He was instrumental in Villanova winning the 1985 NCAA title over Georgetown. Ed was named NCAA Final Four Most Outstanding Player before being drafted by the Boston Celtics. He enjoyed a 12-year NBA career.
Forward, Michael Brooks, La Salle
A two-time Geasey Trophy winner and 1980 College Player of the Year, Brooks averaged 23 points and 12 rebounds and twice led La Salle to the Big Dance. He was a AP All-American and a captain of the USA Men's Olympic basketball team but did not get a chance to compete due to the United States boycotting the Moscow games.
Forward, Ron Haigler, Penn
Ron Haigler was the first to ever be named the Ivy League Player of the Year and won the Geasey Trophy during his junior and senior year. He is one of the most capable scorers in the history of Penn Quakers basketball. His three year collegiate average is 18.7 points and 10.7 rebounds. He holds the school record for field goals made in one season during his senior year with 259. He won the Arthur Kiefaber Award as the team's most valuable player as both a junior and senior.
Jerome Allen and Matt Maloney, Penn
Jerome Allen had the funkiest crossover in the history of Penn basketball and used it to blow past defenders regularly. He and backcourt mate Matt Maloney were a site to see during the 1994-95 season in which the duo teamed up to take Penn to the NCAA Tournament. Allen was seen as the quintessential point guard who could have easily scored more than the 14.7 points per game he averaged his senior year. Maloney was a three-point shooter of great repute at Penn. Maloney would win Ivy League Player of the Year honors in 1995. Allen was a two-time Ivy League Player of the year who was the leader of three straight undefeated teams in conference play as a sophomore, junior and senior.