Wow. Right about now the Villanova Men's basketball fans are partying like it's 1985 after vanquishing the University of North Carolina on a last second shot to win the 2016 NCAA Championship. Final score: 77-74.
All season long, the Wildcats showed their perimeter-based offense to great effect. However, there were plenty of people who believed they were an incomplete team who could be forced into taking bad shots in close games due to an inability to score consistently from the low block. But those strategies rarely worked in the regular season. Some even thought it was possible to out score Nova. Despite that, Nova was tabbed as possibly being a No. 1 seed in the NCAA Tournament before being defeated by the Seton Hall Pirates in the Big East Tournament championship at Madison Square Garden.
(Photo Credit: The Intell)
Though there is a lengthy history of teams fretting over seeding succumbing to lesser opponents in the early rounds of the tournament, Jay Wright's team maintained their collective composure and peaked at just the right time.
The Wildcats have the whole state of North Carolina sick to their stomach after defeating North Carolina-Asheville in the First Round and ousting UNC in the championship game on a last second three pointer from forward Kris Jenkins to win all the marbles The road traveled from the South Region to the Finals in Houston was not lined with gum drops and cinnamon. It had the potential to be arsenic.
A really good No. 7 seed Iowa Hawkeyes squad, a No. 3 Miami Hurricanes team with great guard play, a versatile No. 1 seed Kansas and the Buddy Heild led Oklahoma Sooners squad were all blown out of the gym by the Wildcats. Though he was selected as the co-Big East Player of the Year in 2015, Ryan Arcidiacono's rather regular-looking stats may have caused some to forget just how icy the blood in his veins has been his entire time at Nova. If poise was measurable by NBA scouts Arcidiacono would be a lottery pick in the upcoming draft.
(Photo Credit: NBC)
After being down by as much as 10 points in the first half, the Wildcats eventually settled down defensively. The supposed size advantage of UNC was neutralized by Nova's ability to keep the gaps in their zone to a minimum.
When the ball was dumped inside to Brice Johnson and Kennedy Meeks, the team swarmed, slapped and clawed to strip and harass the Tar Heel big men all night long. Eventually, often-maligned UNC guard Marcus Paige returned to a form of confidence that seemed to be missing for the past two years with clutch-shooting and decision-making that appeared to spell a national title.
But, alas, that was not to be.
Down by 10 with 5:29 left in the game, Carolina guards Joel Berry II and Paige triggered a run that had them down one point with 23 seconds left. A spectacular, double clutch three point shot by Paige with six seconds left had most viewers preparing for overtime. After all, no Roy Williams coached team is going to allow such a catastrophic defensive breakdown that would enable Nova to win in such a short period of time, right? Wrong.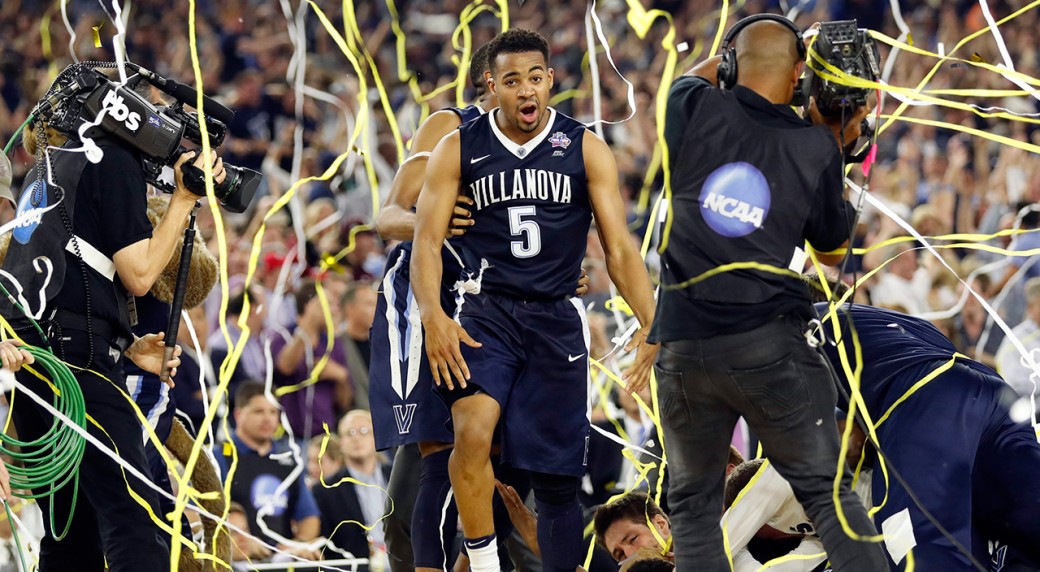 (Photo Credit: Sportsnet)
As cold as listening to Miles Davis in Alaska in January, Arcidiacono dribbled the ball down the middle of the floor and dished to a trailing Jenkins behind the arc as time expired.
Bucket, game, Wildcats. Sophomore guard Phil Booth led Villanova with 20 points off the bench while tournament Most Outstanding Player Arcidiacono dropped 14 points. Jenkins scored 16.
UNC was led by Paige, who had 21 points on 4-7 shooting from behind the arc while sophomore guard Joel Berry II dropped 20. Carolina's advantage in the paint was moot due in part to Nova's defense and early foul trouble for Meeks, who also shot poorly.
Though the UNC fateful will undoubtedly question the officiating, the zebra stripes had nothing to do with leaving Jenkins wide open for a shot in rhythm. As a result, there are likely many in the Villanova student body who are missing class this week as they party like it's 1985.