One thing that gets lost in the box score is momentum, but it does show up in the record. If youre a really good team, theres no reason to believe you cant beat four teams and get to the Final Four. After all, thats the premise behind the NCAA Tournament. During the season the Villanova Wildcats Mens Basketball team has been all about momentum. It has been the defining factor of their season.
They have had three winning streaks of at least seven games during the regular season, and if it werent for a few unfortunate bounces against Seton Hall in Big East Championship, they would have been on an eight-game streak coming into last night's game against the No. 3 seed Miami Hurricanes.
It wasnt the rock-vs-immovable object game some believed it might be, but rather like a pickup truck versus a soggy slice of Wonder bread.
Nova jumped on them immediately, taking a 5-0 lead from the tip thanks to early buckets from forward Kris Jenkins and guard Ryan Arcidiacono. The entire first half was the Arcidiacono show, actually. His early exploits helped push the Wildcats lead to 14-points with 10:18 left in the half. But Miami, led by guards Sheldon McClellan and Angel Rodriguez, battled back to 37-43 at halftime.
(Darryl Reynolds and Kris Jenkins, Photo Credit: CBS Sports)
The Wildcats jumped out to an 11-point lead two minutes into the 2nd half that grew to a 20-point lead by the 4:58 mark. It was curtains!
Rodriguez and McClellan were the only Miami players who contributed anything worth mentioning. They combined for 39 points, with McClellans 26 being a game high. The Wildcats were initially buoyed by the shooting of Jenkins and Arcidiacono, but forward Daniel Ochefu was able to get lose in the frontcourt to the tune of 17 points and scoring dynamo Josh Hart chipped in a complimentary 14 points.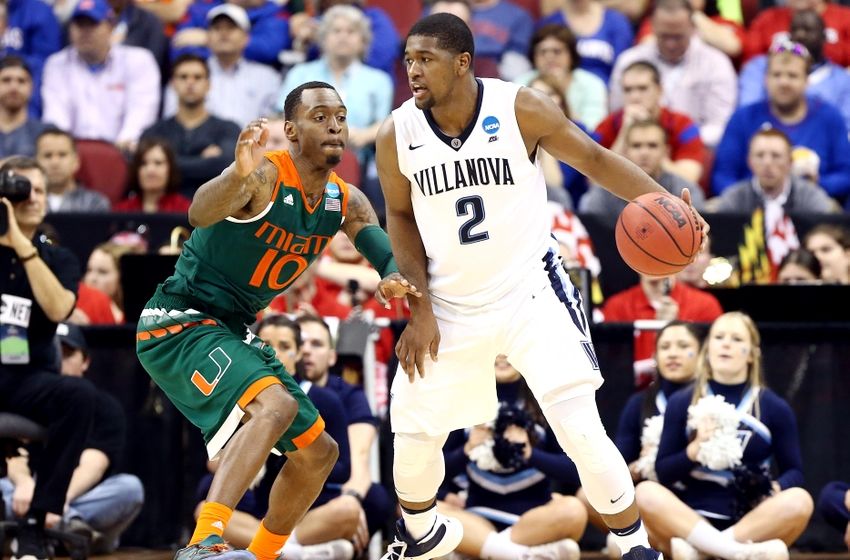 (Photo Credit: Busting Brackets)
Kris Jenkins finished with 21 points, nine rebounds and four assists, with three of those passes contributing to Arcidiaconos 21 points. What makes this team so dangerous is that any of the Wildcats mentioned are capable of giving opponents a 20-point game. That makes them very difficult to key in on.
Angel Rodriguez finished with eight assists to go along with his 13 points. No other Miami player had more than eight points. The 92-69 final score was belied by the grizzly efficiency of the Nova offense, which shot 62.70 percent from the floor and 66 percent from behind the arc.
The Villanova Wildcats are beating people by 20 points per victory in the NCAA Tournament and are headed to their first Elite Eight in seven years. With momentum firmly pushing them forward, they are increasingly becoming a smooth-shooting matchup nightmare for any team remaining the NCAA Tournament.
A championship this year is well within the realm of possibility.