It was 1999.
I was a young reporter covering an early season tournament, which included a rising juggernaut program in college basketball, the UConn Huskies featuring a brash and charismatic head coach named Geno Auriemma and a slick, hard-nosed, sharp-shooting sophomore All-American floor general out of Christ The King high school in Middle Village, Queens named Sue Bird.
That season she came back from a torn ACL that limited her to eight games as a freshman, to lead the team to a 361 record as they won the Big East Championship and the 2000 NCAA Women's Division I Basketball Tournament.
Auriemma was 14 years into his reign at Connecticut, but he was just getting started as far as becoming one of the super brands of NCAA athletics.
At a pre-game conference call with the coaches at Disneys Wide World of Sports Complex, where the four-team tournament was held, I asked Geno, Whats the deal with Sue Bird, who was suffering from some minor ailment at the time. Geno immediately asked me if I was from Queens because of the way I asked the question. It really broke the ice between us as we both laughed when I told him he had nailed it. He replied, Sue Bird is aii-ight.
Geno won two National c'hips with Bird. And a few gold medals.
Auriemmas coaching, recruiting and his ability to relate to people of all cultures and walks of life with the same firm, blunt, yet unoffensive ease has been the key to his unrivaled success on womens college basketball and Olympic coaching.
Geno was already a coaching God in 2010 when UConn eclipsed John Wooden and UCLAs 88-game win streak behind WNBA queen Maya Moore, who was obliterating fools at the collegiate level. In 2015, The Scientist of Storrs proceeded to storm to a record-tying 10th National Championship, as his Huskies flushed Notre Dame 63-53 on a Tuesday night, to win the 2015 NCAA Womens Basketball title. Last season, UConn defeated Syracuse behind All-American Breanna Stewart to secure their fourth straight National Championship.
Now Geno stands alone and the records keep getting obliterated. From 1985, when he took the job until now, Geno has always had the words to explain exactly how he felt. Sometimes it even got him in some murky water, like when he said mens basketball sucks.
On Tuesday night, top-ranked UConn tied its own NCAA record with its 90th consecutive win, routing No. 20 South Florida 102-37.
Saniya Chong scored 20 points to lead six players in double figures for the Huskies (15-0, 3-0 American Athletic Conference), who matched the streak Geno Auriemma's program set between November 2008 and December 2010.
UConn hasn't lost since Nov. 17, 2014, at then-No. 6 Stanford, a two-point defeat in overtime. Without that loss, the streak would be 138 games.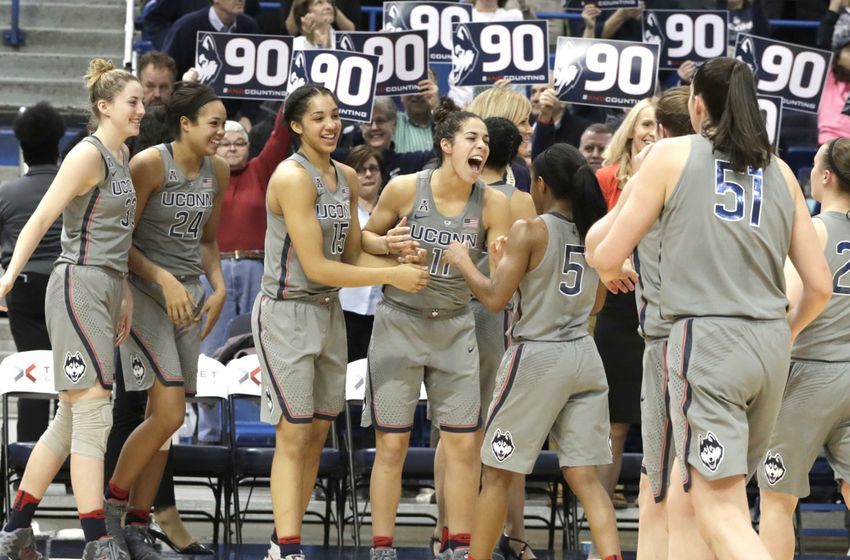 This time Geno, who was vocally critical of his teams play despite their success early in the season, was at a loss for words.
Some things you just cant really explain; you just have to enjoy it. Auriemma said. We dont set out to do these kinds of things. We dont set out to set records, break records or keep track of records. We set out to play as hard as we can, play with as much energy as we can.
Four members of the current team, Saniya Chong (20 points), Gabby Williams (11 points, 13 rebounds), Kia Nurse (13 points, seven rebounds), and Tierney Lawlor, have been part of the program for all 90 wins.
During the latest streak of comical dominance, the Huskies have played a murderer's row schedule that hasnt been able to kill their consistent and emphatic superiority. Since the Stanford loss, the Huskies have beaten 27 ranked opponents, including eight this season. UConn is now 238-61 against ranked opponents and 37-11 at home against the Top 25 since 2004-05.
The Huskies also matched the program's record of 57 straight regular-season conference wins from 2008 to 2012, which is the fifth longest in Division I history.
UConn has a chance to break the record with its 91st straight win against SMU on Saturday. The Dynasty keeps growing and the legend of UConn Womens hoops continues its mythical impression on womens athletics in America.