This is part of The Shadow League's Women's History Month In Focus series celebrating excellence in sports, entertainment and culture.
With all of the negative drama and narratives swirling around many of our Black musical celebrities, Rihanna continues to show her growth as a person and an artist. She seems to be light years away from the drugs, irresponsible behavior and shallow character that many of our artists exhibit and recently she received Harvard Universitys Humanitarian Award. She's truly a star that people can look up to on and off the stage.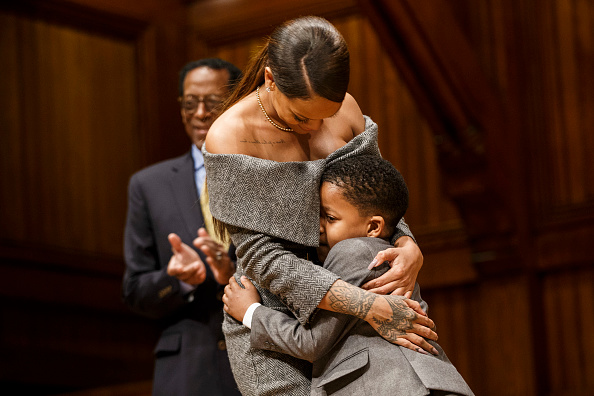 The Grammy Award-winning artist whose full name is Robyn Rihanna Fenty was in Cambridge, Massachusetts last week to receive the colleges prestigious recognition.
Rihanna, a native of Barbados who just notched her 30th Top 10 hit on the Billboard Hot 100 chart, has a lengthy resume of social activism and community contributions that is often overshadowed by her legendary success in the music industry.
It's hard to ignore sales exceeding 200 million records worldwide from the youngest and fastest solo artist to earn fourteen number-one singles on the Billboard Hot 100. Just 24, Rihanna was named the Digital Songs Artist of the 2000's decade.
Her acceptance speech was well received and of course the place was packed with students and faculty who wanted to get a glimpse of the larger-than-life pop star whose down-to-earth compassion for people and captivating aura is her most beautiful trait.
At just 18, she founded the Believe Foundation, which provided support to terminally ill children.
Her Clara Lionel Foundation named for her grandparents tackles a range of causes, from education to health and emergency response programs. And her work with the Global Partnership for Education and Global Citizen Project helped convince Canada to pledge $20million to the Education Cannot Wait fund.
People make it seem way too hard, man, she said. You dont have to be rich to be a humanitarian. You dont have to be rich to help someone, you dont have to be famous, you dont even have to be college educated. My grandma always used to say if youve got a dollar, theres plenty to share.