Michelle Snow is an inspirational speaker who motivates others by relaying her life experiences of rising from a trailer park community in Pensacola, Florida to becoming a two-time WNBA All-star and one of the legendary and rare dunk queens of the womens professional league. She has traveled the globe, influenced million of girls along the way and competed with USA Basketball as a member of the 2000 Jones Cup Team that won the Gold in Taipei.
Recently Snow visited the National Museum of Naval Aviation and made an unforgettable graduation address to the National Flight Academy; a crowd of young, impressionable minds. She showed them how and why they can achieve their wildest dreams. After all, shes living proof.
The 6-foot-5 Snow, who last played in the WNBA in 2015 with the Los Angeles Sparks and currently is signed to play another season in the Turkish Super League for Mersin Bykehir Belediyesi, is one of just three women to dunk in an NCAA college basketball game while at powerhouse Tennessee, balling for the iconic Pat Summitt (RIP) from 1998-2002.
Add in her 71 reach and its understandable how she made her mark in the talent-laden pros; by swatting shots and exhibiting freakish displays of athleticism and hops. Snow led Pensacola High School to the state championship and was named "Miss Basketball" in 1998. She was molded into a woman and became a raging ball of confidence at Tennessee.
While not a stat-stuffer on offense and still very raw even when entering the WNBA, Snow was still drafted 10th overall in the first round of the 2002 Draft. And like the life lessons she preaches, she kept at her craft and steadily improved, winning the leagues Most Improved Player of the Year award in 2003.
In the 2006 WNBA All-star game, Snow became the second WNBA player to dunk in an all-star game. Shes part of a rare list of women who have such prestigious ups.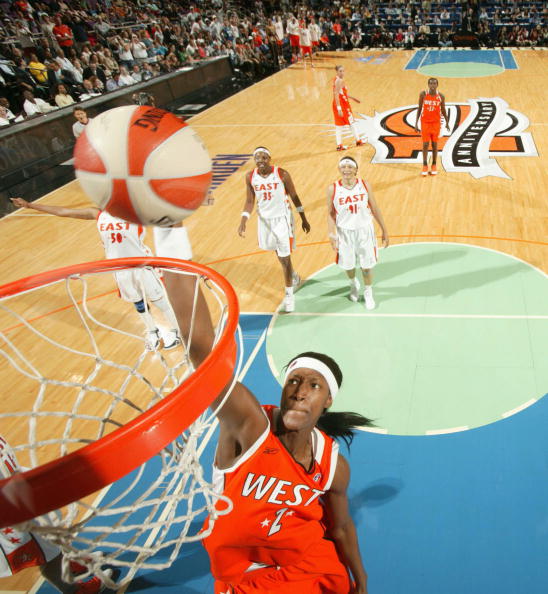 Candace Parker was a dunk dynamo since high school.
Brittany Griner is the queen of female dunk masters. She does it regularly in games. And Lisa Leslie sparked the evolution.
Sylvia Fowler had major ups in her prime too.
These days, Michelle Snow flies higher than any WNBA dunk could elevate her because she empowers others just by staying true to who she is and expressing that truth to a room of people of all ethnic, religious and age compositions. She's definitely a woman and a giant to be celebrated and remembered during Womens History Month