Dont look now, because youre probably one of those basketball sheep who has labeled Carmelo Anthony a one-dimensional baller who cant mesh with other superstars and has to have the rock in his hands to shine.
His illustrious Olympic career, however, says otherwise and when taking his entire body of work taken into account, says former NBA All-Star and NBA TV analyst Steve Smith, Carmelo is the greatest player to ever play for USA basketball.
Last week we anointed Melo as the leader of the Conscious Player's Movement (CPM) and this week he is crowned the greatest performer in US. Basketball history on NBA TV. Also taking into account the Knicks' new free agent crop, its safe to say Melo's personal image is at the very least three-feet high and rapidly rising.
Anthony was the first player Team USA czar Jerry Colangelo talked to about joining a new U.S. national basketball team program and 12 years later, hes the only player still balling for the Stars & Stripes.
"Its great to see in my mind, the career hes had, and its great for us to know that hes had so much success with us, in terms of the international game, and hes thrived in the international game," Colangelo said in a recent interview with NBC Sports.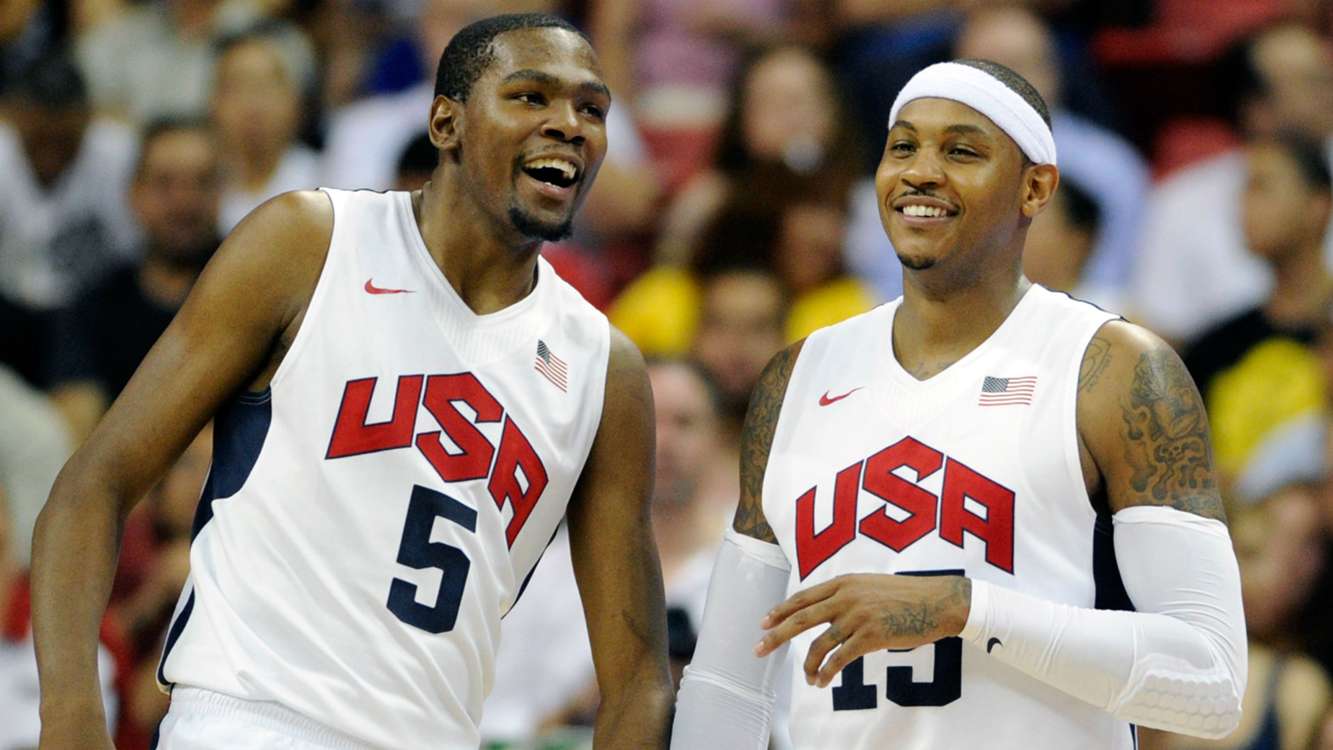 (Photo Credit: sportal.co.nz)
When USAs latest Dream Team sets it off in Rio on August 6 against China in a Group A preliminary round game at Barra Carioca Arena, Melo will become the first U.S. man to grace four Olympics, and when this team obliterates the comp and snatches the gold, Melo will leave Brazil as the most decorated mens basketball player ever.
Anthony is not only on a team mission, but a personal mission to surpass some iconic names in the record books. He is already packing two gold medals — and stumbled to a bronze in 2004 in Athens. It was an early intro to Olympic basketball that we all prefer to forget about in the same way NBA fans tend to forget Melos prolific performances on the court.
Before this Olympics is over he will probably lock down the few remaining Olympic records he hasnt yet sequestered. Hes been the consistent element in this magnificent run for USA Basketball. U.S. Coach Mike Krzyzewski called Melo a "godsend."
Anthony needs 17 points to tie Jordan for third place on the U.S. Olympics career-scoring list and needs 35 to pass James as the career leader.
Who can forget Melos U.S.-record 37 points against Nigeria in just 14 minutes of action in a 156-73 rout of the proud African squad four years ago? The Knicks superstar also set an American record by draining 10 of 12 treys.
There have been other notable performances like King James' multi-faceted display against Australia. He finished with 11 points, 11 assists and 14 rebounds, marking the first triple-double in the history of US Mens Olympic Basketball.
And Kevin Durant's 30 point explosion in 2012 against Spain in the gold medal game.
There was also Kobe's six consecutive threes against Australia after missing all of his first-half shots to finish with a team-high 20 points.
But in the '08 Games in Beijing, China, Melo rebounded from that dismal 2004 Olympics where Team USA dropped three games. He showed a special resilience, finishing fourth on the team in scoring. Back then, Melo was playing with guys like Kobe and D Wade and LBJ and CP3 and Jason Kidd and Chris Bosh.
(Photo Credit: thehoopdoctors.com)
Then he followed that up with a sensational London Olympics in 2012. That squad went 8-0, drew comparisons to the original 1992 Dream Team and blew international comp to bits.
It was touted as LeBrons show, but KD (19.5 ppg) led the squad in scoring and Melo (16.3 ppg) was second and shot 50 percent from three-point land. His ascension to team leader of this current Olympics squad has been real, gradual and deserving.
In Rio, hes repping with a bunch of new superstars like Paul George, Kyle Lowry and DeMar DeRozan, DeMarcus Cousins, Jimmy Butler, Klay Thompson and DeAndre Jordan.
Melo may not be able to tell a rookie to kiss his rings in NBA play, but in the world of international hooping, Melo has more hardware to flex than Mr. T on an A-Team episode.
Anthony has played 72 games in Team USA threads and despite his elder statesman status, he is still a focal point of the teams offense and is third in scoring at 13.6 points per game Hes hit the most career Olympic 3-pointers on his team and ranks in the top five in most other categories.
Olympic competition doesnt match the overall talent of an NBA grind. But in international competition we get a chance to see Melo playing with a talented cast and how prominently and easily his skill set fits in. We also get to see the myth that hes not a leader or respected by younger superstars dismissed in real time.
Hes a go-to guy on any team, but hes also even more versatile and efficient when the entire burden isnt on him. His Olympic career has given us a glimpse into a different narrative than the one sheepish basketball fans have sold as truth throughout Melos NBA career.
Hes distinguished himself as a transcending player and figure who's also capable of winning and leading the best players in the world. Valuing international competition has provided Anthony another notch for a legacy that continues to transform and elevate as he eases into the second decade of what is becoming a uniquely accomplished and mythical basketball career.