American Track & Field teams used to be accustomed to taking home gold or silver medals in events that require maximum athleticism in order for a participant to be successful. While the United States will always be in the conversation of what country has the world's greatest athletes, Team USA's resurgence triple jump medalists has only occurred recently.
After winning gold in 1896 with James B. Connolly, sweeping the podium in 1900 with Meyer Prinstein, Connolly and Lewis Sheldon and then sweeping the podium again in 1904 with Meyer Prinstein winning another gold, the U.S. only managed a bronze in 1906 when Tom Cronan crept into the third spot.
However, the world caught up quick and Team USA didn't medal in the triple jump again until 1928 when Lee Casey won the silver. There was another medal drought in the event that lasted over 50 years, ending when James Butts won the silver in 1976. Al Joyner and Mike Conley would grab the gold and silver in 1984 in stellar fashion, and the United States athletes would medal in three of the next seven Summer Games prior to Tuesday. Though it wasn't the domination the U.S. would have liked, it wasn't a drought either.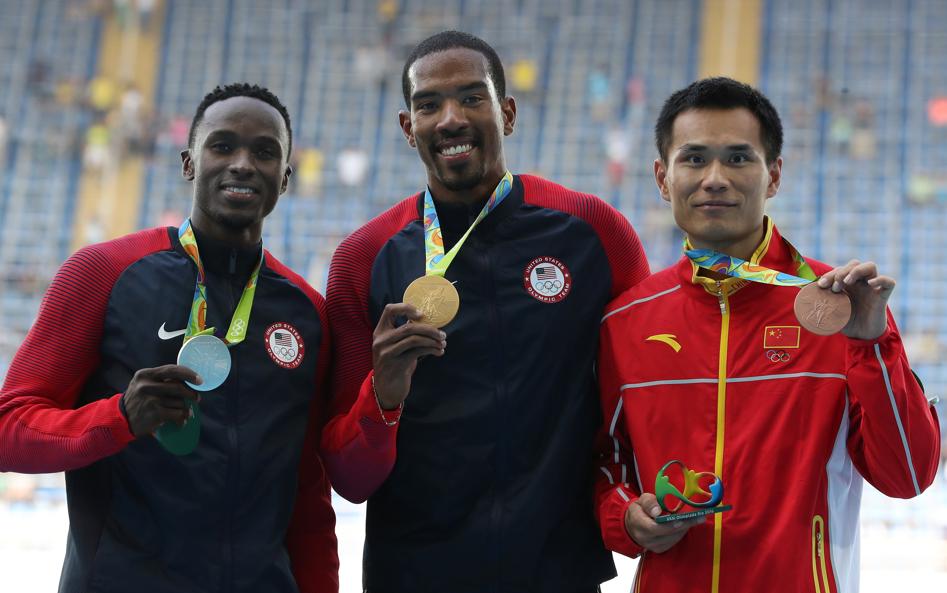 (Photo Credit: Associated Press)
2015 defending world champion Christian Taylor won the triple jump at the 2012 London Olympics and was the favorite to win the event in these Rio Olympics. His personal best is a Herculean in 59 ft 8 3/4 inches (18.21 meters) and is 2nd on the all-time list but some felt he had the chance to break that record on Tuesday night.
The tension was palpable, and he didn't do bad at all. Taylor would fall well short of his personal best and the world record with a mark of 17.86 meters, but that was enough for him to make history as the first American to win back-to-back gold medals in over a century.
Will Claye, who won silver at the 2012 Olympics, repeated the feat with a mark of 17.76 meters. China's Dong Bin won the bronze with a mark of 17.58. Taylor and Claye would become the first countryman to repeat as gold and silver medalists in consecutive Olympics in the history of the games.