On Aug. 5th, LaTroy Hawkins — baseballs old player — saved his first game for the Toronto Blue Jays since being traded to Canada on July 27th with Troy Tulowitzki for Jose Reyes and three top notch right-handed pitching prospects. Then "Black Ace" David Price came through double-digit fanning and as usual, Hawkins was the overlooked difference maker in baseball news that week.
Hawkins who turns 43 in December, has never been one of the best pitchers in the game. He's never really been in a long-term relationship with a team since leaving his first love Minnesota. He's a rolling stone. He's played for 11 teams in his 21-season career, and with a save against the Twins, became the 13th major league pitcher to record a save against all 30 teams. He's expected to help booster a Blue Jays bullpen that has some flaws.
You have to play a long time and still be a viable option out of the pen in your twilight years to accomplish that rare feat. Doing mop up duty is not going to get you a save. Hawkins has never been a superstar and to tell you the truth, he was awful as a starter in his early years and his closing was suspect too. Hes the epitome of a baseball grinder; those unimpressive players (especially pitchers) who go under the radar but are essential pieces to any baseball team.
Hawkins kicked off his MLB career in 1995 with a disgusting start against the Baltimore Orioles, where he surrendered seven earned runs in only 1 innings of live action. He went on to get lit up for 29 runs in 27 innings that season. In 96 he gave up 24 runs in 26.1 innings. He bounced back and forth between the minors and majors until 1998, when he was finally inserted into the Twins rotation, seven years after they drafted the three-sport baller out of Gary, Indiana.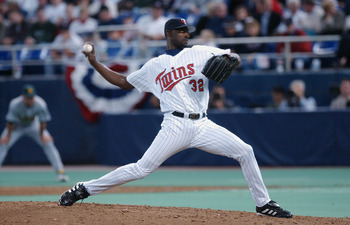 Hawkins immediately displayed the workhorse fashion that has allowed him to last two decades as a pro by leading the team with 33 starts. But he also led the team in most runs allowed (126), walks (70) and had the worst WHIP among Twins starters (1.53).
In 1999, Hawkins served up one of the dreadful statistical seasons in MLB. His 6.66 ERA was the worst in the Majors among starters with at least 30 starts and typically he allowed the most home runs on the pitching staff.
By the year 2000, Hawkins was demoted to the Minnesota bullpen and seemed to find a comfort zone, appearing in 66 games with 14 saves and a respectable 3.39 ERA, but Hawkins was caught slippin in 2001. He managed to save 28 games but he had an ERA of close to 6.00 in 61 games.
As usual, Hawkins rebounded and found his groove again the next few seasons and posted ERAs under 3.00.
From 2004 until recently being traded to Toronto (his final resting place), Hawkins' roller coaster career bounced him around on one and two-year deals, racking up serious frequent flyer miles and becoming the living epitome of the phrase journeyman.
Coming off of a 2013 in which he pitched 70.2 innings for the Mets with a 2.93 ERA, Hawkins signed a one-year deal with the Rockies and produced on 23-of-26 save ops with a 3.31 ERA in 2014.
The staples of his existence ? Being healthy and durable in a pitching thin league where the best hurlers are as brittle as a potato chip.
Hes also mastered the art of pitching and maximized his talents. Hawkins has been the ultimate jack-of-all-trades as a hurler throughout his career. He can start, long relieve, close — doesnt much matter as long as hes getting a check and registering some outs. Resilience and a short memory are the hallmarks of a lasting MLB pitcher and for all of the crucial homers this guys given up in his career, the fact that hes still getting offers and still sane is impressive.
Hes the granddaddy of all MLB arms. The next oldest is rubber-armed grandpa Bartolo Colon (NY Mets) who turned 42 in May. Colon, who looks about out of gas after 18 years of hurling, is the only player left in the league to play for the Montreal Expos and the old Anaheim Angels. His 2005 Cy Young came three years before Clayton Kershaw stepped on a MLB mound.
Before the season launched, Hawkins announced that this would be his final rodeo and he's surely making the most of it.
In six games with Toronto, Hawkins has pitched 5.2 innings, given up 0 runs and has 1 save and 2 holds to his credit as the Blue Jays have cut the Yankees division lead to 1.5 games after completing a sweep of the Bronx Bombers (who havent scored a run in 26 innings) on Sunday. The veteran is also hoping to get one last crack at that elusive World Series ring. He went to the WS in 2007 with a Rockies team that fell to Big Papi and Boston. The Blue Jays are going to need quality innings from Grandpa Black Beard if they are to overtake the Yankees and get into this postseason slam dance.
We marvel at the longevity of a handful of other 40-year-old stars like Ichiro Suzuki and A-Rod. We constantly discuss Satchel Paige, who finished his career in 1965 with the Kansas City Royals and was damn near 60 when he hung em up. Theres also Minnie Minoso, who had 2 token at-bats for the Chi-Town White Sox in 1980 at age 50. The great Rickey Henderson had 139 steals combined as a 39, 40 and 41-year-old player.
Cant forget Old Man Rivers Julio Franco, who retired in 2007 as a 49-year-old freak of nature. Franco retired as the oldest position player in modern baseball.
All of those guys were like super studs. Hawkins falls in the overlooked category like pitcher Jamie Moyer who in 2012 finally retired at the age of 49 as the oldest pitcher in MLB history to record a win.
Every team needs a few LaTroy Hawkins on its pitching staff. A veteran in the locker room, who played and pitched through the PED era and is still here to witness baseballs return to normalcy. A guy who represents the league well in the community and is genuinely liked by Baseball Nation.
He's a player with a wealth of knowledge and experience so vast and a professional acumen so sharp that he makes an immediate impact on the young guys in any locker room he infiltrates. Hes not only one the few long-tenured African-American pitchers in the game, but just being an active part of The Show for 20 years most definitely makes him an underrated treasure and one of baseballs underrated heroes.