This is part of The Shadow League's Black History Month In Focus series celebrating Black excellence in sports and culture.
According to the "Women in Intercollegiate Sport" study produced by Brooklyn College professors emerita Linda Carpenter and R. Vivian Acosta, before Title IX — the 1972 federal gender equity law — more than 90 percent of women's teams were coached by women.
Oddly, since Title IXs inception, there are fewer women coaches in the NCAA. Now, (as of 2018) only 43 percent of teams are headed by women, despite the fact that more women play college sports than ever before. That number is down from 55 percent from 1981 — the year NCAA women's championships got their start.
Then, there's the issue of how many women have coached a men's NCAA team. Currently, around 3 percent of men's NCAA teams are coached by women, and that statistic does not look like it will make a major shift any time soon.
But in 1986, when Catana Starks was asked to coach the men's golf team at Tennessee State University, she did not know she would make history as the first woman to coach a men's Division I golf team.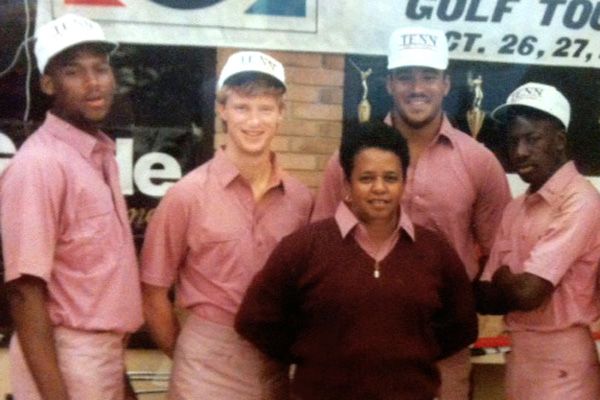 "I really had no idea I was the first woman to accomplish this," she told The Shadow League back in 2018.
Starks grew up in Mobile, Alabama during a time when segregation was the norm. In an interview with the Golf Channel, Starks described having to walk three miles just to get to the pool for "African Americans", and even though she was diagnosed with severe asthma, she did not let that impede her. When doctors said she would never have a physically active life, she felt determined to prove them wrong.
"I would go hiking through the woods, climbing the trees, and all kinds of things. I never stopped," she said.
Starks learned early to always look ahead, "At a young age, my mother and grandmother instilled in me the belief that I am not limited by my circumstances," says Starks.
Impossible Journey
At 18, Starks left home to attend Tennessee State University, where she earned her Masters in Health and Physical Education. During her time as a graduate assistant, she taught swimming, as it was a required course for all TSU students.
Starks went on to teach in Saginaw, MI., where she also coached several girls and boys high school teams. But not long after, TSU coaxed her to come back to coach the men's swimming and diving team.
When TSU joined the Ohio Valley Conference though, swimming and diving were not sanctioned. As a result of this, the school replaced the swim team with golf.
It was up to Starks to build the team. And while she had learned how to play golf while in Michigan, she had never tried her hand at coaching it. The team did not receive significant funds, and Starks' recruiting pool was even smaller.
Her first team consisted of two injured football players, a young female who was permitted to play, and two other guys, all of whom were African-American.  During their first season, they did not do well.
Starks had to rethink her philosophy if the team was going to be successful. Following in the footsteps of many major D-1 schools, soon she began recruiting international players, which she received some criticism for since TSU is an HBCU.
Since less than two percent of golfers in the United States are African-American, she knew that she would have to recruit from all backgrounds to make her team competitive.
In 1993, Sean Foley, a young Canadian, found himself on the team. He was Starks' first international player.
"My mom and I wrote a letter, and sent it out to a ton of universities," Foley told The Shadow League. But the reason I went to TSU was that the Canadian dollar was 63 cents to the American dollar at the time, and TSU was going to give me a full scholarship."
But one of the more valuable things Foley gained during his time at TSU was what he learned from Coach Starks.
"Basically from the beginning of her life, she always had her back against the wall, and she was always fighting non-stop," he said.
Many years after he graduated, Foley began to understand the impact Starks had on him.
"She did not care what people thought of her," he said. "But despite that, she was still kind, just tough."
Later, Foley turned his love of golf into a successful coaching career, and from 2010-2014, he was Tiger Woods' swing coach.
The Slow Rise
The 1994 team made huge improvements, and her recruiting efforts started to pay off. The 1994 freshman team of five improved in the Conference Championship by almost 100 strokes. While the team improved, Starks did not receive much slack.
Fellow Canadian player Adrienne Adams, who played on the same team with Foley, believes Starks had more of a watchful eye on her because she was the only woman on the team and sexism was a very real thing.
"First, I don't think the school really cared about the golf team," said Adams. "They gave it to her because of that, I think…It was very obvious for us to see, that it was hard for her. There were some specific coaches that would never give her the time of day, and she never got the opportunity to be part of some very cool things while we were there."
Sexism was not new to Starks, who during her time as a high school coach also headed the boy's baseball team. She never lost a game with them, and she said that, oftentimes, the other coaches would not shake her hand after games.
So when it came to dealing with sexism in golf, she did not let it affect her coaching.
"When I got into the golf world, there was a difference," Starks told TSL. "Initially, when I started, I wasn't winning a lot. But when I started to win, I started to receive all sorts of questions [because I was a woman]. I just wouldn't let it bother me."
Starks found ways to save money by washing the team's clothes herself, practicing in a nearby field by the school, and eventually finding a couple of golf courses that would allow the team to practice there.
Outside of the challenges she faced to build a strong team, she also encountered racism while traveling with her squad.
"We stopped to eat in Mississippi on a road trip, said Starks. Sean [Foley] was the kind of person who was very vocal about racism and he didn't like what he saw when a man walked in and said, 'Why are those white boys sitting with blacks?'
Sean was incensed. Then another time another player asked Sean if TSU was a black school, to which he said, 'Yes', and the player responded, 'Guess you gotta have one somewhere.' And Sean lost it so bad, I had to calm him down so he could continue to play."
Pioneer In Women's Coaching
Despite the racism, sexism, and criticism, like every obstacle that she encountered and overcame in her life, Starks decided to move forward, focus on her program and let her accomplishments as coach speak on her behalf.
In 2005, she coached her last season, but she undoubtedly left a mark in the world of golf. She even had a feature film made in honor of her contributions, From the Rough, in which actress Taraji P. Henson starred.
And her influence over her players has stayed with them.
"I think my biggest lesson was to not really pay attention to other people and to continue to fight for what I want," Adams said.
As for Starks, who also earned her Ph.D., she wants other women who love sports to continue pursuing their passion for it.
"The doors are not being opened [for women], she said. "There are more men now who are coaching women's teams. And we have to ask why? Women need to be given the chance to coach.
And for the women who want those jobs?
"Go for it," Starks said.