This is part of The Shadow League's Black History Month In Focus series celebrating Black excellence in sports and culture.
When Deontay Wilder handles his "Unfinished Business" in a rematch with Tyson Fury on February 22nd, he will be introduced by his famous pseudonym, "The Bronze Bomber".
As an amateur, Wilder won a bronze medal in the heavyweight division at the 2008 Olympics and instantly labeled himself after fellow Alabama pugilist, Joe "The Brown Bomber" Louis.
Louis' impact on the world cannot be contained to the squared circle alone. He was the pre-Muhammad Ali in many ways due to his cultural impact during one of America's most tumultuous times. He is widely regarded as the first African American to achieve the status of a nationwide hero within the United States and was the lightning rod for anti-Nazi sentiment leading up to and during World War II.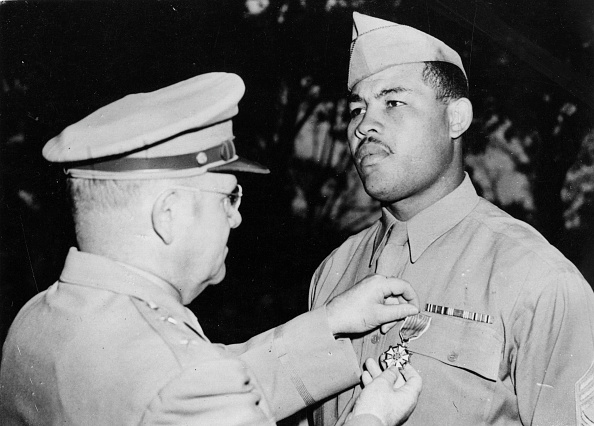 (Photo Credit: Getty Images) 
Louis was also instrumental in integrating the game of golf, breaking the sport's color barrier in America by appearing under a sponsor's exemption in a PGA event in 1952.
Born in LaFayette, Louisiana in 1914 and raised by his mother, Louis never knew his biological father who was reportedly institutionalized when Louis was only two years old. In 1926, shaken by a gang of white men in the Ku Klux Klan, Louis's family moved to Detroit, Michigan as part of the Great Migration of African-Americans during post-World War I America.
The Great Depression hit black families very hard. In urban America, gang activity offered an alluring alternative to poverty. However, Louis began to spend time at a local youth recreation center in Detroit instead of running the streets, making his debut in early 1932 at age 17.
Louis went 24-0 before he met Nazi Germanys Max Schmeling. Although a former champion, Schmeling was not considered a threat to Louis and had won his title on a technicality when Jack Sharkey was disqualified after giving Schmeling a low blow in 1930. Schmeling was already 30-years-old at the time of the Louis bout and allegedly past his prime. However, Schmeling studied Louis's style, exploiting Louis' habit of dropping his left-hand low after a jab. Schmeling handed Louis his first professional loss with a Round 12 KO at Yankee Stadium on June 19, 1936.
When Louis met heavyweight champion, James J. Braddock, a year later, on June 22, 1937, Braddock was able to knock Louis down in round one, but afterward could accomplish little. After inflicting constant punishment, Louis defeated Braddock in round eight, knocking him out cold with a strong right hand that bust James' teeth through his gum shield.
It was the first and only time that Braddock was knocked out and Louis' ascent to the World Heavyweight Championship was complete.
Louis' victory was a seminal moment in African-American history. Thousands of African-Americans stayed up all night across the country in celebration.
The rematch between Louis and Schmeling would become one of the most famous boxing matches of all time and is remembered as one of the major sports events of the 20th century. Following his defeat of Louis in 1936, Schmeling became a national hero in Germany. Nazi officials touted Schmeling's victory over an African-American as proof of their doctrine of Aryan superiority.
On the night of June 22, 1938, Louis and Schmeling met for the second time and the fight lasted two minutes and four seconds. Louis battered Schmeling who was knocked down three times and only managed to throw two punches in the entire bout. On the third knockdown, Schmeling's trainer threw in the towel and the referee stopped the fight.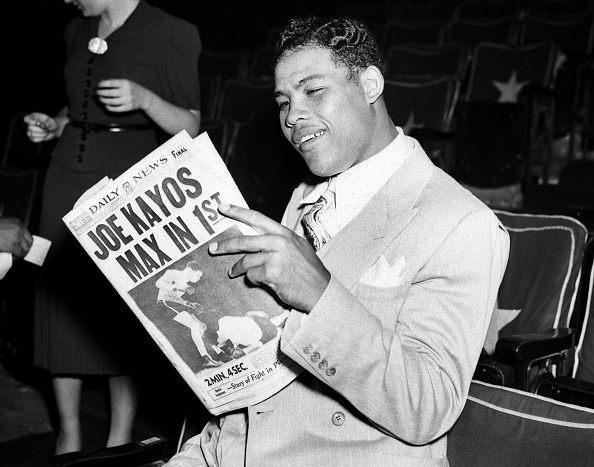 (Photo Credit: Getty Images)
Louis reigned as the world heavyweight champion from 1937 to 1949 and is considered to be one of the greatest heavyweights of all time lasting 140 consecutive months, during which he participated in 26 championship fights. Louis was victorious in 25 title defenses, a world record second only to Julio Csar Chvez with 27.
In 2005, Louis was ranked as the best heavyweight of all time by the International Boxing Research Organization, and was ranked number one on The Ring magazine's list of the "100 greatest punchers of all time." His most remarkable record is that he knocked out 23 opponents in 27 title fights, including five world champions leaving a legacy and a standard of dominance for current champions like Deontay Wilder to follow.