The last week has been a lesson in maturation for highly-recruited high school wide receiver James Robinson, and a reminder of how much discipline plays a huge roll in determining how successful a young, talented brother will be while pursuing the road to NFL riches.
Maintaining focus is important, and for all of the great things he does on the field, Robinson has fallen off the board at Ohio State after he was issued a citation last weekend for marijuana possession during his visit to Columbus.
Robinson is ranked 14th nationally in the 2017 recruiting class by 247Sports. Dont ask me how this happens on a recruiting trip, when Im sure he is hanging out with responsible Ohio State upperclassman, but Robinson was found with marijuana at an off-campus apartment, according to Franklin County Municipal Court records, on Jan. 21.
The 19-year-old from Lakeland, Florida officially visited Ohio State last weekend, Cleveland.com reports, after moving up the Buckeyes board when the team lost a commitment from Tyjon Lindsey, a five-star receiver from Last Vegass Bishop Gorman.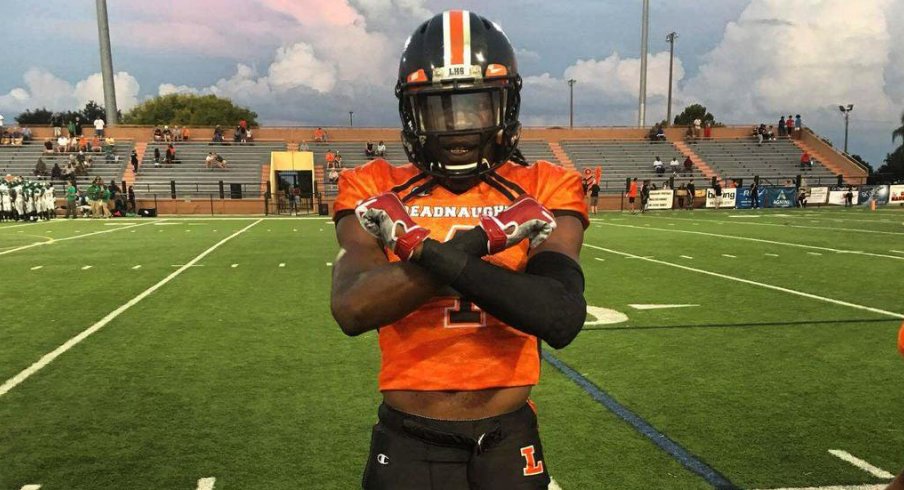 If Ohio State was in Robinsons hometown, then maybe he knew some friends and got caught up after the visit. However, he is from Florida, which is a trek from Ohio.
Sure, Ohio State had no choice but to drop him from their list because signing him at that point would have been a terrible PR move. Separating themselves from the talented kid as soon as possible is protocol under such circumstances. If I was OSU, however, I would find out who he was hanging out with and why hes at an off-campus apartment getting stoned on a recruiting visit.
Is this how the Buckeyes indoctrinate their young guys into the campus culture ? Im sure coach Urban Meyer is investigating those very points, but thankfully out of the limelight or direction of blame.
Im not saying Robinson shouldnt be a more responsible teenager and he has to know whats at stake on these visits, but its very weird how it went down. My Spidey senses tell me that he was influenced, and if not influenced then led astray by whomever attended Ohio State and was with him at this smoke house.
More interesting was his tweet, shortly after his arrest that OSU PLAYERS DO SO MUCH DRUGS.
Wait…What?
Wisely, Robinson soon deleted the tweet. No need to mess it up with other schools because you make a bad decisions and you're a snitch.
Robinson isnt lacking any suitors after the incident and is still expected to announce which school he will attend on National Signing Day, which is Wednesday. Some of his remaining suitors include Clemson, Florida, Oklahoma and Oregon. And he isnt facing any jail time.
In Ohio, possession of up to 100 grams of marijuana is considered a minor misdemeanor and violators are cited and fined up to $150. There is no jail time and the arrest does not become part of a defendants criminal record. Robinson has been fined $93.
In a tweet, Robinson has apologized for embarrassing myself, family, teammates, school community and those that support me.
This too will pass if the kid performs at a high level. Hopefully, he will learn to be more guarded and smarter as he becomes a full scholarship athlete on a national powerhouse college team.
As for Ohio State, they need to clean up the recruiting process a bit. Its getting smoky and messy and that can lead to bigger problems in the future.