With the NFL Draft looming, of course the most talked about position players will be quarterbacks. Teams with the top picks are usually in desperate need of a franchise QB and on this day is sports in 2012, Andrew Luck from the University of Stanford was the first overall pick by the Indianapolis Colts.
The raging debate for NFL analysts was whether the Colts should pick Luck, a big, durable, throwback gunslinger who finished second in the Heisman voting in 2010 and 2011 and was compared to Peyton Manning many times while in college. Or 2011 Heisman dynamo Robert Griffin III. RG3 was a revolutionary dual-threat QB who reminded people of a new age Mike Vick with better passing accuracy. The knock on Griffin was that he was rail thin and his style of play would leave him susceptible to injury in the NFL.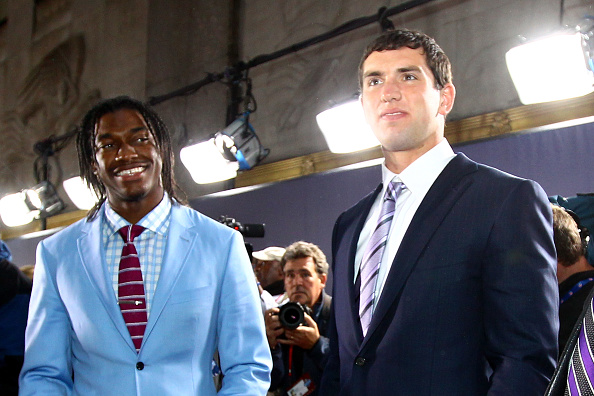 (Photo Credit: Getty Images)
While this 2017 Draft is more about the lack of franchise QB talent, the 2012 Draft produced a bevy of current starters including Super Bowl champion Russell Wilson, a third-round steal that season by the Seattle Seahawks, Washington's underappreciated Kirk Cousins and Ryan Tannehill, Miamis $100 million man.
Ultimately the Colts chose Luck, who came out of the gate smoking. In his first three professional seasons, Luck led the Colts to 11-5 records, three playoff appearances including two AFC South division titles in 2013 and 2014, also earning a Pro Bowl selection in each season. In the 201314 NFL playoffs, he led the Colts to the second largest playoff comeback in NFL history.
However, RG3s unparalleled athleticism and maneuverability and his potential to provide instant excitement with his legs or arm, propelled him into a celebrity that Luck could only dream about.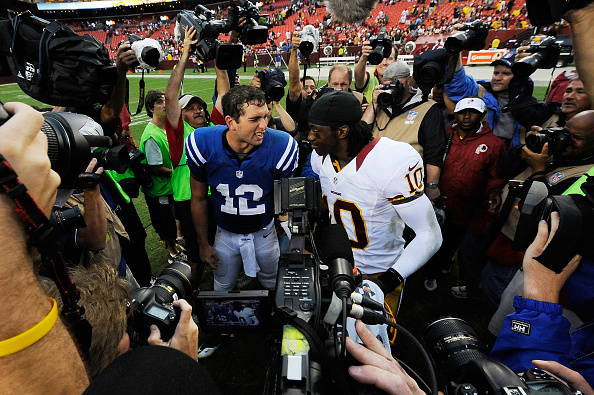 (Photo Credit: Getty Images)
Fast forward six years and Luck continues to be as tough as they come and play high level football, while RG3 had one magical regular season and then injuries crushed what looked like a mythical career in the making. The kid who stole all of the headlines from Luck in that first NFL season, is now a journeyman QB trying to hang on with any squad that will have him.
In a Draft that had an embarrassment of riches at QB, Luck has proved to be a winner, a statistical monster and a resilient warrior who returned from a shoulder injury and lacerated kidney and a partially torn abdominal muscle in 2015 to throw for over 4,000 yards in 2016 for the third time in five seasons.