The Jackson 5 was the NY Post headline when it was official that Charlotte veteran guard Courtney Lee had signed with the Knicks, completing a free agent transformation that is rich with big names, big risk and searching for immediate results.
The New York Knicks now have a starting five consisting of Carmelo Anthony, Derrick Rose, Courtney Lee, Joakim Noah and Kristaps Porzingis.
We know all of the what-ifs concerning the moves Jackson made this offseason. Roses fragility and Noahs possible physical decline is an issue. However, Knicks fans arent going to concern themselves with the negative feedback emitting from various talking head shows, radio affiliates and social media.
Theres a shadow of doubt, dissention, desperation, mistrust, and pessimism that hovers over Madison Square Garden and the Knicks franchise. With each miserable season and failed free agent maneuver, haters gain more power and some even feel entitled to being able to say The Knicks suck and ignore any similar mismanagement, backfire or failed investment that befalls other franchises.
Knicks ownership deserves the whipping it takes from fans, media and the basketball world. Unfortunately, the Dolans are able to hide behind front-and-center Presidents and General Managers, who receive the brunt of the blame for the Knicks ineptitude. They do, however, get paid well to do so.
True fans remember Mike Woodson and that 54-win season, when Melo led the Knicks to the Atlantic Conference title and could have easily been named league MVP. He won the scoring title and averaged a career-high 28.7 points per game. Its not like the Knicks have stayed terrible since Patrick Ewing then Latrell Sprewell and Allan Houston left. They havent been able to sustain any excellence or find many franchise players to build around. Melo was actually a gift from heaven. Think of where the team would be without him, hefty contract aside.
When Phil Jackson was ceremoniously named keeper of the ship in March of 2014, optimism erupted in the Rotten Apple. Everywhere else, the hire was dissed like any move the Knicks make. Jacksons no miracle worker, but he has definitely tried his best to turn around a failing franchise and surround Melo with pieces that will make NY competitive with the NBA's upper-echelon squads.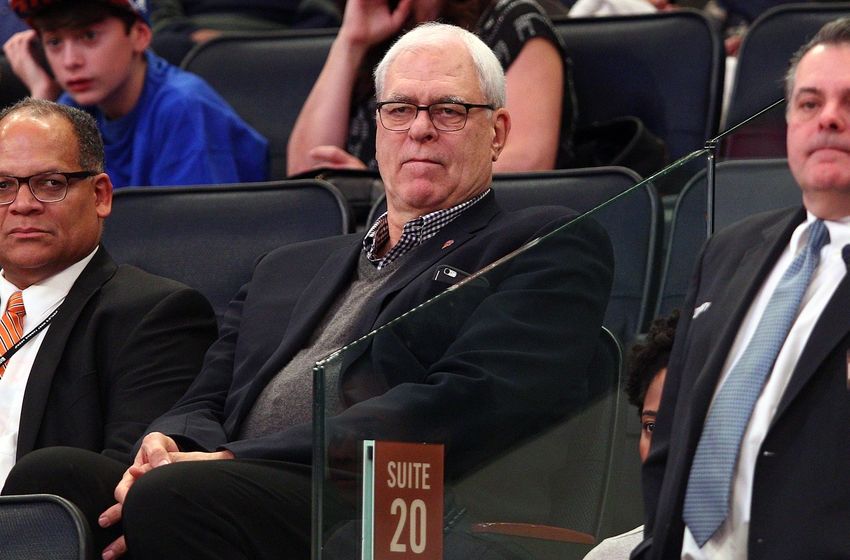 (Photo Credit: fansided.com)
After cleaning out all of the bs and overpaid junk, Jackson showed his pedigree as a talent evaluator when he selected Porzingis to a chorus of boos on Draft Night. It turned out to be Jacksons first effective power move. Admitting he made a mistake and firing Derek Fisher was beneficial as well. He used this past season as a way to further evaluate the teams needs and the players that they had on the floor.
Then, with a ton of cap space and an eye on truly changing the face of the team, Jackson went in this free agency.
If these guys can stay healthy, then for at least next season, the Knicks wont suck. In fact, they will be one of the more intriguing teams in the NBA. Excitement will definitely return to the Garden, because Knicks fans have been looking for any glimmer of hope and Jackson provided them with an illuminating Fourth of July display worth of possibilities.
This Knicks team wont lack grit. Noah and Lee are hard-nosed ballers and consummate pros. The Brooklyn-born Noah is coming home and bringing a leadership, toughness and team-oriented game that has served the Chicago Bulls well in the past. Melo finally has some offensive relief as Porzingis is no longer a rookie, but will remain the primary scorer.
The wild card is of course Rose, the former MVP. If…and thats a big if, he can stay healthy and play 60-70 games, then that elevates the Knicks to bully status in the Eastern Conference.
Jackson still needs to make some moves to fill out the roster, but if he does decide to bounce after his five-year commitment is up, he can say that he came to a mess of a situation, tried his hardest to replenish talent and bring respectability to the franchise through the draft and through acquiring free agents. He also took educated risks, made shrewd moves and gave it all he had. No one can say Jackson came in and fiddled his thumbs. Or stole money. Hes working and the Knicks will be a must watch this season. Looks like that Zen is kicking in.