Damn. Dreams really do come true. Derek Jeter, a bi-racial kid from Kalamazoo, Michigan is going to be a part-owner in an MLB franchise, joining Magic Johnson as the only brothers to sit at an ownership table that is 99 percent caucasian.
Derek Jeter and Jeb Bush group win auction to purchase the Miami Marlins for a reported $1.3 billion:https://t.co/FSW9COzwqapic.twitter.com/PZv2H0ysRG

The Shadow League (@ShadowLeagueTSL) April 25, 2017
I remember the days when ownership for an African-American in any pro sports franchise was a pipe dream. But then the ESPN age hit and the money pool in pro sports quadrupled and players started making nine-figure salaries and pro sports became a colossal corporate culture unto itself.
Then young Derek Jeter revitalized a lost Yankees franchise and turned them into one of the most lucrative sports entities on the globe. His baseball prudence, leadership and championship swagger embodied everything that you would want in an owner.
Word surfaced on Tuesday that a group led by Jeter and former Florida Gov. Jeb Bush have won the bidding for the Florida Marlins franchise at auction .
Jeter hooking up with the son of former President George Bush Sr. to purchase a baseball team may seem weird to most, but Jeter obviously has a nose for that paper, same as he did for the baseball.
Besides, The Bush Family has a long history in baseball, as George W. Bush held ownership stake in the Texas Rangers from 1989 to 1994. It served as a catapult for his political career
Via publicintegrity.org,
"When George W. Bush first embarked on a deal to buy the Texas Rangers professional baseball team in 1988, he already had his eye on the governor's mansion in Austin. But he knew that to have a shot at winning, he would need better credentials than a string of unsuccessful oil companies and a failed bid for a seat in the U.S. House of Representatives. In 1989 he told Time magazine, "My biggest liability in Texas is the question, 'What's the boy ever done?' He could be riding on Daddy's name."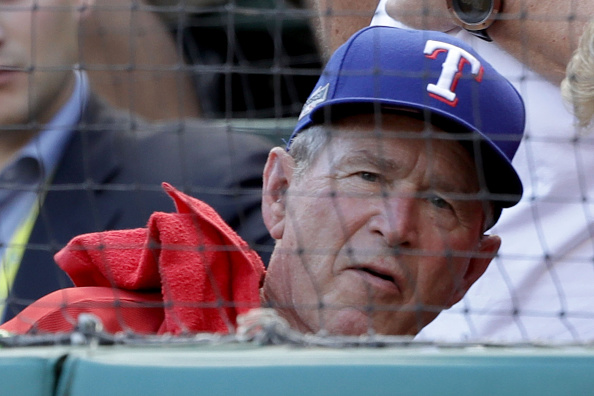 Running the team brought him notoriety. The Texas Rangers had some success with great Latino players like Ivan Rodriguez and Juan Gonzalez during that period. Being involved as owner of the Rangers presented him as a leader that could manage huge entities and make sound decisions.
Jeb was lagging way behind as far as stature in the family. He almost blew Florida for his brother in 2000 and failed miserably in trying to duplicate the Presidential aspirations of his brother and dad.
HOWEVER It seems he will be the second Bush to own an MLB team. And he has Jeter as his Secretary of Baseball State and Affairs. You cant beat that.
Jeter is one of the most popular athletes in the world and over the course of 20 years as a pro playing under the most intense microscope in media, his character has never been compromised. I mean, who else can give his one night stands gift bags on the way out and it be seen as an act of chivalry?
Hes the Wilt Chamberlain, Michael Jordan, and anointed saint of baseball all at the same time.
Jeter hasnt ventured into many business endeavors since retiring. But the success of his Players' Tribune website and now this ownership in the Marlins, shows that Jeter is positioning himself to control a number of mediums and be in front of any changes in the sports business and marketing landscape.
This announcement comes at an opportune time for Jeter as The Marlins have a cavernous, relatively new ballpark, Marlins Park, which opened in 2012, but the teams been having problems with filling the seats there. Miami will host the All-Star game in July. It will be the perfect setting to generate universal excitement for the Marlins new ownership team.
Bush will have controlling interest in the Marlins and Jeter will be a minority owner, but as Jay-Z was in his brief stint with the Nets, Jeter will be undoubtedly the face of the franchise and the iconic credibility that will get fans excited and convince them that the new ownership will be as baseball savvy and championship-minded.
Jeter wont be the Top Dog per se, as Bush plans to be the individual who would have ultimate control over franchise decisions, according to sources on MLB Network. All that means is that Bush has to sign off on any money being spent. I dont know what Jeb Bush knows about building a franchise, but it will serve him well to step back and let Jeter do his thing when it comes to advising the front office on baseball decisions.
Jeter, now 42 and one of the greatest players to ever cleat up for MLBs winningest franchise, always said that his end game in baseball was ownership. Now, he appears to be getting that chance, even if he has to be Jeb Bushs deputy. To watch Jeter ascend to these levels is not only fulfilling as a Yankees fan, but inspirational as a man of color.
As a minority in a rare position of power, his duties will reportedly be very similar to Magic Johnsons minority ownership role with the Dodgers.
The Guggenheim Partners own controlling interest in the team but Magic is the face of the press conferences and the on-field ceremonies. Hes the physical symbol that captivates fans and his entire persona says winner in control
Magic is also a basketball player, so expect Jeters illustrious history as a baseball God to allow him more personnel input. Jeters no figurehead. Now the Marlins, after years of futility and feeble ownership have a player who is the quintessential winner lending his expertise to the mix.
Welcome to Miami Captain.