Oregon and Ohio State are first and second in total touchdowns scored this season, which should give America the barnburner it needs to kickoff the second work week of the New Year,
Lost in the hoopla over the first playoff final in JerrysWorld is the reality that the Ducks and Buckeyes are two flawed teams.
Rather than fawn over the positives of these two FBS championship finalists, we've decided to take a negative approach to what could very well be an exciting National Championship Game.
Expectations are tricky business. Rather than raise them, let's bury them in a ditch and let the adrenaline rush in if this turns into the classic we (don't) expect.
Oregon's heralded quarterback Marcus Mariota has all the tools to be the next Steve Young (or Vince Young).
However, his much-anticipated NFL matriculation is on hold for at least one more game, which makes the Vince Young comparison somewhat appealing.
Last time we saw Vince in a Texas uniform, he was streaking into the end zone to cap off an undefeated national championship season and showering in Rose Bowl confetti.
Does Mariota have the mental toughness to lead a VY-type comeback or game-winning drive late if things go awry in the early going?
That remains to be seen from him in his collegiate career. Oregon's rarely played from behind and when they have, it's been in wins over bottom feeders Washington State and Oregon State or losses to Arizona and Stanford.
Mariota rarely makes mistakes, but he is prone to sluggish first halves occasionally. Pounce on him early and the reticent Duck quarterback may face a challenge.
This is the part where we're supposed to praise Ohio State's kleptomaniac secondary led by sophomore safety Vonn Bell and senior corner Dorian Grant. Oregon is far and away, the best passing attack they'll see this year.
The Buckeyes rush defense put the squeeze on Melvin Gordon in the Big Ten title game one month ago. Oregon doesn't have a single rusher who can be mentioned in the same breath as Gordon, but their whole is greater than the sum of their parts.
Royce Freeman and Thomas Tyner are a dope backfield duo, but they're no Derrick Henry and TJ Yeldon. If Freeman and Tyner were so spectacular, why would Marcus Mariota use them play-action fakes?
According to ESPN Stats & Information, Mariota has attempted 64 percent of his passes after play-action this season, the highest percentage of any Power 5 player. After a run fake, he has an FBS-high 31 touchdowns and is averaging 11 yards per attempt.
If Oregon is going to win, its Heisman Trophy may have to ride his backfield duo like fur traders on the Oregon Trail or wind up in the crosshairs of Joey Bosa, Michael Bennett or Darron Lee.
Mariota went 1-2 against his archrival Scooby Wright and the Arizona pass rush. That combined with their talent level offensively and familiarity with Oregon's tempo contributed to their two losses against Rich Rod.
Ohio State is essentially a more talented Arizona. They rank eighth in total team sacks nationally and boast a slew of Scooby Wright clones.
The Ducks don't have a running back with the versatility of Ohio State's Jalin Marshall either. Sure Byron Marshall is their leading receiver after being a 1,000 yard back in 2013, but Ohio State as their own running back-turned receiver in Dontre Wilson. Can Byron Marshall play quarterback though like his Ohio State counterpart, Jalin Marshall?
If lightning strikes Jones, the Buckeyes would dial up fourth-string quarterback/depth chart running back Marshall. Although, after Evan Spencer's corner pocket touchdown pass to Michael Thomas, the Buckeyes senior wide receiver could find himself in Jalin's Wildcat role.
Ohio State seemingly has a quarterback for every Oregon uniform combination.
Cardale Jones is the latest chosen one for Urban Meyer after JT Barrett and Braxton Miller were incapacitated by injury. Jones is actually the fourth quarterback in the Meyer era to drop Mozlov cocktails on opposing defenses if you include Kenny Guiton.
Jones' third start may be his last. If Miller doesn't transfer, 2015 will feature a melee over the starting job unlike anything we've ever seen.
If Miller transfers, which appears more likely as reports pop up daily about his prospective transfer locations, JT Barrett has an extra year of eligibility more than Jones left.
For that reason, Jones, nicknamed 12 Gauge for the armor-piercing bullets he releases, may have an incentive to go pro after the national championship game. First, he'll have to put forth a virtuoso performance against Oregon's secondary.
The downside about Jones is that historically backups don't play well in national championship games. LSU's Jordan Jefferson was only a backup because he stomped on a Marine and was suspended before the season. FSU's Marcus Outzen was a third stringer asked to do the bare minimum, which is the exact opposite of what Ohio State will ask of Jones.
Before the first ever BCS National Championship Game, Outzen replaced injured starter Chris Weinke, who was spelling fallen phenom Dan Kendra. In the final, Outzen went 9-of 22 passes for 145 yards, ran for a seven-yard end zone deposit, but countered with a fumble and interception.
Ohio State finished No. 2 in the final rankings, though many believed the title should have been split between them and Tennessee.
The next year, FSU would return to the BCS apex and Weinke would win the Heisman.
Fortunately, Oregon's 111th ranked pass defense are Ducks in a barrel being shot at with a 12 Gauge. That was with Ifo Ekpre-Olomu in coverage up through the Pac-12 Title Game.
Oregon is 54th nationally in defensive interceptions. Conversely, Ohio State has picked off more passes than any team beside Louisville, Louisiana Tech and TCU.
A combination of Jones' shotgun for an arm and wide out Devin Smith., who reeled in four arcing touchdown passes of 39, 44, 42 and 47 yards against Wisconsin, then Alabama has safeties at the hghest alert.
The nation's leader in yards per reception (27.7), receptions of 30 plus yards (12) and touchdowns of 30 yards or more (10) is a cannonball in the hull of a defense.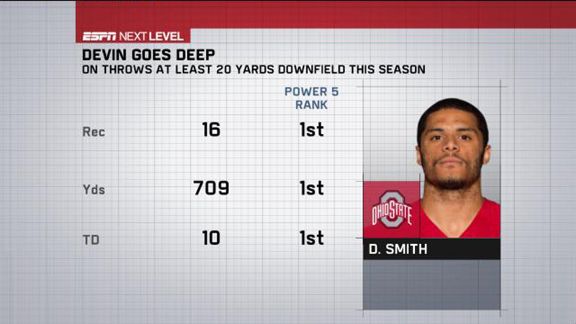 The Buckeyes playcalling backs up Jones' reputation as 53 percent of his passing yards came on 20+ yards or more. JT Barrett only completed 25 percent of his passes 20+ yards.
Whenever Smith pops the top on the defense, free safety Erick Dargan, who leads the Ducks in tackles and interceptions will be tasked with putting a cork in the senior wide receiver.
On the other hand, Jones' small sample size as a starter is smaller than his diminutive center. Recruited as a fullback, Boren is the constant in the revolving Buckeyes quarterback variable.
Contrast the 6-1, 285 pound Boren against FSU's 6-6, 302 pound Cameron Irving or Oregon's Hroniss Grasu. He'll be matched up across from 6-8, 290 pound Arik Armstead or 6-7, 290 pound, aptly named, DeForest Buckner at the point of attack.
Meyer is challenging the tabula rasa about the Big Ten's inferiority. This is the 13th season of Urban Meyer's coaching career, and his third national championship game. Urban Skywalker is 13 years younger than Darth Saban and is just now hitting his stride.
More impressively, Meyer now boasts the fourth-highest winning percentage for a head coach in FBS history. For some historical perspective, none of the three men in front of him, Knute Rockne (.881 from 1918-30), Frank Leahy (.864 from 1939-53) and George Woodruff (.846 from 1892-1905) coached past 1953.
His counterpart, Mark Helfrich is one win away from putting the cherry on top of Chip Kelly's resume. Win or lose, he'll have to share credit for this win with the current Eagles chief.
Meyer's defensive coordinator Luke Fickell served as the only separation between the Jim Tressel era, but he's completely remodeled the Buckeyes system.
With so much on the line in Dallas, the Ducks have already begun classes. Do they understand the gravity of what faces them on Monday night?
Cardale Jones does.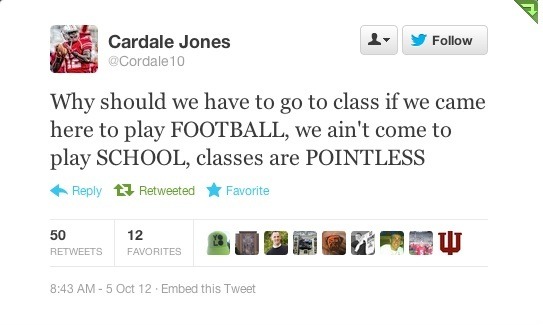 That also gives Ohio State a preparation advantage. Because their semester doesn't begin until Monday, the Buckeyes can exceed the NCAA's 20-hour practice rule, Oregon must abide by.
Ohio State clearly gets it. Give 'em the trophy. Better yet, they'll earn it.