The Black College Football Hall of Fame was established in October 2009 to honor the greatest football players and coaches from Historically Black Colleges and Universities. Its trustees are football legends Mel Blount, James Harris, Willie Lanier, Art Shell and Doug Williams.
Sponsored by the Shack Harris & Doug Williams Foundation, The Black College Football Hall of Fame unveiled on Wednesday, October 25th, the seven inductees for its Class of 2018.
This class represents three Super Bowl rings, 18 Pro Bowl selections and several Black College Football championships, said BCFHOF Co-Founder and 2011 Inductee Doug Williams. Take a look at what theyve done off the field as well, and each has earned this incredible honor.
The Class of 2018 will be honored at the Ninth Annual Black College Football Hall of Fame Induction Ceremony, Presented by the Atlanta Falcons on February 10th, 2018. The Induction Ceremony takes place at the College Football Hall of Fame in Atlanta, Georgia. The Inductees will also be recognized on ESPN at the Celebration Bowl in Atlanta on December 16th.
This year's stellar class is comprised of Southern's Harold Carmichael, Morgan State's Raymond Chester, Langston University's Thomas Hollywood Henderson, Lincoln University of Missouri's Leo Lincoln Locomotive Lewis, Fort Valley State's Greg Lloyd, Grambling's Everson Walls and Coach Bill Hayes from Winston-Salem State and North Carolina A&T.
Harold Carmichael – Prior to his 14-year NFL career, where he was a four-time Pro Bowl selection who retired as the Philadelphia Eagles' all-time leader in receptions, receiving yards, receiving touchdowns and total touchdowns, the 6-foot-8 Carmichael was a high school quarterback in Jacksonville, Florida.
Uploaded by Philly.com on 2017-04-25.
At Southern, he was a three-sport varsity letterman who also played center on the basketball team and competed in track and field as a javelin and discus thrower. On the gridiron, his position was changed to wide receiver and the rest is history.
Raymond Chester – A product of Baltimore's Frederick Douglass High School, Chester was a member of the Morgan State Bears 1968 undefeated team, scoring the Bears only touchdown in their historic victory over Grambling at Yankee Stadium.
Uploaded by Ronald Bethea on 2014-02-01.
The tight end went on to become the NFL's Rookie of the Year with the Oakland Raiders. After a stint with his hometown Baltimore Colts, Chester returned to Oakland, where he won a Super Bowl with the Raiders in 1980.
Thomas "Hollywood" Henderson – After graduating from Oklahoma City's Douglass High School, Henderson joined the Air Force. He got out of his commitment prior to his swearing in ceremony and walked on to the football team at Langston University, and NAIA school. Nicknamed "Wild Man" in college, he became a two-time small-college All-America defensive end.
undefined
A first round pick in the 1975 NFL Draft by the Dallas Cowboys, Henderson won a Super Bowl with the team in 1977. The great Lawrence Taylor, universally recognized as the greatest defensive player ever in league history, said that he wore #56 because of Henderson.
Leo "Lincoln Locomotive" Lewis – Lewis still holds school records for touchdowns in a season (22), touchdowns in a career (64), rushing yards in a season (1,239) and career rushing yards (4,457). Selected by the Baltimore Colts in the 1955 NFL Draft, Lewis chose to play in the Canadian Football League, where he starred for over a decade.
Uploaded by Sport Manitoba on 2013-08-23.
Lewis played 11 years with the Winnipeg Blue Bombers, was a six-time All-Pro and is a member of the Canadian Football Hall of Fame.
Greg Lloyd – A three-time All-Southern Intercollegiate Athletic Conference (SIAC) selection and three-time team league Defensive MVP, Lloyd was the SIAC Player of the Year as a senior, and a first team Sheridan All-American selection.
Uploaded by Tanner Eades on 2017-06-17.
The native of Miami, Florida was picked by the Pittsburgh Steelers in the 1987 NFL Draft and teamed with cornerback Rod Woodson to give the franchise two of the most dynamic and dominating defensive players in the game during the 1990's. He played 11 NFL seasons, was a five-time Pro Bowl selection, a three-time All-Pro, two-time Steelers Team MVP and is a member of the Steelers All-Time Team.
Everson Walls – Walls only played one year of prep football at Berkner High School in Richardson, Texas, but he stood out enough with his prowess for intercepting passes as a defensive back to receive a scholarship offer from Grambling State.
Video fo some of Everson Walls' 57 career interceptions
Playing for the legendary coach Eddie Robinson, he was selected for the Kodak 1AA All-American team, and the Black College All-American team. During his senior year, he led the entire nation with 11 interceptions. A member of the SWAC Hall of Fame, Walls was signed by the Dallas Cowboys as an undrafted free agent in 1981 and played 14 NFL seasons, winning a Super Bowl with Dallas in 1990. He was selected to the Pro Bowl four times, was a First Team All-Pro in 1983 and was a three-time league leader in interceptions.
Coach Bill Hayes – Hayes served as the head football coach at Winston-Salem State from 1976 to 1987 and at North Carolina A&T from 1988 to 2003 and holds the distinction of being the winningest coach at both programs.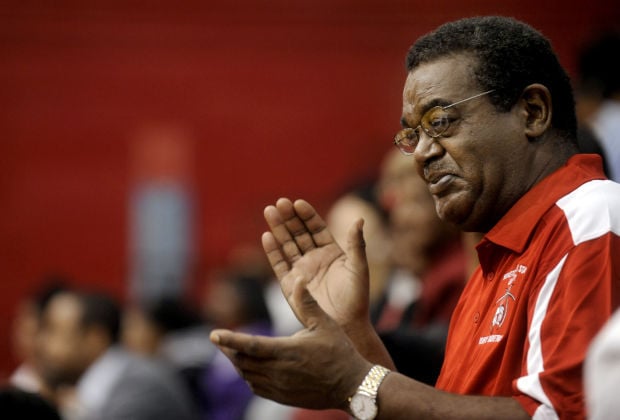 The 1988 National Coach of the Year Won, he won four CIAA titles at Winston-Salem, where his teams were ranked as the #1 team in Division II after consecutive undefeated regular seasons. As the head coach of the Aggies, he won three MEAC titles and made two Division I-AA playoff appearances. His A&T teams were named the Black College Football National Champions in 1990 and 1999.