Director Gina Prince-Bythewood has been one of the most critically-acclaimed of her craft since writing and directing Love & Basketball way back in 2000. Since that time, she has continued to craft excellent cinematic works that shined a truthful light on characters and actors of African descent. Beyond the Lights, Prince-Bythewood tackles mental health and the sometimes toxic nature of celebrity. Actress Gugu Mbatha-Raw stars as Noni, a brilliant young ingnue on the brink of superstardom, and steeped in the mist of depression and suicidal tendencies. Recently, on the eve of Beyond the Lights' release on Blu-Ray and DVD, Gina held a roundtable discussion on the film where she discussed its creative merits, being Black in Hollywood, the Oscars and more.
It was very important for me to get that right, said Prince-Bythewood of the films sensitive subject matter. Its a very personal issue to me because someone in my family had attempted it, but they changed their mind halfway through and was able to get help. I did a little research and was shocked to learn that at least half the people that commit suicide tried to stop or change their minds. The fact that he was in such a dark place and his life is so much better now."
Its that whole thing of choose life and the fact that Noni, if she had gone over, she never would have learned of herself, she never would have found true love, but it was also supremely important that it wasnt that she got saved by a man and that made it all better. It was important that she did ultimately get help and that she had to love herself first and find worth in herself before she could really reach out to Kaz.
In the beginning stages, Beyond the Lights was called Blackbird, after the Nina Simone song of the same name. The director told the gathering of news organizations how she came to know and love this legendary artist.
Nina Simone, I really didnt get keyed into until after college. I was adopted by White parents. I grew up on Pete Seager, Joan Baez and the Beetles. It was a little bit of a different experience, she explained. But once I discovered Nina Simone that was it. Once you discovered her you wanted to know everything about her. So I just had all of her albums and, once I was writing the script, I knew the character of Noni would aspire to be and respect. Ninas work is so truthful and raw and real. But I didnt know what song. I was listening to my stack of CDs and I came across Blackbird. And it felt like that was written for the film. The lyrics spoke so perfectly for the character as a little girl and the character as a young woman. Honestly, it changed the trajectory of the script because originally the karaoke scene Noni sang her own song. But once I started writing and hearing the lyrics it made more sense that she would want to go back to the moment of when she could be who she wanted to be. So, I love when things like that can elevate the material and it was great because she could sing her own song in the film.
Blackbird was the title. It was Blackbird for four years. Its so weird, it took me four years to get this film made, she continued. Then, I get it made and its three other movies called Blackbird. Like, how does that even happen. So, timing sucked and one of the others was based on a book called Blackbird, so they had the copyright. So, only three titles got clearing and Beyond the Lights was one of the three. On paper, it makes sense. I think Blackbird was a better title and has more depth, but Beyond the Lights does make sense. Explaining to Gugu, and Minnie, trying to explain to them the politics and the business side of it because they were blown away and very upset, and justifiably. But they got over it. It took about two months for them to go from saying Blackbird to Beyond the Lights.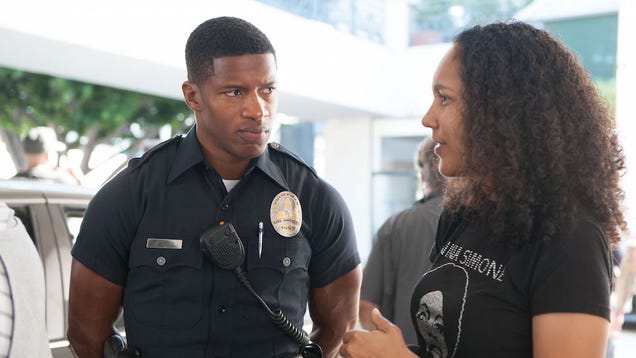 Though Gina Prince-Bythewoods considerable skill behind the camera cannot be assailed for quality or composition, many would be shocked to know that she has only directed three major motion pictures since 2000. That, in part, is due to her being extremely choosey about the types of work that she is willing to sign on to do.
I am writing a pilot now. But the deal I have means I can write and direct it. The deal that I have is a great one. Im going to write and direct it, which means I can be as involved as I want. Which means Im going to be able to step off and do features. For me, television, the thought of being on a show for five years doing the same thing, would be creative death for me. I just couldnt do it. Also, I have two boys. TV, for the first two years, youre there all night. It takes everything. With film, yes Im gone for three months, but Im home 24/7 the rest of the time.
As is often the case, films depicting topics of importance to people of African descent are largely ignored by the Oscar voting committee. This year there were only two films, and no actors, nominated at the 87th Academy Awards, Selma (Best Picture) and Beyond the Lights (Best Original Song for "Grateful" by Diane Warren). Though the budget for the film was relatively miniscule at $7 million, the quality of directing and acting were worthy of note yet went unrecognized.
I feel like it absolutely should have been in the conversation, Bythewood told reporters. Foremost, I think Gugu should have been nominated. Across the board. She gave a transformative, beautiful performance that I dont think anybody did the work that she did to create this character. Then, coupled with the fact that she played Gugu and Belle in the same year and did totally different performances that showed such incredible range, and also the bravery of her performance. This film took $7 million to make and I dont think it looks it at all. It was tough, I dont think people started championing their performances until the end of the year. If it had happened two months prior, I think it would have changed things.
We had no Oscar push. We didnt have the screeners, and so the fact that it lifted itself was pretty unbelievable. We believed in it but the fact that others thought was as well was pretty good. I loved it, it just keeps the conversation going and brings a spotlight to it.
Beyond the Lights took four years to make and was initially conceived as need $20 million to make when it was at Fox, two studios and 55 rewrites later, Beyond the Lights found a home at Relativity with a far smaller budget. I asked Ms. Bythewood how she was able to stay motivated in an arena in which the status quo is often No when it comes to making films with an all-Black cast. Racism, sexism, classism, and chauvinism are all obstacles to be overcome whenever its time to make a film.
I think, foremost, its because directing is the only thing I want to do. I love it and so I cannot let others isms effect my dream and what I want to do. And also having a cause bigger than myself. That drives me. It is tough, Im not gonna lie. Its so hard to sit in a room with studio execs who look at the film I want to make and flat out say Will you cast Channing Tatum as opposed to a Black actor in this role, and see nothing wrong with saying that. That is very tough to hear. My husband did Biker Boyz and we had a booklet of all the cast, and he literally went through it like Black face, Black face, Black face, Black facewe cant make this movie. That kind of stuff is mind-numbing, and it can make you so bitter and crazy but what you have to do is think about a cause bigger than yourself and to make this more visible and try to get rid of that mentality and thats what sustains me, and feeds me, and gets me up every day. The memory of those feelings in those rooms.
Though all of Ginas successful works have featured an all-Black cast she told the room of reporters of her wish list for working with non-Black thespians, but for the right movie.
One day I want to work with Meryl Streep and Jennifer Lawrence. The offers that I have been given for those situations, I havent been inspired by the product. It drives my agents crazy when I turn that down. But, at the end of the day, I wouldnt make a good film because I didnt care about it.
A theme that continually came up during the roundtable was Bythewoods writing habits and the arduous length of time that it usually takes her to get things done. Most writers have certain tricks of the trade that help them power through the rough times. For Gina, that creative catalyst is music.
I hope comes from the fact that I pull from personal things. So, I think its important to get it right. To get it to work. It comes from never being satisfied with a script and continually honing it and honing the characters. Research is such a big part of the process. And also, because I write to music. Music is a huge part of my process. I have a playlist for every script that Ive ever written and its made up of songs that open me up emotionally to whatever Im writing. It allows me not to censor myself and to tap into rawness and be able to put that on a page. I think thats probably one of the big parts of it.
Beyond the Lights, starring Gugu Mbatha-Raw, Nate Parker, Minnie Driver and Danny Glover, was released on Blu-Ray and DVD on February 24th and is currently available On Demand as well. The Shadow League will keep you up on all of her future works as soon as more details become available. Until then, peace, love and soul.