April 21st is the one-year anniversary of Prince's death and we'll be sharing some of our reflections on the one-of-a-kind musical genius and dynamo.
Sign o' the Times, Prince's ninth studio album, was released on March 30, 1987 by Paisley Park Records and Warner Bros. Records. But the accompanying single with the same name just might outlast every other offering on the set.
First recorded in 1986, Prince's seminal song is a veritable time machine for me.
At 13 years old, I could almost touch and taste the memories of the era that imposed itself upon the creative psyche of a young genius named Prince Nelson George. Within my immediate sphere was poverty. Outside my door was crack. On my radio was Hip-Hop. In my heart was hope.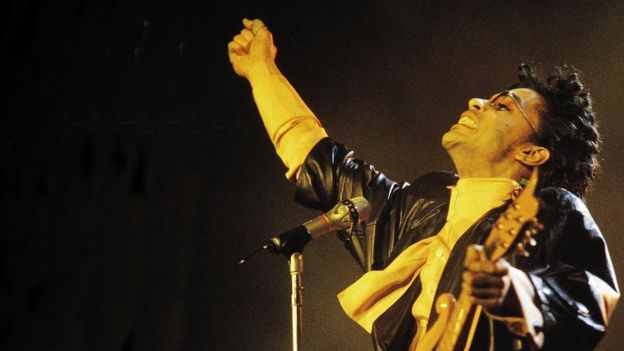 When the song dropped I was in the 8th grade. The Russians were on the news everyday, as were threats of war and terrorism. Internally, the shame of poverty stalked me then. But my appetite for news and information was voracious, and it eventually became a soothing grace.
To me, Sign o' the Times was more than just a hit song. By the time it debuted, I had already witnessed the majority of the subjects he spoke of. Crackheads, grammar school pistol packers, deteriorating city facilities, lead paint and roaches were the norm.
So my mind would go elsewhere as if connected to an astral facsimile floating elsewhere. Indeed, connected to the world wide web of the ghetto and broadcasting live from said locale decades before TMZ and WorldStar ever did. But it was just life. Sign o' the Times
The AIDS epidemic was devastating the community, and the stigma associated with the disease was at an all-time high. Thus, like so many other health concerns of the black community, the AIDS crisis was far more voracious than it should have been. Superstition, misinformation, apathy and poor medical treatment were like kindling to this disease in the days before anti-retroviral drugs.
But largely black economic powerhouse Atlanta is an example of the bad side of retro. The CDC estimates that 1 in 51 Georgians will be diagnosed with HIV in their lifetime. As of 2013, Atlantas metro population accounted for more than half of Georgias total population, with 5.6 million people.Indeed, the more things change the more they remain the same, even with time and movement. Sign o' the Times.
The song also touches upon the incessant onslaught and drone of the contemporary news cycle. Albert Einstein was revolutionary in thinking on time. According to his Theory of Relativity, time dilation is the difference of elapsed time between two events, as measured by observers moving relatively to each other or differently situated from a gravitational mass. For example, astronauts in space age slightly less had than they would otherwise had if they'd remained on Earth. Thus, time is indeed relatively malleable, bendable and largely dependent upon movement relative toward the speed of light.
Time is such that anyone can insert their experiences into Prince's stanzas and be on point. For those of us who were alive back in 1987, our modern scope is but a dilated version of what we had witnessed three decades ago. Instead of hearing about immoral, inherently criminal Black and Brown faces languishing in urban crack dens, we hear of poor whites in the rust belt and in corn country needing compassionate intervention for their meth and heroin afflictions.
Meanwhile in the city, teenage addictions are being spurned by lullabies of mollies and percocet. Sign o' the Times.
Dylann Roof walks into a Charleston, South Carolina church and kills nine Black parishioners, and every time you get on social media the news is telling you somebody died. Sign o' the Times.
Sisters are still killing babies for a myriad of reasons and Black infant mortality is still sky high. Plus brothers that are emotionally fractured are caught in the rapture of guns, ego and crime. Though terrorism still rules the headlines like we're all blind and nuclear saber rattling is still en vogue.
Times. Times.
For it's symbolism, it's wording, it's eternalness, Sign o' the Times reigns forever.
Oh yeah!
In France, a skinny man died of a big disease with a little name
By chance his girlfriend came across a needle and soon she did the same
At home there are seventeen-year-old boys and their idea of fun
Is being in a gang called 'The Disciples'High on crack and totin' a machine gun
Time
Times
Hurricane Annie ripped the ceiling of a church and killed everyone inside
You turn on the telly and every other story is tellin' you somebody died
A sister killed her baby 'cause she couldn't afford to feed it
And yet we're sending people to the moonIn September, my cousin tried reefer for the very first timeNow he's doing horse, it's June, unh
Times
Times
It's silly, no?
When a rocket ship explodes and everybody still wants to fly
But some say a man ain't happy unless a man truly dies
Oh why?
Time
Time
Baby make a speech, Star Wars fly
Neighbors just shine it on
But if a night falls and a bomb falls
Will anybody see the dawn?
Time, mm
Times
Is it silly, no?
When a rocket blows and, and everybody still wants to fly
Some say man ain't happy truly until a man truly dies
Oh why, oh why?
Sign o' the times, unh
Time
Time
Sign o' the times mess with your mind
Hurry before it's too late
Let's fall in love, get married, have a babyWe'll call him NateIf it's a boy
Times
Times