Never had much time for crying. Never had patience for tears, mine or yours. Where Im from, tears might get you hit harder, or bullied, or worse. Tears made you a target for all types of horrors you wanted to avoid. So no matter what devastation happened in my house, eyes stayed dry.
When a bullet tore through my fathers brain on a North Philly street, I never saw my mother cry. Im sure she did, though. Left with three small kids and barely a high school education at the time. Im sure she did. We just never witnessed it.
When we moved to a new apartment and the project bullies would chase me down after school threatening to bash my head in because I acted better than them, I would run home, crying. But mommy would threaten to beat my a herself if I didnt go back outside and fight my tormentors. She even taught me how to punch and look for any object I could find to hit someone over the head with if things got too heated.
Always fight back, she told me then.
No surprise I wound up working in sports. Sports culture is comfortable for me. I understand the rules. Crybabies get kicked off the team, benched, not promoted. They never win, especially weepy women. So from the time I first walked into a sports department at the Philadelphia Inquirer as a copy editor to the day I walked out of ESPN as a Vice President and a founding editor of The Magazine – eyes stayed dry.
But Orlando has me shook. And I know Im not alone.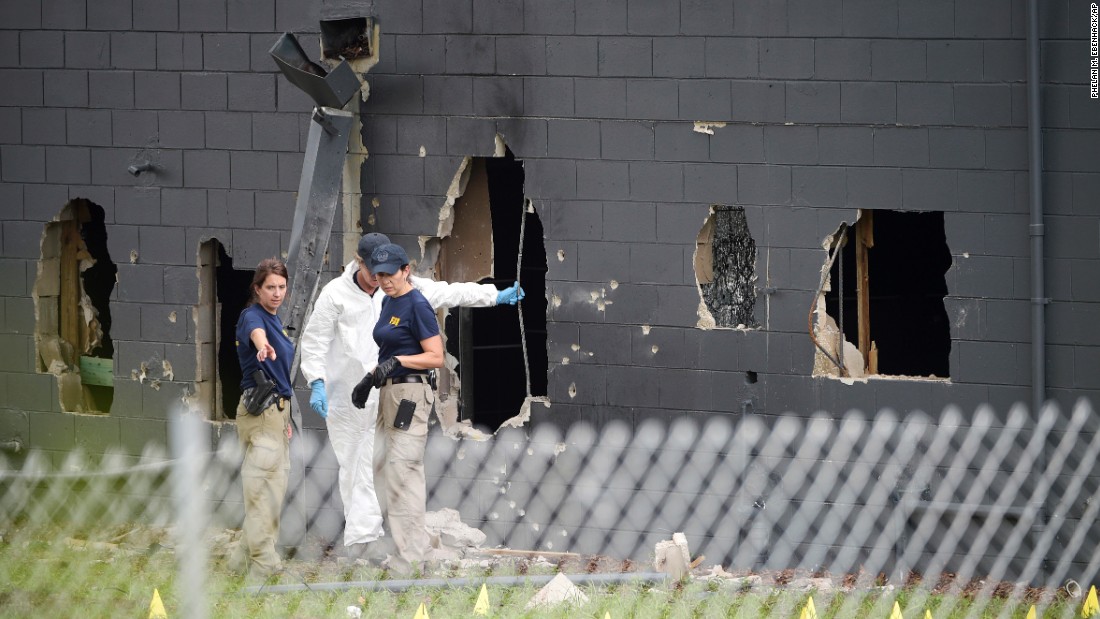 (Photo Credit: cnn.com)
Since the June 11 mass shooting that killed 49 and injured 53, not a day has passed that I havent shed a tear or felt sick to my stomach each time I hear a parent, friend or loved one talk about someone they lost that night at Pulse, a popular gay nightclub, where Omar Mir Seddique Mateen took out his AR-15 assault rifle and went on a shooting rampage that lasted hours.
And truthfully, its not just Orlando. My tough-girl-game began to crumble years ago: back in 2012 when 17-year-old Trayvon Martin was killed in Florida and his murderer, George Zimmerman, walked free; and later that same year when first graders and their teachers were gunned down in Sandy Hook Elementary School in Connecticut; and in 2015 the day Sandra Bland mysteriously turned up dead in her Texas jail cell after being detained on a minor traffic violation.
Then last June, it seemed things could not get worse after a Nazi-wannabe shooter walked into the historic Emanuel African Methodist Episcopal Church in Charleston, S.C, asked for the pastor and proceeded to slaughter nine church members attending a Bible study meeting.
Charleston left many of us literally unable to find words to pray. And instead, I found myself claiming my own Second Amendment rights and wanting vengeance.
Since the church massacre, thousands more people have died in gun violence. Already in 2016, more than 6,034 people have been killed by a gun and another 12,363 injured.
Yet, after each of these horrific stories, weve managed to move on, pray for peace and hold onto hope. Many of us have turned tears into targeted outrage and our indignation into organized action to protest police brutality or lobby for safer gun laws.
But its getting harder to hold onto hope. Hope wont resurrect the dead.
It wont bring back Akyra Murray, who at 18 years old, the youngest person killed in the Orlando nightclub, police said. Murray, a basketball star and top student had just graduated from Philadelphia's West Catholic Preparatory High School and was headed to college in the fall. She and her family were visiting Orlando to celebrate her accomplishments.
(Akyra Murray, right, signing her letter of intent to play at Mercyhurst, Photo Credit: USA Today)
Said her father, Albert Murray, on Facebook: "I lost my daughter, one of the greatest inspirations in my life I know she is in a safer place then (sic) America … You can't even go on vacation." Her #20 jersey has been retired and her short life was celebrated this week with the hashtag #RIPAkyra, which trended across social media.
The 48 other victims all have similar heartbreaking stories. Stories of parents seeking answers and of families ripped apart. Each one begging Washington to help make America safer from the gun violence and hate that have reduced the lives of too many into a popular hashtag.
But Washington is not listening to these pleas. Washington – with the exception of President Obama – has been mostly silent on gun violence. They are comfortable playing partisan politics while our children, mothers, fathers, friends die in vain.
None of us should be satisfied with a moment of silence in Congress, or at a ballgame, or a Confederate flag removed from federal buildings. These measures alone are insulting. It seems we can no longer count on politicians to lead our nation to a safer, more just place and act to quell the domestic terrorism right here on our own soil. And when government fails its people, then its time for the people to takeover.
Pick a side.
(Photo Credit:orlandosentinel.com)
You are either with us in the war against hate or against us. For justice and equality for all, or against it. No more excuses – leaning on your Bible to justify racism, ignoring hate when the victims dont look like you, or love like you, or pray like you. No more explaining away hate when its a crime against women. No more wrapping ourselves up in the Second Amendment while ignoring the most basic responsibilities that must come with gun ownership.
Make a choice.
Some of us may use our intellect to organize and advocate – join groups like the BlackLivesMatter movement or Mothers Against Guns And Violence (M.A.G.A.V.). Work toward policy changes and justice reforms needed to make America not just safer but a nation in which we truly have equal justice for all.
Others, tired of watching the carnage and the inaction in Washington, may decide on an every-person-for-themselves mentality. They may decide its time exercise their Second Amendment, too, and protect themselves. But are we really ready to go there: arm our children, arm ourselves and walk through life with our finger on the trigger, never trusting, never quite feeling safe?
I have friends and family who have adopted this philosophy. And I cant say I dont understand their reasoning. But Im searching for a better way. Praying theres another path.
Doing nothing, saying nothing is not an option. So, excuse me while I dry my eyes. The tears end today. Too many have fallen. Its time to fight back.