The NFL has cracked down on celebrations over the past couple of years and rightfully earned the moniker the No Fun League. Although there is a committee that makes the rules, referees usually bear the brunt of fan ire when excessive celebration flags are thrown.
Apparently, the refs are tired of being scapegoats for just doing their jobs.
Scott Green, the head of the NFL Referees Association, said on Sirius XM Radio Sunday that officials are bearing the unwanted burden of drawing the line between excessive and game-enhancing, and would rather have the league discipline the individual player with a fine and not penalize his team on the field.
Nothing is worse than someone going 80 yards for a touchdown and then we're trying to figure out does that warrant a flag for what hes doing in the end zone, Green said.
We don't really enjoy that. If we could get to the point where it would simply be fines by the league (if the league must penalize players at all for showing emotion), that would be great. The issue we'll still have is that guys can get pretty creative out there. The question of whether its a foul or not a foul, hopefully we'll get closer to more of a black-and-white situation.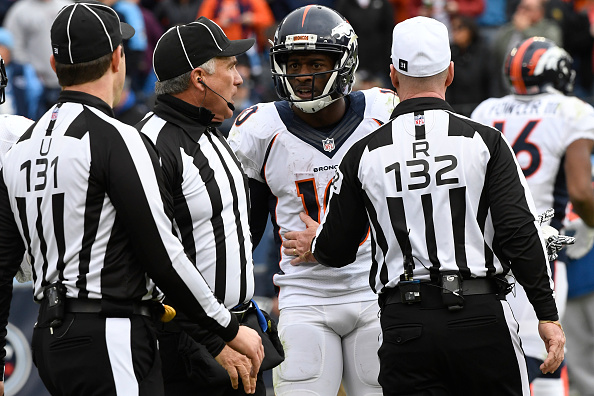 The NFL announced last month that it has am educational video in the works to show players how to "properly celebrate." Its the most ridiculous and obnoxiously-controlling thing Ive ever heard in pro sports.
The NFL is pushing the envelope on this issue but still trying to place more responsibility on the refs as the league seeks to actually end fines for players who violate the celebration rules and instead, give sole responsibility to the refs.
There seems to be a lack of communication between the league and the refs. The stripes dont want to penalize dudes for celebrating after a touchdown in an entertainment-driven pro sport. It really doesn't make any sense when you think about it. Just rules for the sake of rules.
Hopefully they will get this figured out soon — and without the instructional video.