The 89th Annual Academy Awards were one of the most diverse award shows in the history of the gathering. While those words do indeed sound grand, the history of the Oscars has been mostly a celebration of white creative talent and creations, with only an occasional nod of recognition going out to works created by or starring people of color.
Over the past two years the derisive hashtag OscarsSoWhite twisted and churned on the digital seas and the criticism made Academy voters seasick.
So, seeing as though we live in a reactionary society that also feigns itself to be somewhat just, this year the Academy nominated a record tying six Academy Award nominations for Black actors, in what was initially a pleasant yet hollow surprise for observers.
Why was it hollow? Because of the years of disrespectful racist stereotypes that Hollywood has profited off of and promoted over much of its existence.
Denzel Washington, who is now the most nominated Black actor in Oscar history, was nominated for his leading role in Fences. Co-star Viola Davis was nominated for Best Supporting Actress for her role in Fences, and she went up against friend Octavia Spencer, who was nominated in the same category for her role in Hidden Figures while Naomie Harris was nominated for her role in Moonlight. Actress Ruth Negga was the only Black woman nominated in the Best Actress category for her role in Loving. Mahershala Ali was nominated for Best Supporting Actor for his role in Moonlight.
In addition to some of our favorite thespians receiving nominations this year, there were also some nominations made for work behind the camera going to people of color. Kimberly Stewart was nominated for producing Manchester by the Sea, making her the second Black woman to achieve this nomination, while writer-director Barry Jenkins received the nomination for Moonlight, making him the fourth Black director to be nominated for Best Director. Additionally, Jenkins screenplay for Moonlight earned he and writing partner Tarell Alvin McCraney nominations for Best Adapted Screenplay.
The late August Wilson was nominated posthumously for writing Fences and Bradford Young got a nod for cinematography for his work on Arrival, while Joi McMillon was nominated for editing Moonlight. Viola Davis would win Best Supporting Actress while Mahershala Ali won Best Supporting Actor for their respective films.
Moonlight won the award for Best Picture after a controversial snafu in which legendary actors Warren Beatty and Faye Dunaway appear to have flubbed the revelation, naming La La Land instead. However, after almost all of the relevant crew of La La Land reached the stage, the error was revealed.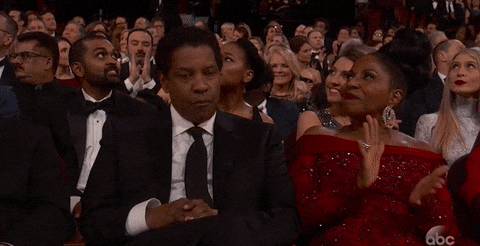 Barry Jenkins and Tarrell Alvin McCraney also won for Best Screenplay for Moonlight. Ezra Edelman won Best Documentary for his scintillating work, OJ: Made in America. Despite all of these wonderful creative minds being honored this year, there can only be one winner each category. And, as is often the case, there was controversy.
Denzel Washington lost to Casey Affleck in the Best Actor category for his role in Manchester by the Sea. Prior to the announcement, Washington appeared apprehensive in his chair. It was clear that this was an award that he wanted badly, and the veteran actor was clearly upset after he lost.
Even Affleck's paying homage to Denzel during the acceptance speech did not seem to quell the disappointment that was evident in his face.
Congratulations are definitely in order. Not only for the Black winners at the 89th Academy Awards, but for all the winners. But it also must be noted that diversity means much more than simply being Black. The Academy would do well to remember that next year before it gets to comfortable patting itself on the back.