The Baseball Hall of Fame is losing credibility at the same rate as our POTUS.
The Baseball Writer's Association of America's voting process has become the Wild Wild West. Theres no longer any legitimate basis for induction or exclusion, just a lingering, outdated and unfair bias towards the greatest players of the PED Era.
Baseball fans still get excited when summer rolls around and new players are inducted into Cooperstown, but since the BBWAA started arbitrarily playing God and excluding certain suspected PED superstars from the Hall of Fame and allowing other, lesser players with similar suspicions to get a pass into baseballs final VIP destination, the entire weekend experience is more like the Twilight Zone mixed with a lot of "game."
In the hood, "game" is another way of describing perfectly-executed BS.
The BBWAA is writing a script that continues to ignore the PED suspicions of current inductees and continues to blackball deserving candidates such as Barry Bonds, Mark McGwire, Sammy Sosa and Roger Clemens. At this point, there is no rhyme or reason as to how some PED-tinted players get in and why others are excluded.
When MLB started letting suspected PED cheats into the Hall of Fame, Rocket Clemens and Barry B, baseball's all-time homer king, should have been the first two inducted. The Hall of Fame process has become distorted at this point.
On Sunday, Black Knight Tim Raines, Jeff Bagwell, Ivan "Pudge" Rodriguez, former Atlanta Braves General Manager John Schuerholz and former MLB Commissioner Bud Selig were inducted into Cooperstown with all of the fanfare that icons deserve.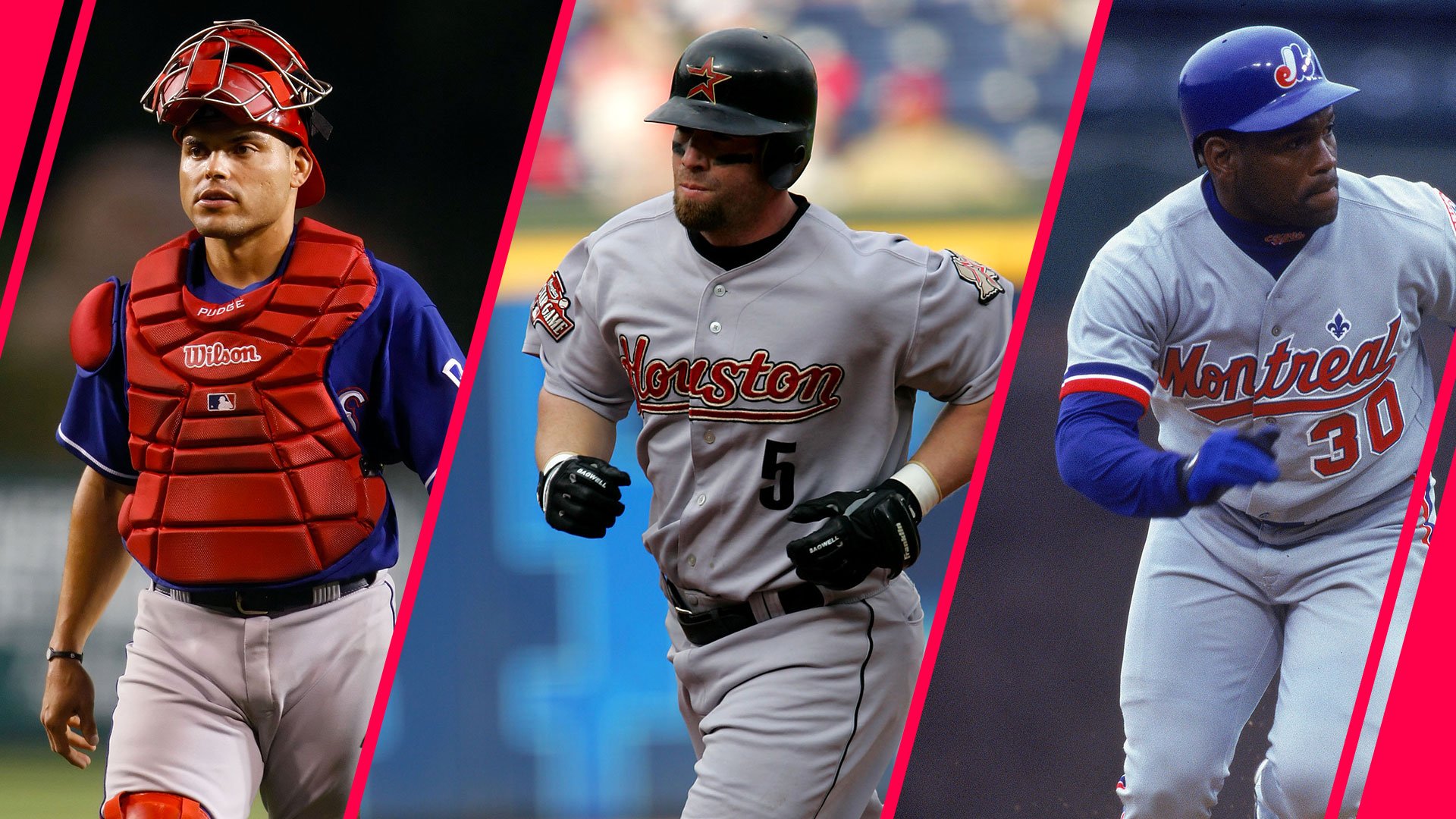 (Photo Credit: Twitter)
With the exception of Raines, who played in the '70s and '80s, all of the other celebrated baseball souls have careers that are in some way as tainted and PED-smeared as Bonds, Clemens, Sosa's or any of the immortal players who set truckloads of records and revived baseball following the strike of 1994 and are now scapegoated.
Like many of his PED-accused counterparts, 48-year-old Bagwell statistically deserves his HOF nod. As one third of the famed "Killer B's" of the Astros, along with 2016 Hall of Famer (and suspected steroids user) Craig Biggio and Lance Berkman, Bagwells booming bat helped take the Astros from a last-place team to the World Series in 2005. Elected in his seventh year on the ballot, Bagwell is the only first baseman in history with 400 career home runs and 200 stolen bases.
"I tried to do everything well," he said at the induction ceremony on Sunday,  "I wanted to score for my team and for my other players. I enjoy the stolen bases more than anything else. For a little guy with not much speed, I truly appreciate that. I could help us win in different ways."
Bags was dope. Problem is, his name has been implicated as a PED user and he even admitted to using Androsterone in 1998, same as Mark McGwire — but before it was a banned substance. Moreover, he developed his power late in his career, bulked up like a comic book superhero and was friends with Ken Caminiti, who died tragically of a drug overdose and was open about his steroid use.
Bagwell was kept out all of those years because there was this unofficial, collusive effort by the BBWAA to preserve baseball's statistical integrity by staying away from anyone who "might" be guilty.
Jeff Bagwell Houston Astros Tribute Video One of my all time favorite baseball players. Here's the link to my Biggio tribute video. https://www.youtube.com/watch?v=iYhV0_JXoHw
This all sounds like a bunch of hogwash now. With the inductions of Mike Piazza and Craig Biggio in recent years, the whole notion that suspected PED guys shouldnt be in the Hall of Fame has no credibility.
Pudge Rodriguez can be considered the greatest catcher of his generation. He had some surprisingly power-packed seasons wrapped within a stellar, steady, multi-faceted career. In his just-released book, "They Call me Pudge," Rodriguez says that he never partook in PED use. There's is no hard evidence that he did.
However, the one black eye is that Jose Canseco said Rodriguez used. If anybody would know if Pudge juiced, it's the guy who basically launched and then exposed baseballs Steroids epidemic and revealed that it was a team effort from the highest ranking MLB officials all the way down. The epidemic was ignored as long as baseball's profit margin and popularity soared.
Thats why Commissioner Selig being inducted into the Hall of Fame is also joke. For all the good that he did in helping baseball become a globally marketed sport and trying to educate fans on the contributions of Negro League players, Selig was at the head of this PED epidemic.
He was the top guy when an estimated 50 percent or more of the league were using performance enhancers.
When the heat came, Selig turned on his greatest icons and major moneymakers. He proceeded to act as if he had no clue about the steroids epidemic once sh*t hit the fan and the government wanted a piece of the players and MLB.
How can a commissioner who turned a blind eye to a cheating epidemic on his watch then be rewarded with the same honor that the players he oversaw are punished and alienated for?
Giving Selig props on his induction is a no-go. Same as when Tony LaRussa, Joe Torre and Bobby Cox were all inducted together as former long-tenured managers of three of the winningest franchises during the PED Era.
How many PED cheats do you think these guys coached? No way they should get a pass.
While Im excited that some very deserving players got into the Hall of Fame, I cant take the induction ceremony or the election process seriously when the greatest hitters of the PED Era are still unfathomably kept out of Cooperstown.
Until Bonds, Sosa, McGwire, Clemens, Manny Ramirez and Rafael Palmeiro get in, we are dealing with The Hall of Game. And it's somewhat of a shame to be a part of it.