Mookie Betts is a 5-foot-9, 179-pound representative of of baseballs bash brotherhood. The third-year Red Sox outfielder from Tennessee, has hit the ground running since he burst on the scene in 2014 displaying a multi-faceted combination of power, speed and defensive prowess crammed into one unassuming package. He's also know for his smile, his energetic personality and his "Dab" game. After all, he wouldn't be a brother balling without possessing some extra flavor.
On Monday night, baseballs rising black knight had another one of those, Keep sleeping on me and you will pay dearly, games as the diminutive baseball giant blasted a two-run homer against the Baltimore Orioles to help teammate Rick Porcello win his 21st game on the mound. Betts homer put him over the 30-homer mark for the first time in his young career.
Betts is now one of seven players to have 200 hits with 30 homers at age 23 or younger. He joins an immortal short list of Alex Rodriguez (who did it twice), Hal Trosky (twice), Albert Pujols, Vladimir Guerrero, Nomar Garciaparra, and Joe DiMaggio.
"He's probably one of the few guys, every time I see him hit, I think he's going to hit a homer. (It's) just that presence that he has in the batter's box, " said Red Sox shortstop Xander Bogaerts.
By sweeping four games from the surging Yankees and then winning the first three games of this four-game series against Baltimore, the Red Sox are 10-3 in what was to be a tough and revealing 13-game stretch against division rivals who were closing the gap on them. Betts has been the perfect compliment to Big Papi as the go-to, clutch performers on a Sox team that is now comfortably leading the AL East by 5 games with 10 games left in the season.
Betts and Boston arent quite out of the clear yet. Those final 10 games are against division opponents (Tampa, Yankees and second-place Toronto Blue Jays) who will undoubtedly love to play spoiler to Bostons celebration, as the Red Sox have gone from worst to first in the division in one dramatic turnaround season.
From the looks of things, Betts wont let happen. He's far too humble and grounded for that, but he does admire the resilience he has shown after starting the season slow.
Its been a long season, and Ill give myself a little credit for just working and grinding through the whole thing, Betts told the Boston Globe. "I do know there is more to go.Its been a long season, and Ill give myself a little credit for just working and grinding through the whole thing. I do know there is more to go.
Betts didn't come out the shoot mashing on pitchers this season. According to The Boston Globe, he struck out in 16 of his first 59 plate appearances (27.1 percent) until Papi Ortiz got in his ear and suggested that Betts think less about his mechanics and simply react to the game as he did while emerging as a phenom in the minors.
Ortiz's pep talked seemed to spark Betts' engine because he has been MVP-worthy ever since and his cultural impact on the game should be noted. At a time when African-American participation in MLB is at just seven percent of the total rosters, Betts is the only African-American in the top 43 in league batting average. Accumulating five hits in his last eight at-bats has raised Betts batting average to .318 — good for seventh in baseball. Hes tied for the MLB lead in hits with 203. Hes fifth in RBI (108) and is in the Top 20 in homers with 31.
Baltimore had a chance to pull even with the Red Sox as they entered this week's series down just three games. The Orioles are always a dangerous draw and prior to the Yankees series, Boston had lost six straight one-run games overall prompting Dan Shaughnessy of the Boston Globe to call them choking dogs…they cant win when the games on the line.
Because of guys like the ageless leader Ortiz, the re-invented Rick Porcello and Team MVP Betts, who hit his eighth homer in seven games at Camden Yards this season on Monday, Shaughnessy now says Boston is peaking at the right time.
(Photo Credit: bostonglobe.com)
With five more steals (Betts currently has 25), he can also become the first player since Mike Trout and Ryan Braun in 2012 to collect at least least 30 dingers and 30 swipes in a single season. Thats Rickey Henderson-esque stuff for you green baseball guys out there.
Last season was the one that put Betts on the map as he hit .291 with 18 homers, 21 steals and 174 hits. But May 31st of 2016 was the day that put MLB on Red Sox alert: Mookie Betts is not playing with yall fools.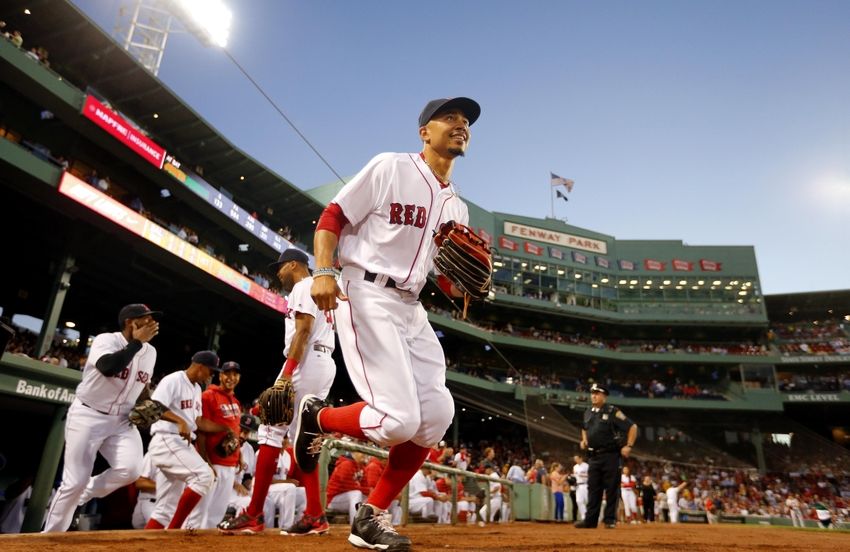 (Photo Credit: bosoxinjection.com)
The 2016 All-Star had a three-homer game for the first time in his career in a 6-2 win over the Orioles, becoming the first Red Sox player to homer three times in the same game since Will Middlebrooks did so on April 7, 2013. The Sox also had back-to-back homers (Mookie Betts and Dustin Pedroia) in that game for the first time this season. The last time the Sox began a game with back-to-back homers was July 27, 2011 when Jacoby Ellsbury and Pedroia did so.
Most pro players dont have a three-homer game in their entire baseball lives, but Betts did it again on August 14th in a 16-2 win over Arizona. Now, hes undoubtedly one of the most dangerous weapons in the sport.
It was Betts arrival in 2014 and his emergence last season, that allowed Red Sox fans to forget the free agent betrayal of long-time Red Sox hero Ellsbury, who signed a $153 million deal with the arch-rival Yankees prior to the beginning of the '14 schedule. While Ellsbury is currently up for consideration as worst Yankees free agent signing of all-time, Betts is preparing to write his name into Red Sox postseason lore as he embarks on a most probable and deserved meaningful string of baseball come October.