These Black pitchers will take center stage in the 2016 MLB playoffs.

Its important that pitchers Marcus Stroman, David Price and Joe Ross catch major wreck in these 2016 MLB playoffs. Of course, their squads need them to make World Series runs, but the future of black starting pitchers in baseball is counting on them to turn up and inspire younger black athletes to acquire an appreciation and interest in the position.
They represent the only African-American starting pitchers on display in this year's playoffs. While over 80 percent of the African-American players in baseball are outfielders, one percent of them are starting pitchers.
Brothers on the hill are facing extinction and African-American players have already been phased out of the catchers position. MLB hasnt had a black catcher on a roster other than the Blue Jays' Russell Martin, whose father is black, since Charles Johnson retired in 2005.
The Chosen One: Marcus Stroman, Toronto Blue Jays
Stroman, the 25-year-old Toronto Blue Jays hurler from Medford, NY is one of those young guns calling next up in MLBs race to find the next Black Ace.
He's charismatic, hip, fiery and even spits some serious bars on one of his boys' charting rap single. If he can avoid injury, like the torn ACL he suffered while fielding a bunt in spring training in 2015, the sky is the limit.
Stromans 9-10 regular season record had some folks questioning manager John Gibbons decision to pitch him in a one-and-done Wild Card Playoff situation, but Stroman killed it like Beanie Sigel freestyling at a club on the Miami Strip back in 2001.
In Tuesday night's MLB Wild Card wil' out, the rising superstar pitched six strong innings, whiffing six batters and surrendering just four hits and two runs; the definition of a quality start.
I want to be able to go out there in any situation," Stroman said on the field after the game. A lot of people doubted me getting the ball… a lot of outsiders… a lot of critics, but their opinion doesnt mean anything to us.
Me and Russ (catcher Russell Martin) got on a roll early. We didnt go away from being aggressive…stuck with my game plan, executed it… and our boys picked it up in the field. So, sick game.
Stroman didnt get the win. He was long gone by the time teammate Edwin Encarnacion hit an 11th-inning walk-off,  three-run homer to advance the Blue Jays into the ALCS against Texas.
However, the diminutive baller with the nasty sinker held it down, did his job and set the stage for his next start, which will be another high-stakes conquest. The performance also went a long way towards reassuring the confidence of scouts and fans who have predicted that Stroman will be a Cy Young winner in the future.
Hes a big time pitcher, Toronto outfielder Kevin Pillar said of Stroman, a former Duke University player. He loves the big stage. Hes a show pony. The bigger the moment the bigger he rides through.
The Black baseball community has been wondering who will be that next Bob Gibson, Dwight Gooden, J.R. Richards, Vida Blue, Al Downing or Dave Stewart.  The fact that only 15 black pitchers in the history of the game have won 20 or more games in a season makes the pickins slim in any era.
The O.G.: David Price, Boston Red Sox
                                                (Photo Credit: mlb.com)
The last to do it was Price, who won 20 games and a Cy Young award in 2012 for the Toronto Blue Jays. Price earned every bit of the record $217 million contract he signed with the Boston Red Sox last winter, going 17-9 for the AL East Division champs and leading the league in starts (35) and innings pitched 230. He is the ultimate workhorse and is expected to help Boston defeat the Indians in the ALCS, which jumps off on Thursday in Cleveland.
This playoffs is a major crossroads in Prices ascension to greatness.  Hes got the money and the stats and the accolades, now he needs some hardware to elevate him into all-time elite status. The nine-year veteran is 2-7 in postseason starts dating back to 2008 with Tampa Bay. He has much to prove, as far as his big-game pitching is concerned.
Hes not afraid of the big moment. The dudes a pit bull, but his lack of postseason magnificence and his laid back personality is part of the reason why his popularity isnt as high as it could be in the African-American sports community.
If he can go on a run playing in Beantown, which is by far the highest profile market of his career, he can get the respect he deserves as a Top 5 pitcher in the sport.
The Newbie: Joe Ross, Washington Nationals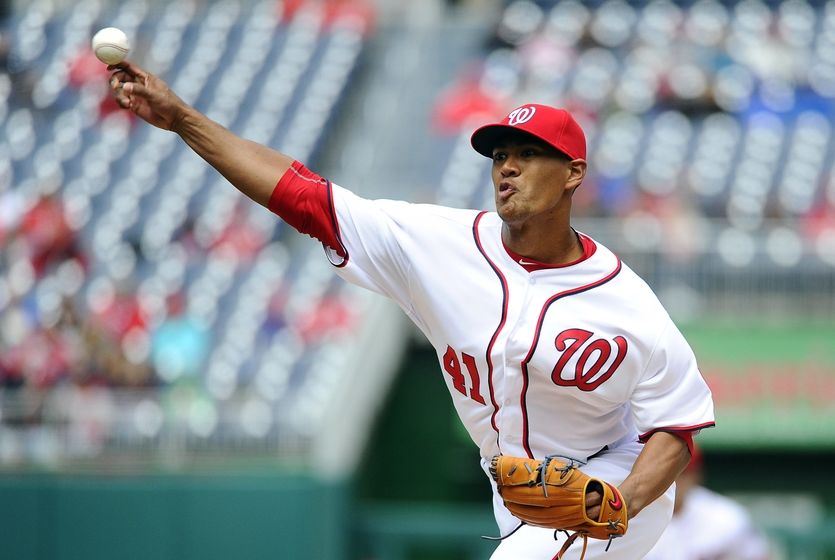 (Photo Credit: distirctondeck.com)
Joe Ross is a newbie with just 181.2 innings under his MLB belt. Most Nationals fans didnt even know who Ross was just one year ago when the Oakland, Ca. product was the second prospect acquired in a multi-team trade centered around Trea Turner, the Nats' shortstop of the future.
But the younger brother of San Diego Padres 2014 All-Star pitcher Tyson Ross was called up in early June to help out a Nats' rotation rocked by injuries. Ross kicked in the MLB door and set a modern record with 47 strikeouts to only four walks in his first seven starts.
He finished his rookie season 5-5 with a 3.64 ERA in 16 starts. This season, Ross was 7-5 in 19 starts and will get an opportunity to flex his pitchers punch in these playoffs for Dusty Bakers NL East champions.
Keep an eye on all these guys. The O.G., The Newbie and The Natural.