The Shadow League recently caught up with retired NFL quarterback Michael Vick at his V7 Elite Playmakers Showcase Series in Dallas, Texas.
As he transitions away from his active NFL career, Vick is looking to pass along his insights and knowledge to the next crop of promising young athletes who share his passion for the game that he loves. He is conducting the showcase events in strategic locations across the country, intent on providing a camp setting where some of the top middle and high school athletes around the country can receive quality instruction from some of the best prep, college and pro coaches and players, along with constructive evaluation tools while motivating them to improve and sharpen their skills.
This past weekend's V7 Showcase took place in Atlanta, and upcoming future locations include Virginia, Miami, Chicago, Baltimore, Houston and Los Angeles.
The best of the best from each location will be selected to participate in the V7 Elite Playmakers All American Game in Atlanta in December of 2017.
And despite hanging up his NFL cleats, Vick's football playing days are far from over. He recently announced that he will be playing, and serving as an adviser for, The American Flag Football League. The AFFLs inaugural game is set for June 27, 2017 at 6:30 p.m. at Avaya Stadium, the first ever football game to be played at the home of the San Jose Earthquakes.
As a first of its kind pro league, the AFFL combines the energy of the fastest growing youth sport in America with world-class, elite athletes. It's the beauty and artistry of football, minus the gratuitous violence.
We chopped it up with the man who many consider to be the most electrifying and exciting quarterback to ever play the game to talk about what's next.
***
The Shadow League: Talk about the V7 Elite Playmakers Showcase and what you hope to accomplish with this.
Michael Vick: It's a showcase where we bring in some of the top athletes from around the country. We want the best of the best to come put and compete, to get the proper schooling and the proper teaching. The kids that want to be the best can come out and learn, doing fundamental drills and learning different techniques through passing drills and one-on-one instruction.
It's about becoming engaged in the game from a competitive standpoint. The most important part is teaching competition and letting kids know that this is a serious game. We want to make sure that the next generation gets the proper schooling and the proper teaching.
TSL: This is bigger than sports for you. What are, from your perspective, the most important elements of coaching in terms of the physical and mental aspects of the game, along with growing into manhood?
MV: Growing up,I always kept things in perspective, and every kid is not the same. Every kid is not going to be like me. Their attitudes and temperament may be different, or the way they carry themselves. I want kids to understand that it takes a certain level of discipline to get to the next level. Not the NFL, but college because that's what's next for them. If they can understand those main core principles: school first, ball second, being respectful around the school, being respected by your teachers and peers, being a leader at a young age: then I think it gives them an opportunity to broaden their focus, to understand what is most important.
TSL: What do you bring to these young people that makes you walk away at the end of the day and puts a smile on your face, saying to yourself, "You know what? I've been through what I've been through, but I can now give so much?"
MV: I like to let them know that I'm approachable, that I'm real. I'm not just showing up. I want to see them succeed. I work with the quarterbacks. I work with the defensive backs, I work with the receivers, I work with the running backs. I know and understand all the positions. I understand the game. I've played with the best, and it's all about giving them that experience and letting them understand that, "Hey, I really do care and want you to succeed."
TSL: Why do you love football so much?
MV: It's just a fun game. I had my moments, I had my time and I enjoyed it. And now I get to watch young kids do it all over again. Now I get to focus on the next generation, and I think that's important.
TSL: What is it about the game, from the beauty of it to the beast, that teaches kids life lessons that they might not understand now but can benefit them down the road?
MV: It's a violent game, but it's also a work of art. With all that it entails and what you have to do in terms of structure, it's a beautiful game. When the kids get it and understand it, you can help them to get better. There are going to be various moments where you're going to faced with adversity, but those are the moments that are going to bring out your character. That's the ultimate measure, of a kid and of a man, in terms of what you do when your character is in jeopardy. It happens on and off the field and in all different walks of life.
TSL: What's the thought process moving forward with the V7 Elite Playmakers Showcase? You're doing the camps in different cities and this has the potential to be something that is really big.
MV: I think it's going to continue to grow. We're going to add the 7-on-7 element to it. It's about continuing to develop and watching these athletes grow. When these kids come through the program, you build relationships and that's what I want to continue to do. I want to continue to make the showcase bigger each and every year, go to different cities that we may not be able to target this year or next year. We're going to find out where the best athletes are and make sure that they're secure.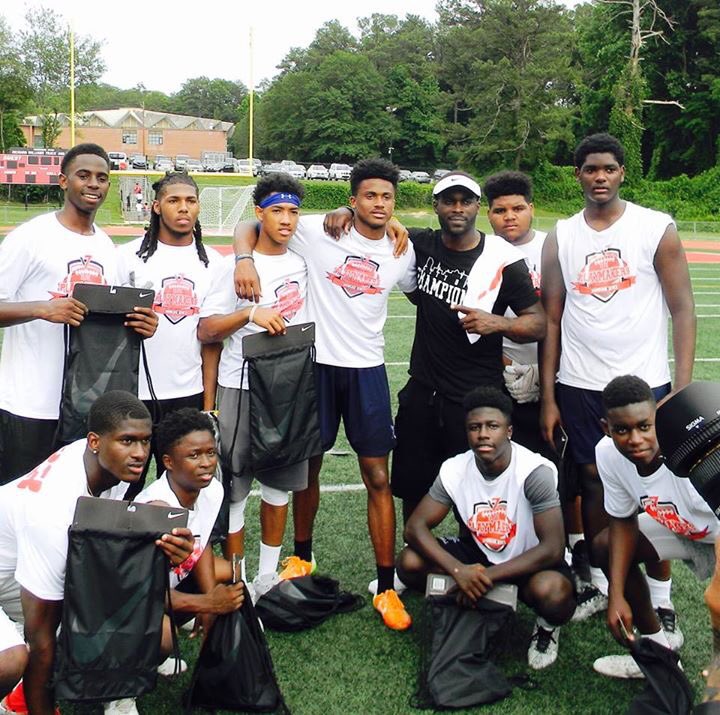 TSL: You're also a part of the new American Flag Football League. Flag Football is one of the fastest growing sports in America. You've got a daughter that quarterbacks a flag football team. You're not just coming on as a player but you're also working with the league in an advisory capacity. I think this thing could be really big.
MV: The response has been great. Guys who have played in the past, players who didn't make it or whose careers have been cut short want to still compete. It's structured, it's not dangerous. When the idea was brought to me, I thought about taking it to the pro stage, it gives guys another outlet, Ball is ball, man. This is exciting. It's gonna be great for the fans. It's gonna be a passing game and a passing league. This is a great platform.
TSL: And people are gonna get to see something they never got to see before. Players in the league will be going both ways, so we're gonna get to see you play defensive back as well.
MV: Yeah, you're gonna get to see me play some d-back and a little safety. I know how to roam a little bit. I can do it all in the game of football. It's gonna be fun, it's gonna be exciting and I'm looking forward to it.
TSL: Back in the days, we couldn't afford flags but we played two-hand touch and those are still some of my fondest sports memories, being out there on the sandlot. This has to bring a smile to your face, thinking about where it all started for you.
MV: Yeah, it's street ball with a flag. It's gonna be competitive, it's gonna be fast, and we're looking for some great athletes to come out there and showcase their talents. I'm excited to be a part of it and can't wait to see the players that are going to participate.
TSL: And next year, it's going to be an eight-team league, right?
MV: Yeah, an eight-team league, each team having a 12-man roster. The first game is on June 27th in San Jose, California at Avaya Stadium. It's coming.