Since his dreadful 2016 season was cut short by thoracic outlet syndrome in his shoulder, Mets fans have been waiting nine months to see the Dark Knight take the mound.
Matt Harvey's issues involved muscles in the neck and shoulder impinging a nerve in his right shoulder. Doctors removed one of Harvey's ribs to provide space, which they say reduced the compression on the affected nerve and restored feeling in his pitching arm and fingers.
On Thursday, Harveys return was very positive for the Mets. He exhibited some of that 2015 production and the way he expeditiously executed his game plan could best be described as "efficient." And that's something the Mets are looking for from Harvey to extend his career and avoid injury.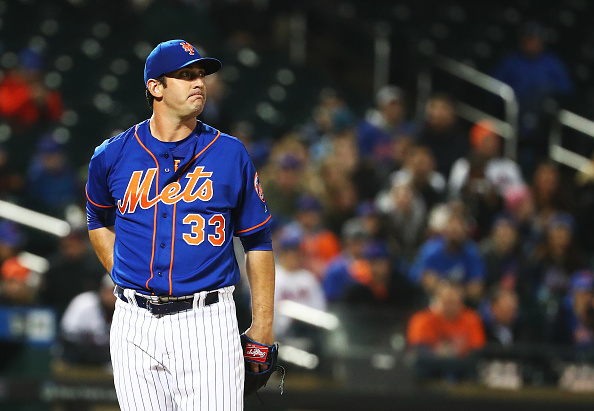 He stuck to the plan. He stuck to the script, said manager Terry Collins
The script involves 77 pitches in 6 2.3 innings of work in a 6-2 victory over the Braves at Citi Field in Harveys first outing since July. He surrendered two homers to Black Knight Matt Kemp, but other than those two mistakes, he appears to be back in business and that makes a Mets rotation that was already lights out so far this season even more potent and thinking World Series.
In 2013, Harvey hit the scene as a young fireballer for a Mets rotation that had the possibility of GOAT status. He was anointed a pitching superstar, but Tommy John surgery in 2014 curtailed his Cy Young parade.
He returned with a vengeance in 2015 and was on top of the world as the ace of a loaded staff in the most popping media market in America. His Game 5 performance against Kansas City is classic.
It was all good and then it was all bad, and Harvey had a period of low points that culminated with more surgery, but was lowlighted by him being booed off the mound at home. However, Mets fans can exhale because he appears to be on the road back to productivity. Collins says he may never recapture the consistent 98-99 mph heater he had before his arm troubles, but he was at a consistent 93-94 mph and had command of his pitches and the strike zone.
There will come a day when Mets fans have to apologize to Harvey for booing that man when he was physically unable to perform. For now, they can keep it light and just welcome him back to the family as they did on Thursday with cheers and support.