It got real for Claire Smith.
That's right. Go back to 1984.The San Diego Padres simply weren't having it. They didn't want a broad in the clubhouse after the game – even if she had a journalism degree and a press pass.
Worse, they didn't just ask Smith to leave. Oh no, baby. Smith was physically removed from the clubhouse by Padres' personnel in the National League Championship Series in Chicago.
Hard to imagine that flying these days, but people were closed-minded and dumb.
That's why the Padres had a "no-women-in-the-clubhouse" policy. Manager Dick Williams was behind the mandate. And he meant it.
Still, it didn't stop Smith. She was going to sit in the press box and try to do her job even though she knew a confrontation was very possible.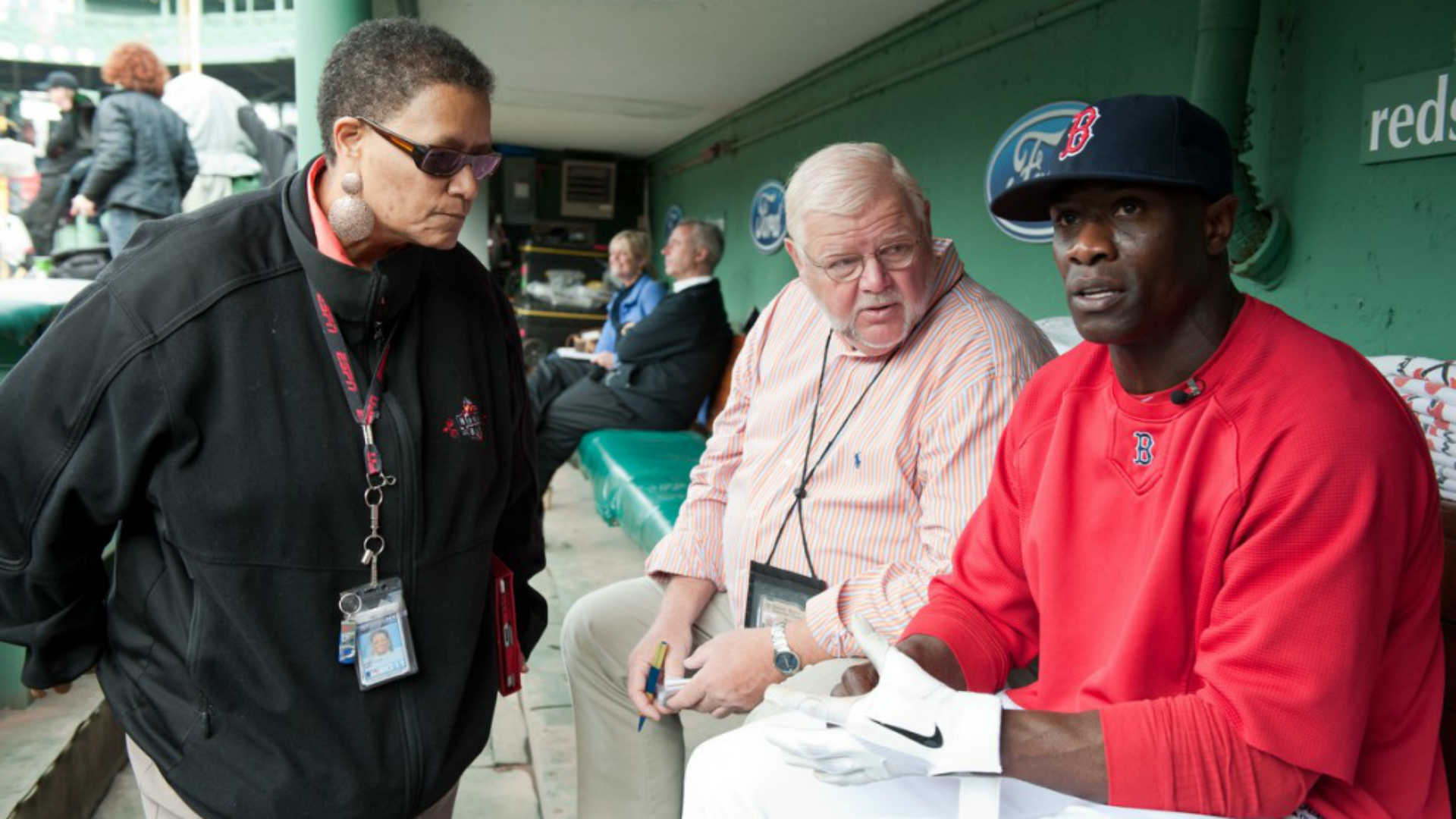 (Photo Credit: thesportscapital.net)
"They were enthusiastically violating a league edict," Smith recalled in an interview. "One of the clubhouse people physically put his hands on me, pushed me out of the locker room."
With time ticking on her deadline, Smith's goal was to get quotes, write her story and file it to her newspaper.
At this point, Smith, frustrated and in tears, asked another writer to inform Padres' first baseman Steve Garvey what had happened.
Garvey came out and allowed Smith to interview him. Smith was able to get the job done.
(Claire Smith with Sandy Koufax (left) and Steve Garvey at the 1985 MLB All-Star Game)
The Padres' stand against women didn't go over well. In fact, just a week later, new MLB commissioner Peter Ueberroth ruled that the leagues would now control clubhouse access and that any properly credentialed media representative would be honored – man or woman.
"He said this would no longer be an issue," Smith said of the commish. "He took the power away from the clubs. That's when it all changed."
Indeed. The same thing happened on Tuesday. The Baseball Hall of Fame changed, too.
This time, Smith, a longtime baseball writer, wasn't shown the door. Instead, Smith got the red carpet treatment, was allowed entry into the Baseball Hall of Fame.
Smith will officially be inducted this summer in Cooperstown, New York.
Smith, the first African-American female newspaper reporter to cover Major League Baseball on a daily basis, was voted into the HOF by her peers, winning the J.G. Spink Award. She's the first female to win it.
It's the highest honor of the Baseball Writers Association of America. Truth be told, the most prestigious honor a sports writer can get.
(Photo Credit: mlb.com)
Up against two other longtime baseball writers, Smith received 272 votes from the 449 ballots. It was a history-making moment, well deserved.
Smith wasn't just a baseball writer wrapped up in her own world of deadlines and stories. She couldnt be, mainly because of the all-encompassing demands of the job.
Smith, 62, has been a role model to many, including this columnist. She always had time and advice for others. I can remember spending time and picking up wisdom from Smith at Shea Stadium in New York.
Back then, I remember how proud I was of Smith. Better yet, how much the players and other baseball writers respected her and her knowledge of the game.
Without question, Smith is a pioneer, a true trailblazer for both women and African-Americans in sports journalism and baseball writing as well.
She covered the New York Yankees from 1983 to 1987 as the first female MLB beat writer, working for the Hartford Courant.
Later, Smith was a baseball columnist for the New York Times from 1991 to 1998. From 1998-2007, Smith was an editor and columnist for the Philadelphia Inquirer. Smith currently is a news editor for ESPN.
It's been a long, hard road. But Smith made it: she's the first female, the first sister. And she's also the fourth African-American winner in the 55-year history of the award for contributions to baseball writing.
"It's humbling to think of all the people who've won this award," Smith said to the media, "all those people I know and know of."
There are a lot of baseball writers in this country who are nice people and write well. But few have all the qualities that Smith has, including earning the respect from her peers.
Now, that's real.