Major League Baseball is proving that its willing to go above and beyond the legalities of the system and impose punishments that it personally deems fit for players involved in domestic violence situations. While NFL football is still criticized for its "insensitivity" towards women's rights, MLB Commissioner Rob Manfred has made sure that no stone goes unturned when investigating incidents of domestic violence by MLB players.
In February of 2014, Mets shortstop Jose Reyes, then with the Colorado Rockies, was suspended under new MLB rules addressing domestic violence issues. The Colorado Rockies shortstop, a four-time All-Star earning $22 million a year, was the first player to get hit under the new rules which were inspired by Ray Rice's elevator incident.
Reyes, 32, was arrested at a Maui resort in October following an argument with his wife. He was alleged to have pushed her into a glass balcony door causing bruises and cuts on her neck, thigh and other parts of her body. Reyes was placed on paid leave while he faced criminal proceedings.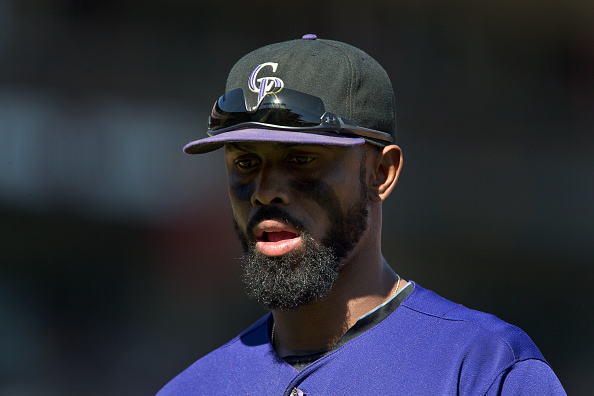 (Photo Credit: Getty Images)
Prosecutors in Maui ultimately dropped the case when his wife refused to cooperate with investigators. Yet Major League Baseball already had all of the evidence it needed from excerpts of a police report, and Reyes cooperated with MLB officials. He was hit with a 51-game suspension and lost $7 million, before eventually leaving the franchise to resign with the Mets.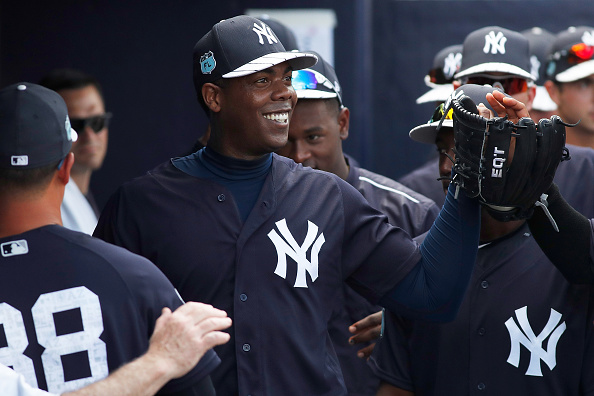 (Photo Credit: Getty Images)
Yankees super closer Aroldis Chapman was suspended for 30-games at the beginning of the 2016 season for a domestic violence incident at his home in which charges were eventually dropped. The MLB felt that based upon its investigation, Chapmans conduct that day was inappropriate and violated the conduct policy.
On Wednesday New York Mets All-star closer Jeurys Familia accepted a 15-game suspension for his indiscretions. Familia was arrested on Oct. 31 and charged with simple assault, the equivalent of a misdemeanor under New Jersey law, but the legal case was dismissed at the request of the alleged victim, Familias wife, Bianca Rivas.
Familia stresses that he never never physically touched, harmed or threatened my wife, during an October incident in his Fort Lee, N.J., apartment that ended with Familia being investigated by MLB for domestic violence for the last three months. And he took responsibility and apologized to the organization, his teammates and fans Wednesday.
Familia's suspension is the lightest of the four MLB suspensions levied for domestic violence since the new rules were implemented. Highly-touted Cuban outfielder Hector Olivera accepted an 82-game suspension, without pay, under Major League Baseballs domestic violence policy that cost him half of his $4 million salary in 2016.
Once again, MLB didnt allow the dismissal of the legal case to deter it from finding out if a player actually behaved inappropriately. Under the policy, which was implemented by MLB and the MLBPA in 2015, commissioner Manfred has the authority to investigate and discipline Familia. Manfred can punish players even if the player is not charged or convicted in a criminal matter.
I commend MLB for reaching far beyond what should be expected from a corporate pro sports entity to ensure that the families of their employees are safe.
Familia, 27, will be eligible to return as early as April 20, but will forfeit $730,327 of his $7.42 million salary this season. He's also agreed to make a donation to a charity that supports domestic violence victims and to speak to major league rookies in the United States and the Dominican Republic and at an event in the New York metropolitan area for an organization that assists domestic violence victims.
MLB is really putting him on front street and using him as a PR puppet, but whatever works. The right message is being sent.
His absence on the mound will be a huge blow to the Mets who open the season on Sunday against the Atlanta Braves. It will serve as a reminder to all MLB players that commissioner Manfred and MLB is serious on its stance against domestic abuse of any kind.