Baseball is a game of unpredictable predictability. At times, the unthinkable occurs and jolts the sports world out of their collective socks. The least likely occurrence becomes the defining moment, especially in the MLB playoffs where perfection is a realistic goal and the moment becomes a long series of career-defining challenges.
When it comes to playoff pitching, San Francisco Giants ace Madison Bumgarner is as close to a sure shot W as the baseball world will ever see. Last night marked the return of "Money Madison," who in his last postseason appearance threw five shutout innings in relief, on two days chill to save Game 7 of the 2014 World Series. He also snatched himself a World Series MVP and the third World Series title of his ring-rocking career.
Its obvious he has his heart set on a fourth, because the lanky, long-haired assassin gave the Mets a quick exit from the playoffs with a typical complete-game, 3-0 shutout at Citifield in the wild-card game to propel San Francisco to an NLDS matchup with the Chicago Cubs.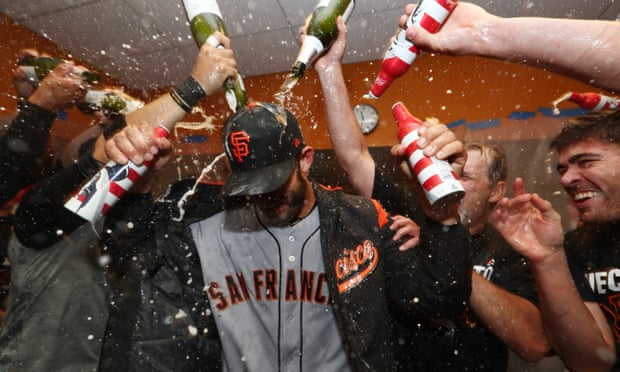 (Photo Credit: theguardian.com)
Dude has been as lights out as a hurler can be in prime time, and we have almost come to expect him to transform into Sandy Koufax once that October wind hits the stadium. Its totally unfair to expect the greatest of pitchers to dominate the postseason like a No. 1 MLB Draft pick pitching in a high school game. Ask Clayton Kershaw about playoff pressure. Hes considered the best pitcher on the planet, and he cant buy a win in crunch time.
However, smashing the comp with paper on the pavement seems to be the norm for Bumgarner. And with every playoff gem, he moves up the ladder of MLB postseason legends and into mythical company.
Entering last nights Wild Card game against the Mets, Madbum — the beer drinking, ball sinking, playoff kingpin — had a 0.79 ERA over his last nine postseason outings.
Dating back to Game 2 of the 2012 World Series, Bumgarner is 5-1 with one save and a 0.79 ERA over 68 2/3 innings. In the words of old school Iron Mike Tyson, Its just ludicrous I tell ya.
Legendary announcer Bob Costas is high on MadBum, but he cautions against calling him a better postseason pitcher than guys such as Bob Gibson and Koufax, who had a much tougher roads to the World Series and played in another era.
Not to diminish Bumgarner Costas said on ESPN 2, …Hes at the top of the argument. But you have to throw Curt Schilling (and his bloody sock) in there.. John Smoltz was 15-4 in postseason play. So when you dig deeper into it… Is Bumgarner still no worse than tied for first ? Yes. Hes put himself in the conversation with Koufax and Gibson. They were so great that their coaches would rather pitch these guys on two days rest than pitch anyone else…He belongs in the conversation with those guys. Thats a Hall of Fame conversation.
Last night was MadBum's 6th career postseason start without allowing a run, tying Atlanta Braves HOF pitcher Tom Glavine for most all-time. The stat that tells you all you need to know about the growing immortality of MadBum in his undefeated record in winner-takes-all games.
(Photo Credit: usatoday.com)
Madbum has thrown 23 shutout innings in boom-or-bust battles, and Wednesday marked the third time Bumgarner has won such a crucial contest.
Bumgarner is bound to stub his toe at some point. In the meantime, hes an interesting study in the psychology of baseball and the mentality of players who embrace the fiercest of challenges without breaking a sweat.