Lonzo Ball's pops is giving a new meaning to the term crazy and overzealous sports parent. His son hasn't scored an NBA bucket or won a thing in college, and he's already calling shots and making legendary predictions for his kid.
In a February interview with TMZ Sports, LaVar Ball said Lonzo will be better than the NBA's two-time reigning league Most Valuable Player and four-time All-Star:
"You can't compare my boy to anyone," he said. "He's gonna be better than Steph Curry in the NBA!"
Steph Currys pretty good, he continued. My son is young, hes got time to grow. And you only consider him good because hes won a couple championships…He makes some shots at the right time. But hes not as young as my boy. You not gonna be able to say this until my boy finishes playing his career; then they [are going to] look back and say, Man, how did LaVar know all this?'
Ok. So his pops thinks hes Kobe and wants him to be like Magic. Thats why its easy to understand why LaVar Balls latest shot-caller move was to announce that Lonzo will only play for the Lakers, so all other teams need not apply.
At least thats what his father said during an interview on The Kevin and Mike Show, an Arizona sports radio show.
"My son will only play for the Lakers, he said.
Ball, a projected top-three pick in the 2017 NBA Draft, is averaging 15 points, 7.5 assists, 6.3 rebounds and 1.9 steals per game as a freshman with the No. 5 UCLA Bruins (24-3), shooting 42.1 percent from three-point range.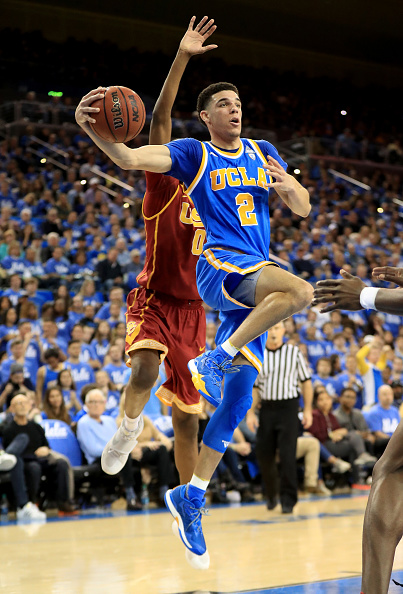 Entering Sunday night, Los Angeles (19-40) had the third-worst record in the NBA behind just Phoenix (18-40) and Brooklyn (9-48) so the chances of the Lakers getting Ball if they want him, are solid, but not guaranteed.
LaVar's proclamation came off as a bit pompous and didnt sit well with some fans and media. In a form of damage control, because we all know damn well his pops meant what he said. Balls dad clarified his comments after UCLAs 77-72 victory over No. 4 Arizona on Saturday nigh, saying that playing for the Lakers is merely his wish for his son:
"All I said was that my boy is going to play for the Lakers, and I'm going to speak it into existence," LaVar told ESPN on Saturday night. "I want him to be a Laker, but I wasn't saying he's only going to play for the Lakers. I'm not trying to say he won't play for a different team. But I'd like him to play for the Lakers because it's home and I'd love him to learn from Magic (Johnson) He's the best guard ever to me, and nobody better for Lonzo to learn from than Magic Johnson."
The Lakers haven't commented on their draft intentions, but the California kid staying home to lead the Lakers into the post-Kobe Era would be a perfect story. Second-year point guard DAngelo Russell, who is averaging 14.5 points and 4.7 assists this season might have something to say about that, but it will come down to what Magic wants if the Lakers get that ping pong ball to pop correctly for them.
There have been some rare and once-in-a-generation talents who have called their own shots on Draft Day as far as what teams they would or would not play for. In the NFL it has happened. John Elway let it be known that the Colts needed to pass him by or he would go play baseball.
Eli Manning strong-armed a draft-day trade from San Diego to the New York Giants.
The NBA has also had several cases of players refusing to play or trying to dictate where they will play.
In 1980, the NBA added a new expansion team, the Dallas Mavericks, and awarded them the 11th pick in the 1980 Draft in which the team used to select UCLA star forward Kiki Vandeweghe, who flat-out refused to play for a team destined to lose. Vandeweghe went as far as holding out into the first month of the season until he was finally traded to the Denver Nuggets without ever putting on a Mavs jersey.
After getting selected second overall in the 1999 NBA Draft by the Vancouver Grizzlies, point guard Steve Francis wasnt messing around concerning his lack of interest in playing for the Canadian-based squad. The Grizzlies eventually worked out a three-team, 11-player trade that sent Franchise to the Houston Rockets, where he won Rookie of the Year and earned three All-Star selections.
The Sacramento Kings were a sack of garbage as a franchise in the early 90s, going an embarrassing 1-40 on the road in 1990-91. They had a chance to change their fortunes when they drafted multi-faceted baller Billy Owens out of Syracuse third overall.
Unfortunately, Owens would have rather drank toilet water than play for the career-killing Kings. He held out until the Kings were forced to trade Owens to the Golden State Warriors
Just a few examples of players using their star power to turn the tables in their favor. The Ball family is obviously down with this program.