Let's forget about hoops for a moment. It's already apparent that LeBron James is one of the greatest basketball players ever. Still in his prime, he owns three NBA championships, four MVP awards, four Finals MVP awards, has been named to 12 All-NBA teams and six All-Defensive teams.
No need to drill that down even further. You know what it is.
The man has led his teams to six consecutive NBA Finals appearances and delivered on the bountiful promise that we witnessed when he was at St. Vincent-St. Mary High School in Akron, Ohio, where delivered a state title as a mere freshman.
LeBron was the most hyped prep school athlete ever, and to examine how he's exceeded those expectations boggles the mind, punctuated with last year's NBA title, leading the Cavaliers back from a 3-games-to-1 deficit over the historically great Golden State Warriors to give the city of Cleveland its first championship since the Browns did so in 1964.
Remember when the Cavs were down in that series, with the Warriors, who'd set a league record with 73 regular season wins, a victory away from a coronation as the greatest team ever? Do you remember how LeBron responded?
The haters don't want you to remember, because they're too busy arguing that Kobe was better in the same laughably erroneous way that the Rust Belt believes that Donald Trump will bring the manufacturing jobs back and make America great again.
But I'll remind you.
The cat came out swinging a four-foot hickory club like Buford Pusser, putting up back-to-back 41 point games in the Cavs next two victories, setting up the series' decisive game.
Oh, and how about that Game 7 triple-double performance, including chasing down Andre Iguodala like Ferris Bueller trying to beat his parents home for that ridiculous block in the tensest moments as the clock ticked down. The son-of-a-gun averaged 29.7 points, 11.3 rebounds, 8.9 assists, 2.3 blocks, and 2.6 steals per game in the series, becoming only the third player ever to cop a triple-double in a Finals Game 7. He also became the first player ever to lead both teams in all five statistical categories, not only in an NBA Finals, but for any playoff round. EVER!!!
That's crazier than any disabled Mexican-American woman who voted for Trump!
But seriously, I'm not here to talk about basketball. Because LeBron's own personal journey, as crazy as it sounds, dwarfs anything he's accomplished on the court.
What better example do we have in the realm of athletics for children being raised by teenage mothers who were mere kids themselves, youth whove never seen their biological fathers, people whove been smothered by the destructive forces of poverty before the onset of puberty, many of whom succumb mentally, physically and spiritually to the tangible hopelessness in the air.
LeBron grew up on a block, on Hickory Street in Akron, in a neighborhood that is woven into the fabric of the forgotten and ignored pockets of this great nation of ours. Shortly after his grandmother passed away when he was three, the only home hed known was condemned as he and his mother Gloria, staring at long odds, homeless, faced life on the streets.
They crashed with friends and family in the housing projects known as Elizabeth Park off and on for six years, part of a nomadic existence that would be LeBrons reality until the age of 12. Hollywood couldn't have written a better script for how his life unfolded from there.
It's no secret that LeBron is my favorite player. But to see what he has become as a man is something worth publicizing much more that the titles, the MVP's, the Gold Medals and everything else that he's achieved on the court.
Let's start with him marrying his high school sweetheart and being a family man and father of three kids. And, let me digress for moment to inform you that LeBron, Jr. has some of his daddy's skills. But that's another conversation for another day.
Along with his friend, adviser and business associate Rich Paul, LeBron formed the Klutch Sports Group, a player representation agency that has, among others, John Wall and Ben Simmons as clients. He's also a partner in his own sports marketing agency, LRMR.
Do you recall when the majority of the media and the established agents and other sports professionals castigated him when James cut ties with his agent and corporate marketing firm to create his own agency and handle all of those operations in house? Remember how they insinuated that he and his "posse" (Don't use that term about young, black, intelligent, driven professionals again Phil), didn't know what they were doing?
LRMR manages and negotiates all of LeBron's marketing deals with companies like Nike, Coca-Cola, Kia, Samsung, Beats Electronics and others. Last year, he earned $44 Million off of those deals alone.
"We've all learned, we've had bumps and bruises along the way but it has only made us stronger and made us who we are today," James said recently when discussing his foray into player management and marketing. "About 12 years ago when I decided to part ways with my agent, there were 150 million articles about how I was making a mistake to hire the people around me that I trusted: Maverick, Rich and Randy and start LRMR and how everything would fall to pieces. Those pieces have made a beautiful portrait at this point."
Don't take his or my word for it, take Harvard Business School professor Anita Elberse's, who wrote a case study and book chapter about James' new model, discussing how it is the future of sports marketing. For real, my man is averaging a triple-double in the game of life.
His digital video company, Uninterrupted, delivers athlete-created content to fans via Bleacher Report, a Turner Sports property. And let's not forget his production company, SpringHill Entertainment, whose portfolio includes documentaries, television sitcoms and dramas, an animated web series and a reality show that encourages entrepreneurship. Major motion pictures are not far behind.
He doesn't shy away from controversial issues that negatively impact people of color, and his philanthropy is absurd. He's partnered with the University of Akron to provide guaranteed four-year scholarships to the school for students in his I Promise program. The approximate tab for providing those free college educations is around $40 Million. With all apologies to Rick Ross, now that's what I call a real boss!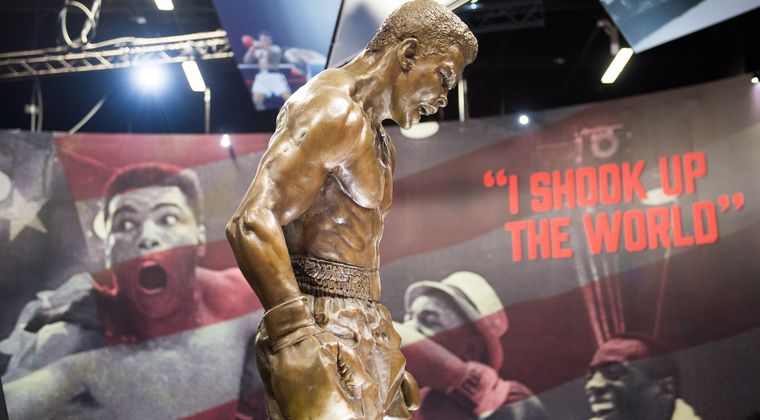 And now we've learned of his next slam dunk, where he, his charitable foundation and business partner Maverick Carter are donating a total of $2.5 million to the the new Smithsonian National Museum of African American History and Culture for their new exhibit, "Muhammad Ali: A Force for Change"
"Muhammad Ali is such a cornerstone of me as an athlete because of what he represented not only in the ring as a champion but more outside the ring what he stood for, what he spoke for, his demeanor," James recently told USA Today. "I think of him every day. Without his passion and goals and morals, I dont know if Id be sitting here today talking to you about it."
So if you want to have a serious discussion about what his legacy will be when it's all said and done, to simply say that LeBron James could go down as the greatest basketball player ever is too limited a viewpoint to be operating from.
He's not only an architect of NBA championships, he's a social entrepreneur engineering change in the lives of other more important organizations, along with individuals and entire communities.
"As a kid I gravitated towards [Muhammad Ali] because he was a champion, but I only knew as a kid of what he did inside the ring," James said during the NBA Finals when Ali passed away. "As I got older and I started to be more knowledgeable about the sport, about sport in general and about the guys who paved the way for guys like myself."
The baton that Ali carried has now been passed to the new generation, and LeBron is leading the way. Yeah, he's still the best player in the NBA right now. But away from the game, he's the absolute Gold Standard of the adage, "To whom much is given, much is expected."
And just like the ubiquitous Nike ad campaign that flourished when he took the NBA by storm as a 19-year-old rookie, we're all still witnesses, to the career of one of of the all-time greats, and to the off-court vision and ankle-breakers of a businessman, philanthropist and change-agent whose impact one day will reverberate much bigger away from the game of basketball.